Tamiya F104 Pro!
09-10-2010, 12:49 PM
Tech Rookie
Join Date: Sep 2010
Location: USA
Posts: 6
---
This is next on my list after I buy a ff03 pro. I think I hear a rumor about my local track actually running a F1 class.
09-10-2010, 07:46 PM
---
Originally Posted by
FREAKAH
I would get the Tamiya aluminum motor plates(blue-#54166, black-#84115) and either of the soft T-plates(soft-#54165, high traction-#54222) and maybe an aluminum pivot post(blue-#54169, black-#84116) just to put more weight at the rear.
A steel axle from the F60 kit(#3555152) can also help you get a handle on the car in loose conditions.
Agree 100%
Run the rear T bar, pivot plate and shock/spring as soft as possible with out freeplay in anything i.e. T bar center screw just barely seated, pivot plate adjuster nut just touching spring and minimal preload on shock spring (soft gold one if you can get one) with lite oil and 3 hole piston.
Diff grease on pivot plate and a thick diff oil on the upright posts up front for some dampening.
09-10-2010, 08:36 PM
Tech Master
Join Date: Jun 2008
Posts: 1,019
---
Good info guys, thanks...this will definitely help. The parts are shipping to me now, but I'll have to wait a couple weeks before I can put it all together.
09-12-2010, 08:12 AM
Tech Master
Join Date: Mar 2009
Location: Tween a Rock & a Hard Place in Pa.
Posts: 1,279
---
Is there an aftermarket rear pod lower plate( the cheapo plastic plate that attch. to the t-bar)?I have cracked or broken 3 this summer.Would like to see something stronger,maybe alum.or graphite.I don't have this prob.with my 103 1 piece t-plates.
09-12-2010, 08:20 AM
Tech Addict
Join Date: May 2002
Location: HEAVEN
Posts: 720
---
09-12-2010, 09:59 AM
Tech Addict
Join Date: Oct 2004
Location: Fontana,CA
Posts: 690
---
Just ordered my f104 pro and yeah racing conversion set from rc mart! Can't wait to put it together!
09-13-2010, 02:58 PM
---
Attention all pan car racers !!
1st TQ Pan Car Grand Prix will be held on October 31st, Sunday.
Detailed rules and classes will be announced on
www.tqrcracing.com
If you have any idea, comment and advice, please post a reply.
Thanks.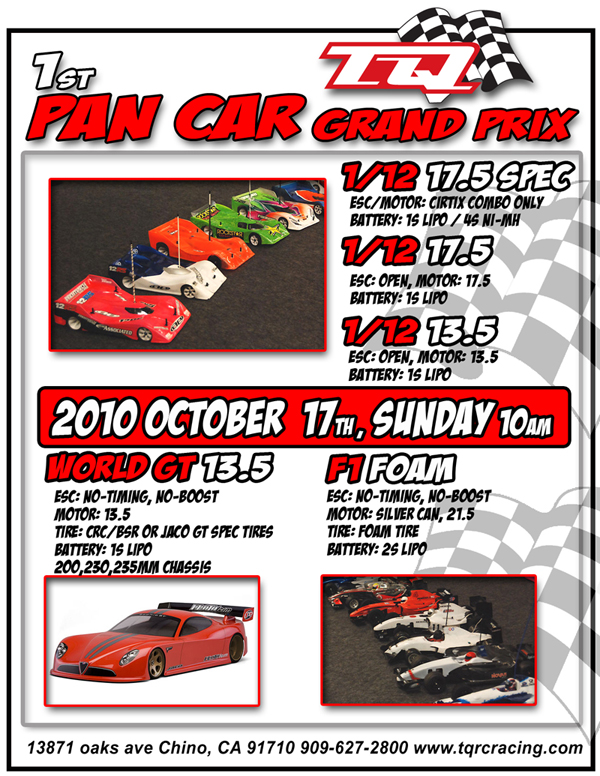 09-16-2010, 07:01 PM
Tech Addict
Join Date: Oct 2004
Location: Fontana,CA
Posts: 690
---
Anywhere to find a good setup sheet PDF?
09-19-2010, 07:58 AM
Tech Master
Join Date: Apr 2005
Posts: 1,470
---
Is the steel rear axle better than the CF axle for high grip (carpet) surface? Use with rubber tires.
09-19-2010, 08:45 AM
Tech Elite
Join Date: Jul 2008
Location: Sonoma County
Posts: 2,018
---
A carbon fiber axle is going to make the car a few grams lighter, and create less rotational mass.
09-19-2010, 05:00 PM
Tech Master
Join Date: Aug 2007
Location: Anaheim Hills, CA
Posts: 1,293
---
Had a chance to run my 104 today. My car spins out alot. Is that the nature of direct drive? Or is it my setup? I am running stock components w/ rubber tires. I am using a QC3 esc too.
09-19-2010, 05:13 PM
Tech Adept
Join Date: Feb 2009
Location: South Jersey -- Exit 4
Posts: 232
---
Welcome to the club. Rear grip is the challenge with the F104. The solutions are to go as soft as you can with the rear suspension. The Tamiya super soft T-bar is a help. Make sure you use the o-rings and leave the center screw loose. Soft rear tires are also part of the deal. Get the Tamiya super softs and use them with the hard fronts. I've also had good luck with the Ride super soft rears, but you have to go to Hong Kong to get them. A slow steering servo also helps. I use a QC2 and it works fine.
One more thing, it also helps to get a super soft trigger finger. let off the throttle slowly, brake in a straight line and ease the throttle back on.
09-19-2010, 05:19 PM
September 25th F1 race
---
Ultimate F1 Day
Saturday September 25th
Camarillo California , track opens at 7AM for practice
3 min , fast lap Qualifying 10:00 AM
3 15 minute races
2 mandatory pit stops
http://www.charleslightfoot.com/UF1SD.html
Raffle prize #1
Professionally built, F104 Pro, with Tekin RS ESC, Novak 21.5 motor,
2.4 receiver, Orion 3200 lipo, Shimizu rubber, Calvinization modification, custom painted F60 body from F1 Paint-lab...
Ultimate RTR F1... just bind to your radio and
go... estimated cost $920
Raffle prize #2
Tamiya F104 Ferrari Kit
Each racer will have their name placed in a container... after each race, if you did NOT receive a penalty your name
will be placed again in the container, increasing your odds of winning... Also after each race, the announcer and the
pit marshal will each choose one person who they felt was the cleanest driver of that race, regardless of how they
finished and there name will be added again to the container... Basically the cleaner you drive all day, the better
your chances of winning the prize
Also, in case of a tie, the driver with the least amount of penalties win...