Tamiya F104 Pro!
03-29-2010, 06:04 PM
Tech Regular
Join Date: Jan 2009
Location: Oc
Posts: 269
---
WOW!
03-29-2010, 06:07 PM
Tech Adept
Join Date: Mar 2008
Posts: 138
---
Thanks again for the information. I'll pass it on.
No the last note, I personally run the pit shimizu tyres on my F104 and have a huge amount of chatter on the front, no matter what ride height I'm at. Wondering if a little more weight on the machine will help at all? I'm running lipo.
7mm Fr, 6mm Rr.
I have approx 60mins of runtime on this set with no wear.
S1 Fr
S1 Rr
Carpet, High grip asphalt and Med Grip asphalt, they have corner entry to mid corner understeer, and are neutral on corner exit.

On the high grip track the front's chatter quite a bit.
03-29-2010, 07:11 PM
---
Very cool, would be bitchin' to see a vintage F1 series, I have a Road Wizard I could run
By the way, speaking of bodies, if anyone needs one I have an F60 painted, ready for delivery, well almost, I need to paint and decal the helmet. Check out the pics below, chassis not included. If you need it for Trackside I can save the shipping and deliver it right to the track. If more than one F60 is needed I will paint them to order PM me for details. Delivered to the track the price is $160 , if I ship it it will be $175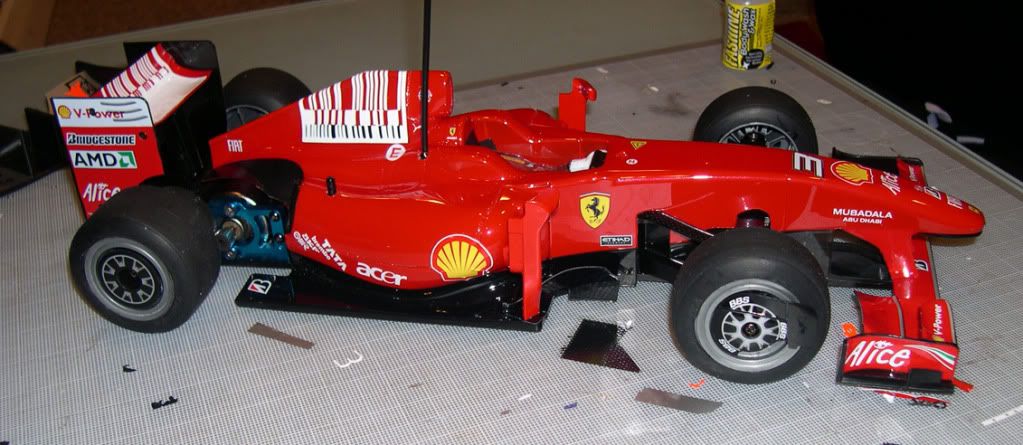 03-29-2010, 07:43 PM
---
http://www.redrc.net/2010/03/f1-rcgp...RC+Car+News%29
does anyone have any info about the zen or bomber modifcations these guys are talking about?... do most folks here run f104 with primarily tamiya hop-ups?
trying to get my car ready and just want to make sure it will be up to snuff against other f1 cars like the f109 and f103 chassis
Thanks!
From Zen:
03-31-2010, 02:53 AM
Tech Fanatic
Join Date: Apr 2007
Location: Brisbane Qld
Posts: 905
---
I don't know anything about the packs you linked to..... but the Orion Rocket and older Carbon Series batteries are quite lightweight, about 200g each and seem to have plenty of runtime for 540J racing. If I remember correctly, the Orion Rocket 4000mAh pack isn't much heavier and would have plenty of runtime for brushless racing.
thanks greg for your thoughts.....I would like to get some lipo's with a view to them being able to eventually run a 17.5t in the car, so I keep having a look around for the orions.
I just need to shed weight and other then the batteries I'm running, there isn;t much more to reduce the weight.
our local track has started a race series for the F1's with 6 races over the course of the afternoon and evening. I ran the f60 rubbers with only simple green in the afternoon and did ok grip wise. Had a best lap of 24.814. Later in the evening, tried rubber with gripper and tire wamers and got best lap of 24.827.
The car was a lot of fun to drive. I race against mostly 17.5 and corally's, with them running best laps of 21.5s, so I'm a little off the pace, but it's still a lot of fun.
I've just had arrived today some of the optional soft rear tires and out of the packet they are amazingly sticky, so will hope to give these a run in the next couple of weeks and report back.
03-31-2010, 12:26 PM
UF1 Series
---
03-31-2010, 02:47 PM
03-31-2010, 02:52 PM
---
Up stops and rear damper tube systems.
03-31-2010, 03:06 PM
Tech Fanatic
Join Date: Feb 2006
Location: Paramount, CA
Posts: 822
03-31-2010, 03:20 PM
04-02-2010, 10:17 AM
Tech Master
Join Date: Sep 2009
Posts: 1,916
---
Anyone can tell me what the part no. is for the 3.5mm offset uprights? Thanks
04-02-2010, 10:20 AM
Tech Regular
Join Date: May 2009
Location: Washington, DC
Posts: 341
04-02-2010, 10:22 AM
Tech Regular
Join Date: May 2009
Location: Washington, DC
Posts: 341
---
anyone running a faster motor than 10.5 on the f104 with rubber tires? if so is it able to put down the power... did you have to add more weight?