Tamiya F104 Pro!
02-05-2010, 05:41 AM
---
KO/Hara/Yokomo speedos would be perfect, but don't offer the lipo cutoff
True but I don't think you would need to worry about hitting low voltage with a silvercan (unless you go out for 20 min of hot laps).
I have cutoff in my qc3 but it's turned off.
Nice thing about last weekend was it only took about 5/10 min. to recharge my packs.
I was suprised to see that he was using the b1. Worked great for sure.
02-05-2010, 08:41 AM
---
02-05-2010, 12:19 PM
---
I've got a set of Rides (as far as I know, all compounds) on the way, so should be able to test 'em next Sunday (Feb 15). Never really liked the idea of the way the Shimizu's mounted, so I've stayed away from them, although a couple of the other guys I know seem to like them.
Tried the Tamiya rubbers back to back with the B foams on Tuesday night and they were terrible. To be fair, I think they need a bit more heat in them to work well. My best lap dropped from around 23.6 to 27.5, but most of them were 29 or over because I couldn't keep the car from spinning
I had treated them about 45mins beforehand and they felt sticky enough, but no real grip at the back. This is an outdoor asphalt track...
I will have a set of warmers for the next evening meet, so will give that a try.
Spotted these on the hop-ups list for the F104 on the Tamiya web site:
54199 RC F104 Rubber Tires - Rear/Soft
54198 RC F104 Rubber Tires - Front/Hard
No obvious clues as to availability...
02-05-2010, 01:00 PM
Tech Fanatic
Join Date: Apr 2007
Location: Brisbane Qld
Posts: 905
02-05-2010, 02:18 PM
---
That's a great lookin car! Question though, why are some people affraid to race their good looking cars? I'm far from being mean. I'm super curious. I could only look at my F60 for so long and could only take so many pics of her. Real cars look smooth, and they still take the risk. Is it because yall spent sooo much $$ put into them?
02-05-2010, 02:35 PM
---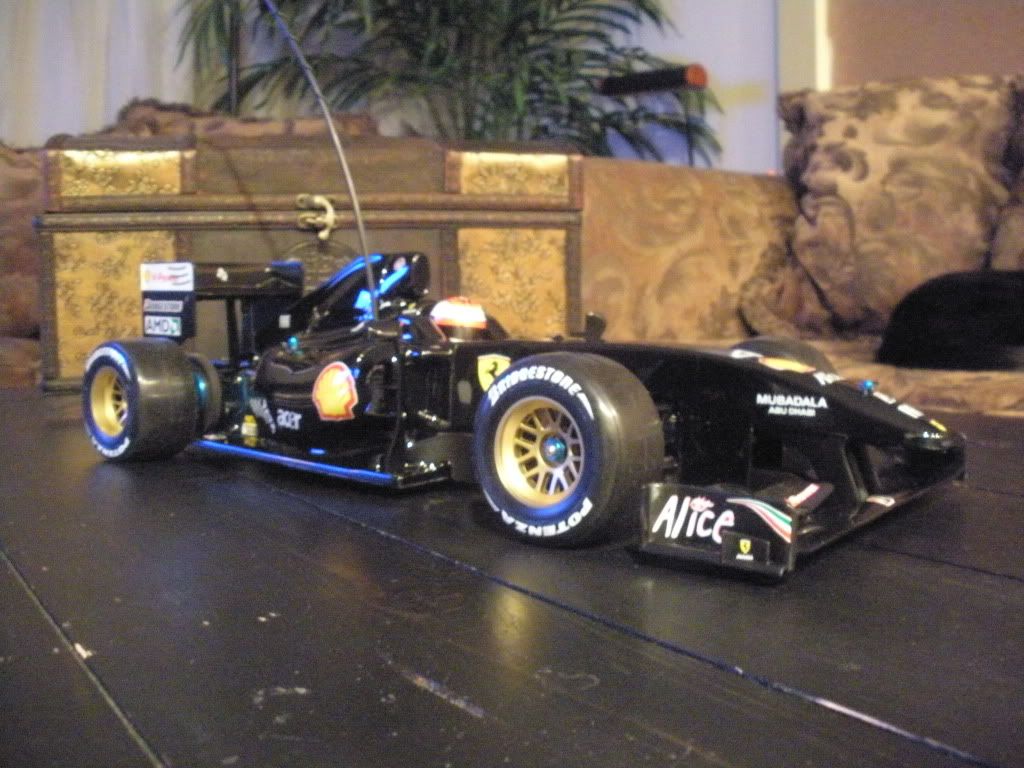 I can't wait to finally slap a brush-less from HK in her and get her out. Did do some testing with a brushed. But now it's time to get some speed behind it.
02-05-2010, 04:41 PM
---
Just in case. You guys have been showing up to you local indoor track with these...
The most recent (and 1st) f1 race I attended was running 7.4 with silvercans and any esc.
Speed was not to far off of the t-car classes and it really leveled the cars together. Makes it a drivers class
as we had them geared so high if you were not smooth you were slow. Cheap way to go club racing if you ask me.
Might want to push it (or atleast try it) at your local.
Just an idea.
02-05-2010, 06:58 PM
---
02-05-2010, 10:31 PM
---
I use the FX, but rather disappointed it doesn't take any brush-less.
So it got moved to my 103. Now I'm waiting on a new brush-less combo kit for the Ferrari!