"Ask" Jilles Groskamp Tamiya 416 & 417, Team Orion Motors
10-28-2009, 10:05 AM
Tech Regular
Join Date: Jan 2009
Location: Milano, Italy
Posts: 294
---
Originally Posted by
Cruisaaja
Hey BB
I can move some secret curtains
Last weekend we had Rebellion Race 2009 here in Finland. That event was EC warm up race and we use first time those Xenon tires.
I can tell you at many racers were trouble with traction roll at the beginning of the free practice.
I talked with Marc R and he told at it was hard to make car work good, but one thing was good idea to cut the top deck because it made car easier to drive
So, our local TRF team test that also and it work and everyone was pleased with that.
I visit Marc and Victor`s pit and notice at they bougth drive "old" WE versions. Victor use regular top deck (no cut version) and he has some troubles with car at some heats..
Some notice with those Xenon tires. There are slightly heavier than Sorex and wheel offset is different which caused that traction roll issues
that CA glued the side wall of the front tyres help.....
Results you can read RedRC
Please, can you tell us how to cut the top deck ?
Better if it's supported with a picture.
Is happen only with some rubber brands tyre?
Thanks
10-28-2009, 03:03 PM
Tech Adept
Join Date: Dec 2005
Location: Finland
Posts: 243
---
Hey lynx
Couple pics from event
Marc car... you can see those cut places front and rear on topdeck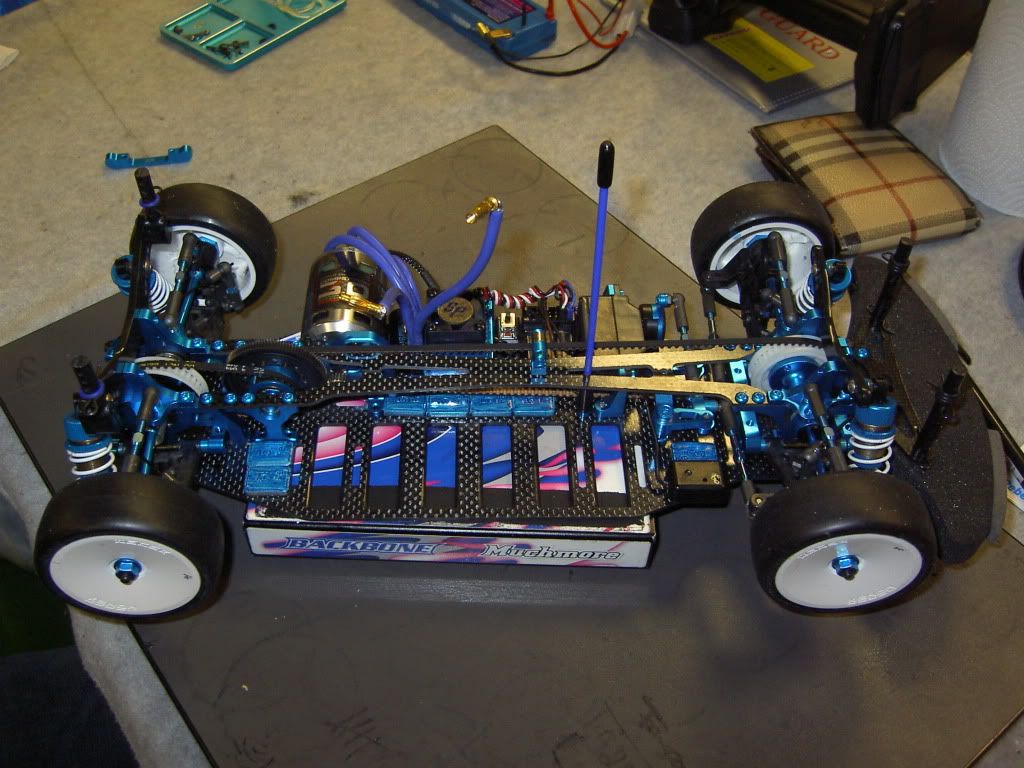 Viktor`s car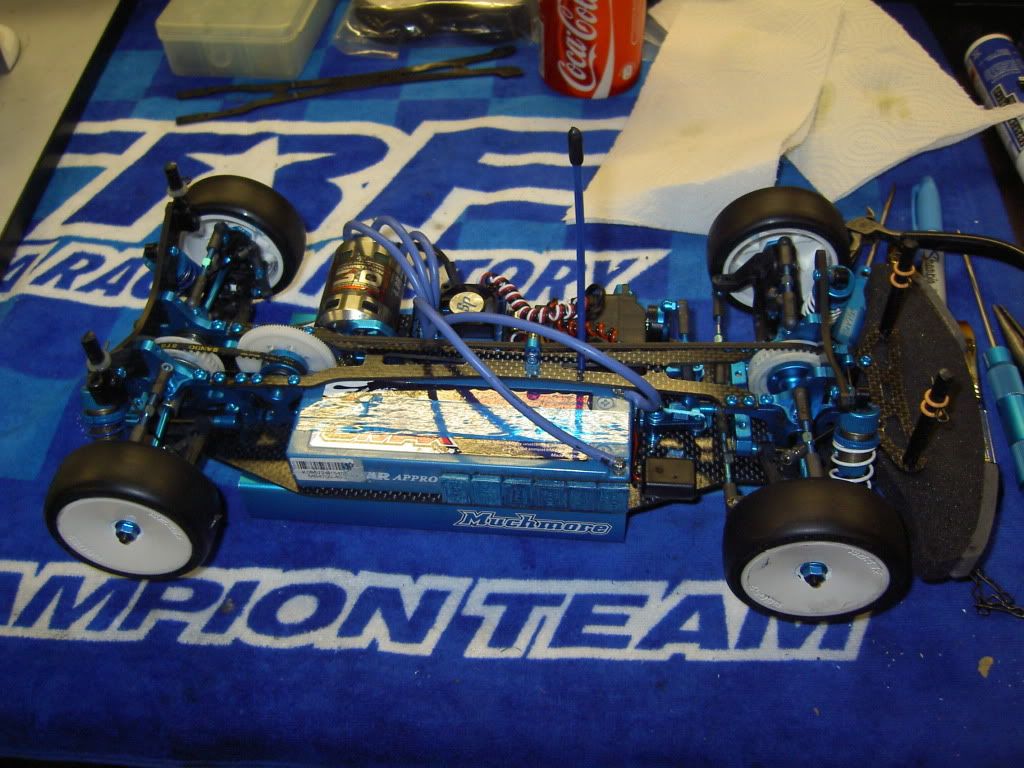 10-28-2009, 03:20 PM
Tech Regular
Join Date: Jan 2009
Location: Milano, Italy
Posts: 294
---
Hello Cruisaaja,
many thanks, excellent and clear pics
How was your race?
10-28-2009, 03:59 PM
Tech Apprentice
Join Date: Feb 2008
Location: Finland
Posts: 64
---
Tires at Rebellion Race were Xenon 28, as ETS were 32, iīm not sure but I think that the insert/wheel compo was the same. The tire is a bit larger in diameter and has really high sidewalls and the insert is really small for the tire, so a lot of air gap inside. Those two together made the tire feel like you were running flat tires on 1:1 car. Car just floated above the tire.
Shicanes were difficult as first the tire changed the side it was leaning and then the suspension compressed to that direction and then you needed to get the tire lean on the other side and the car also, so it was really easy to roll or get loose in shicanes as the car didnīt react at first and then it make a huge move to the other side. Car needed to have basicly zero weight transfer from side to side to make it driveble, so the tire would be the only thing that moves in shicanes. I ended up with about 7 and 6,5 droops and ultimate 60 oil to get it more planted. Also LTC-R was the body to use as it reacted faster and it was a bit more stable to drive. I only had C-C XA-E blocks, but i think D-D X-F would have been a lot better...
Cut top deck made a huge different in how the car handled, before cutting the car was really "edgy" and didnīt go smoothly round the corners and it was really easy to roll over from corner dots, but after cutting it was soooo smooth and easy to drive round corners and you could also drive over some corner dots. Seems odd to add more flex and grip when cars are traction rolling a lot, but it worked great.
I wish we could practice more in big tracks with high grip here, as there was a lot of stuff to test and so few practice heats to do it.
10-28-2009, 04:43 PM
Shop Owner
Join Date: Aug 2001
Location: Cheapest prices in Europe ;)
Posts: 1,369
---
What ratio and motors people use?
10-28-2009, 11:04 PM
Tech Rookie
Join Date: Jun 2009
Posts: 3
---
Hello Jilles,

Just wondering what motor, timing and gearing you ran at the Thai nationals?

Did you make any changes to your set up for running Li-Po?
10-29-2009, 02:31 AM
Tech Elite
Join Date: Jun 2007
Location: Northridge ca
Posts: 2,124
---
Im trying to build my shocks to have no rebound and I watched the clips on youtube when Jilles is building he shocks and I cant get them to not rebound?
10-29-2009, 03:30 AM
Tech Regular
Join Date: Jul 2009
Posts: 464
10-29-2009, 03:33 AM
Tech Master
Join Date: Oct 2008
Location: Sydney, Australia
Posts: 1,860
---
The first part is to assemble them with the piston pushed to the top, as opposed to the bottom (as shown in the Tamiya instruction manual).
This gets very close to no rebound, and has worked for me, but the other trick is to put a small hole in the cap that holds the bladder in, so the air can escape. I suggest you do this before assembling it, so you don't accidentally puncture the bladder.
It probably doesn't need saying, but with my driving skills and the (lack of) speed I carry, I'm a long way from noticing the difference
I found that the changes in roll centre (as per the posted setup sheets) were much more noticeable and gave me significant more turn in and overall responsiveness.
10-29-2009, 05:40 AM
Tech Elite
Join Date: Mar 2003
Location: The Sky
Posts: 2,555
10-29-2009, 01:10 PM
Tech Champion
Join Date: Jun 2004
Location: Sydney, NSW
Posts: 5,341
---
Hehe, why is it, the more I look at Marc's car, the more I'm convinced he wasn't running it at 1350g... with all that lead on the chassis, and loads on the cells, there's no chance
I count 95g odd of weight...
Viktor's looks more believable, looks like only 30g, which given I've got 20g on mine at that limit, I can believe
10-29-2009, 05:22 PM
Tech Apprentice
Join Date: Feb 2008
Location: Finland
Posts: 64
---
Weight limit was 1400g
10-29-2009, 05:27 PM
Tech Elite
Join Date: Oct 2001
Location: NC
Posts: 4,447
---
I've never run a lightweight body, how much of a weight difference is there? Anyone weigh them vs regular bodies?
10-29-2009, 05:42 PM
Tech Champion
Join Date: Jun 2004
Location: Sydney, NSW
Posts: 5,341
10-29-2009, 11:56 PM
Tech Initiate
Join Date: Aug 2009
Location: Belgium
Posts: 40