Speedzone 3.7v Lipo 4800mAh 30C
08-07-2009, 04:55 AM
Company Representative
---
08-22-2009, 09:31 AM
Tech Regular
Join Date: Mar 2003
Location: UK,the sunny north
Posts: 329
---
Hi, anymore updates on when your saddle pack lipo will be ready?

Cheers
08-24-2009, 06:48 PM
Tech Addict
Join Date: Mar 2009
Posts: 525
---
I am looking forward to the saddle packs.
09-03-2009, 11:03 AM
Tech Addict
Join Date: Jan 2006
Posts: 625
---
Any news on the saddle packs?
09-03-2009, 01:15 PM
Tech Elite
---
YEAH....what gives Gavin???

Updates please. North East Grand Slam coming soon
09-08-2009, 07:17 PM
Tech Regular
Join Date: Apr 2008
Location: Chicago
Posts: 272
---
Any updates on the saddle pack?
09-08-2009, 10:28 PM
Tech Elite
Join Date: Nov 2001
Location: LA - Lower Antioch
Posts: 4,929
---
if I had a saddle pack this week I wouldn't be sucking it up so bad with a spring car in vegas.....
09-09-2009, 04:53 PM
Tech Master
Join Date: Feb 2006
Location: Last in the "Z" main
Posts: 1,633
---
Saddle pack lipos,,,,,,GrEaT!!!!! Not everyone is running a link car. Some prefer the feel and handling characteristics of the "ole' " t plate cars. Though I no longer own a T plate car, in my area a number of racers who do run them have asked me about saddle configuration and now I can direct them here. Go full speed ahead, Gavin. There is a market for them.
You don't know me but I did race a couple of times at 360 before its demise. But, going back further,,,,,,,,,,,,,,,,,,,,,,,,,Etown baby!!!!! How's that for nostalgia
09-15-2009, 01:57 PM
Company Representative
---
Hey guys, sorry for my lack of appearance on the board. Been busy but also progressing on our straight pack lipo...people will like it!

For the saddle pack, the plan is to still have it in October. The fit of a lipo into a tiny case has been more challenging than we expected. But I am commited to getting this option out there for the t-bar cars...stay tuned...

I'll post an update on our straight pack on the other thread shortly.
09-19-2009, 03:20 PM
Tech Elite
Join Date: Mar 2004
Location: Phx AZ
Posts: 3,829
---
Ok so its been 4 days is that saddle pack done or what!!
jk; dont forget about it we tbar guys are waiting.
09-21-2009, 03:41 AM
Tech Adept
Join Date: May 2007
Location: Athens Greece
Posts: 101
09-21-2009, 07:36 AM
Tech Elite
---
pictures please...give us something to wet our lips!!!
10-05-2009, 12:49 PM
Tech Addict
Join Date: Mar 2009
Posts: 525
---
do you have any date when the batteries will come out yet.
10-05-2009, 01:16 PM
Tech Elite
---
Gavin...any updates? I have a t-bar chassis just waiting to be run this winter...

I'm really surprised Gavin is the only manufacturer publicly advertising to the development of the 1s saddle pack. It's too bad that when the brick packs were designed they were not able to mold a channel in the center of the case to clear a t-bar. I bet may t-bar owners would give on the taller brick case to compensate for a channel to clear the t-bar vesus the alternative...purchase a spring chassis.
10-06-2009, 07:09 AM
Company Representative
---
Okay...here is a full update.
Firstly, here is a picture of our design: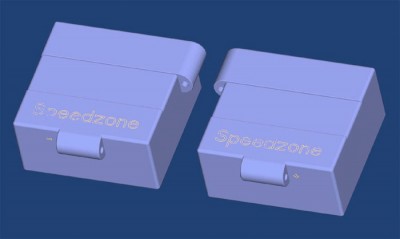 As I previously mentioned, we were going to release in October. However, I am now leaning towards eliminating the bullet connectors for the saddle pack and have a straight jumper. The reason for this is that I think it is more beneficial to not have a bullet connector for both the jumper and the positive and negative leads. I think two bullet points would be okay but with 4 we risk increasing the resistance slightly. I have never been a big fan of the whole resistance talk with direct vs. bullet but I want the customer to have no doubts when it comes to performance of our packs...
I would still like to produce this pack but not really sure now if everyone has swithched to a link car. So I would be happy to hear your thoughts on this.
Do we have a market?