Inspire us. Show me your BEST, CLEANEST electronics installation pics.
01-24-2011, 06:25 PM
Tech Master
Join Date: Sep 2001
Location: Niagara Falls, Ontario, Canada
Posts: 1,132
---
I have been inspired!!! I know my car is not the right scale or type to be included in the On-Road section but I just had to share my progress. Some of the wires need fresh Sharpie or I may just route them behind the ESC.
01-24-2011, 10:00 PM
---
01-25-2011, 02:46 PM
Tech Addict
Join Date: Jun 2009
Posts: 546
---
My FT TC4. Not near as good as your all's. I'm making strides though.
01-26-2011, 01:28 AM
Tech Initiate
Join Date: Jan 2011
Posts: 36
---
This thread has inspired me very much! Any one wanna see a T1M? You all have awesome setups BTW! How many posts do I need until I can post pics?
01-26-2011, 01:56 AM
Tech Master
Join Date: Sep 2005
Location: NYC
Posts: 1,475
01-26-2011, 05:37 PM
Tech Fanatic
Join Date: May 2008
Posts: 948
---
A few pictures of my 12R5.1 and TA05v.2
---
Last edited by tiko; 11-09-2014 at

11:43 PM

.
01-28-2011, 04:38 PM
Tech Regular
Join Date: Sep 2007
Location: oakville
Posts: 329
My PHOTON 17.5
---
Thanks for all the help in this forum on selecting the right wire crimpers and the link to the YOUTUBE video. I think it worked out pretty good for my first try. I will post my GEN XL in a couple days and my VTA Photon. I just bought a low watt iron so now I can shorten the leads to the ESC on/off switch.
Please anyother pointers.
01-30-2011, 04:34 PM
Tech Apprentice
Join Date: Jan 2009
Posts: 73
---
Ok, here we go. It's my first attempt at doing this so be kind! lol. It's a Tc4 with a castle 5700. All carbon parts dyed black and electronics covered in carbon fiber. Wires were shortened and painted black.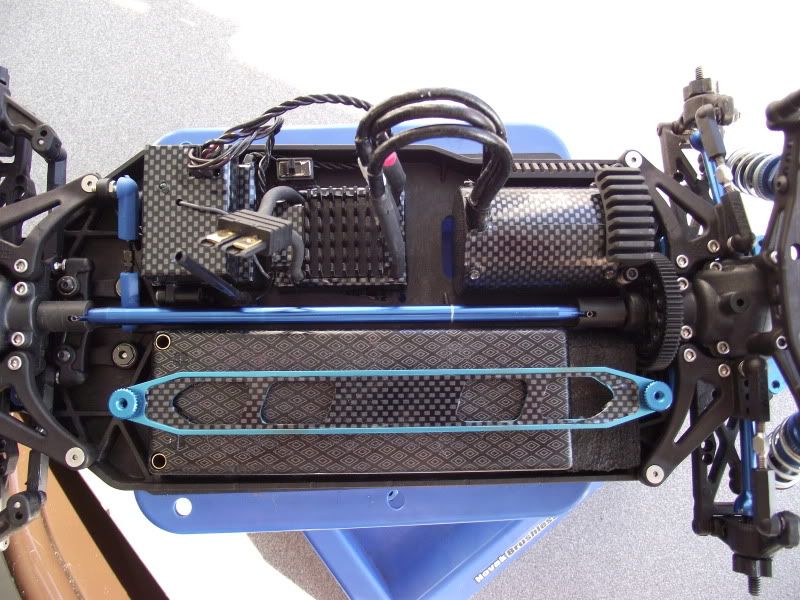 01-30-2011, 06:07 PM
Tech Apprentice
Join Date: Jan 2009
Posts: 73
---
Thanks .. I had a lot of fun doing it and look forward to doing another one.
01-30-2011, 06:42 PM
---
Originally Posted by
Big Midget
ok I did some more work on my car so its not so colorful
I painted my
servo wires. Put a lexan cover over the lipo that I got from Maxamps a long time ago. I also covered the red on the 9100s servo with carbon fiber vinyl sticker. I went ahead and painted my motor with some semi-gloss high temp paint.
I'm thinking about putting some black Jaco's on it......
Attachment 676654
Attachment 676655
Attachment 676656
Here's mine, I think once you start installing and building like this you always will.
It just seems to be the right way.
01-30-2011, 08:07 PM
Tech Initiate
Join Date: Jan 2011
Posts: 36
---
Thats looks awesome 37racing! I like the battery strap
01-31-2011, 12:02 PM
Tech Adept
Join Date: Aug 2010
Location: Gosport England
Posts: 145