Inspire us. Show me your BEST, CLEANEST electronics installation pics.
01-12-2009, 06:04 PM
Tech Elite
Join Date: Dec 2001
Location: Glasgow, Montana USA
Posts: 3,523
01-12-2009, 06:13 PM
Tech Master
Join Date: Jul 2007
Location: Perth, Australia
Posts: 1,075
---
discussion on technique is good
like this handy tip i've come across in my wanderings around with a soldering iron..
brushless sensor leads are a good source for ESC/servo leads - each sensor lead had 6 wires all joined, just split this into 2 pieces of 3 and voila! you've now got black servo and ESC leads (just needs to have connectors attached)
01-12-2009, 08:47 PM
Tech Elite
Join Date: Feb 2005
Location: SoCal
Posts: 3,542
---
i dont think it's my BEST but probably my best attempt so far..(2nd time) not too much room to fit all that stuff in a cyclone-s chassis! well, atleast harder than a XBR
01-12-2009, 09:08 PM
Tech Fanatic
Join Date: Nov 2006
Location: St. Louis, MO
Posts: 904
---
Bob, how do you find time to run a business and spend that much time assembling a car to that level? Or do you make the guys at the shop do that for you?
Oh, and did you do the paint job as well? Very impressive!
01-12-2009, 10:18 PM
Tech Elite
Join Date: Dec 2001
Location: Glasgow, Montana USA
Posts: 3,523
---
I am surrounded by talented and dedicated people. There are a few people here that could come close... Mostly, when I'm doing it, they say things like "seriously, you're still working on the reciever...?" I think it takes about 20 hours to do wire job like that. To do the same car a second time, 3-4 hours. I don't get to play like that very often though.
I talked to Schumacher today, some new Speedpassion stuff in the works. I'm gonna do an all Speedpassion build on an mi3.5 here in about 3 weeks. that'll be a cool one.
I've done some concours winning paintjobs... that ain't one of them. I have trouble finding that kind of time. I had 6 bodys painted by this guy.
http://www.rcbodypaint.com/
I think he retired from the paint game. David Marmand, I think was the fella, he's in France somewhere. One of the few painter guys that could set a date, and hit it.
01-12-2009, 11:33 PM
---
Originally Posted by
Randy Caster
I've just been buying 12" wire strands with Futaba plugs, dying those and then soldering to the circuit board. I can get them to stay black rather than discolor after time, just takes some time in the dye. I'm just looking for a manufacturer that sells wire that's already black in bulk. I can put connectors on myself, that's easy with the right tools. I found a good deal on a Hakko FX-951 iron for $220, so I think it's time to switch over to one of those to make these projects easier as well.
I remember Hitec having a fatty roll of all black 3 wire servo lead. I don't exactly remember the number off hand, but it might be something to look into.
-Korey
01-13-2009, 12:35 AM
Tech Regular
Join Date: Aug 2008
Location: Camarillo, CA
Posts: 262
---
Here's my first try at wiring an electric car. Maybe there's a way to make it a bit cleaner, but I thought it was pretty decent.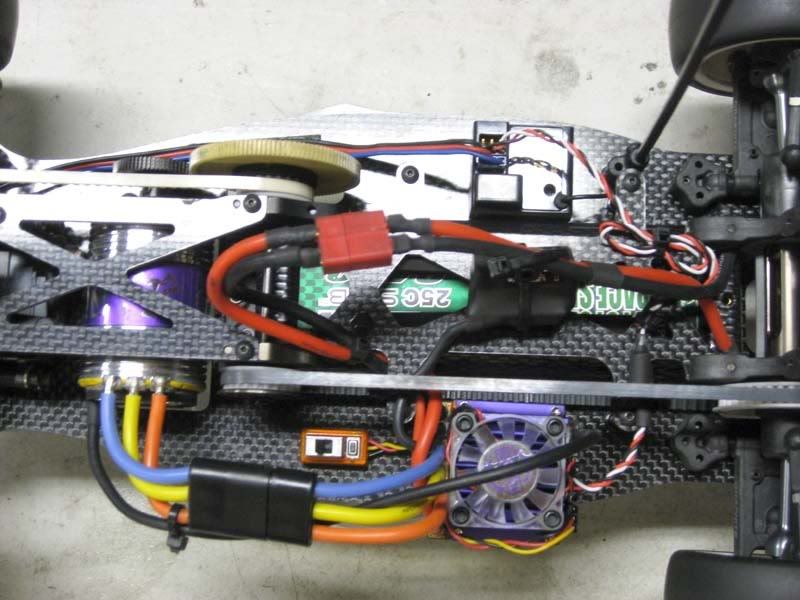 01-13-2009, 04:24 PM
Tech Master
Join Date: Mar 2008
Location: Sterling hts MI
Posts: 1,029
---
My first 1/12. Just got it finished.

DK
01-13-2009, 09:15 PM
Tech Elite
Join Date: Dec 2002
Location: San Francisco
Posts: 2,192
01-14-2009, 06:15 AM
Tech Regular
Join Date: Aug 2007
Posts: 399
BMI 12RR
---
Does this take first prize.??????
01-14-2009, 07:14 AM
Tech Master
Join Date: Aug 2006
Location: Wisconsin
Posts: 1,258
---
First i would like to say very nice installs guy's. All you touring car guy's what are doing with all the extra sensored wire from your brushless motors? Is it possible to shorten the wire (novak 13.5)? It's hard to tell with all those nice hidden clean wires.
01-14-2009, 10:15 AM
---
It IS possible, but not worth it
I just put the wires in between the motor and ESC. Get them bunched up (nicely so they fit) And put some shrink over them.
01-14-2009, 10:32 AM