Inspire us. Show me your BEST, CLEANEST electronics installation pics.
03-30-2012, 08:24 PM
Tech Adept
Join Date: Jan 2012
Location: Cocoa FL
Posts: 152
---
Thank you for the clarification. The upper deck being dremeled like this seems to be fine. I usually don't even connect the rear screws in the deck to allow chassis flex for grip. The ESC would not fit due to losi's design. I wish they would just expand the design and make a version 2. The layout is great.
03-30-2012, 09:18 PM
---
03-30-2012, 10:37 PM
---
Your correct I am sponsored by them. All the drivers at TITC got one to run, hence I have it. Plus, based in china, and regularly talking to the guys at HW helps.
Regard
Ed
03-31-2012, 12:58 PM
Tech Adept
Join Date: Nov 2011
Location: Cincinnati, OH
Posts: 212
---
TC6 First run. For now im just trying to keep it clean. I'll "pretty" it up later. Included some of my XXX-SCT as well.
---
Last edited by jplong; 05-22-2012 at

10:38 AM

.
03-31-2012, 10:38 PM
---
Nice!
Im not sure how to change the motor wires up either. Just mess with how angled the motor tabs are. I think if they were more where the fan is it would look less bunched up in there cause the wires would be longer. Or it would make no difference haha i'm not sure. I think it looked the best when you had the motor wires long so you could run the motor both ways, no wire crossing lol.
03-31-2012, 11:45 PM
Tech Apprentice
Join Date: Mar 2012
Location: Sydney Australia
Posts: 70
---
---
Last edited by DORIYAA!; 04-01-2012 at

01:09 AM

.
04-03-2012, 10:56 PM
---
Pancars dont leave too much to the imagination but here is my new to me 10r5.
and with its little brother, 12r5.1 onpoint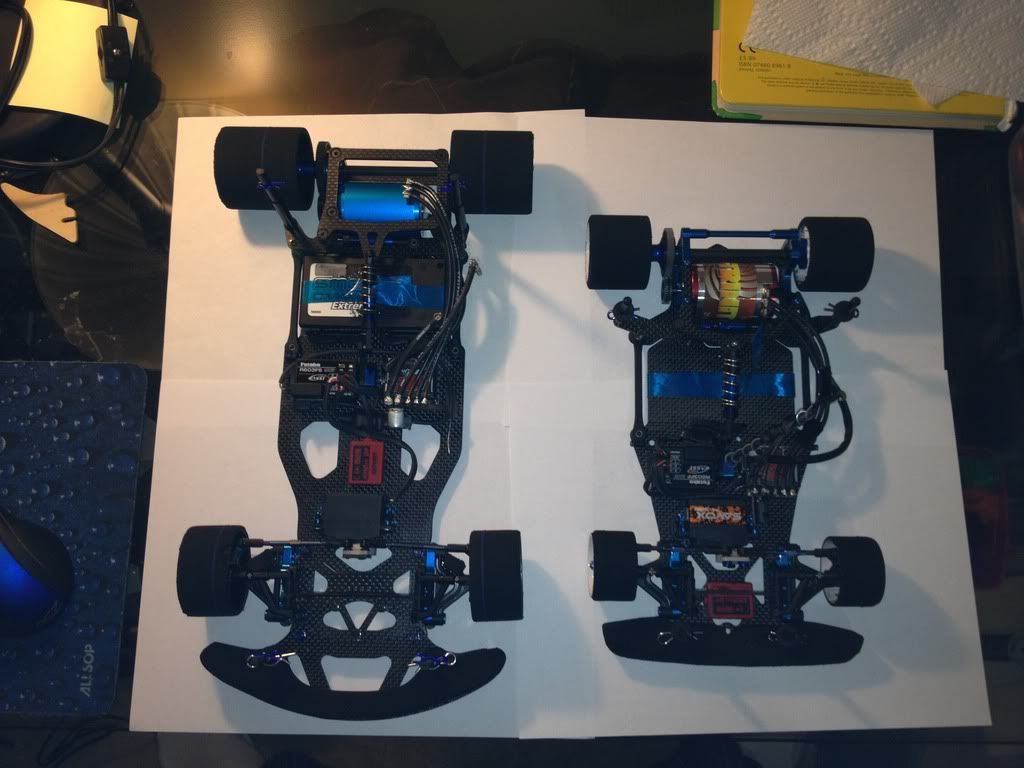 10th scale probably an improvment over my 12th
when i get my parts lot from sloe4, ill be working on my e4rs too. should be purdy when done.
04-04-2012, 12:40 PM
Super Moderator
---
Just figuring out pics. Thanks Valk!!
04-04-2012, 06:10 PM
Tech Addict
Join Date: Oct 2008
Posts: 693
04-04-2012, 06:50 PM
Super Moderator
---
And here's the 09. Excuse the receiver, Sanwa is in route.
Both straps are made from old camera straps. If you look closely on this 09, you can see the canon logo...
04-05-2012, 05:26 AM
Tech Master
Join Date: Aug 2003
Location: Sydney
Posts: 1,535
---
What's blackoutrevos trick?
Nathan
04-05-2012, 06:11 AM
Tech Fanatic
Join Date: Sep 2009
Location: San Diego
Posts: 823
04-05-2012, 06:59 AM
Super Moderator
---
C'mon, point it out why don't ya...