1/10 R/C F1's...Pics, Discussions, Whatever...
10-08-2012, 11:05 PM
Tech Elite
Join Date: Sep 2002
Location: any where I can race!
Posts: 4,845
---
I have to say the F1 class was fun at IIC - the tires didn't feel ideal and honestly, they are the only ones I have used on a current model F1 car but it was still fun. Time on track was limited like any big race, but it was the same for the TC and 1/12 cars as well. The cost was not that bad considering what you got - 2-3 meals, free beer at the meet and greet sponsor party, set of tires and rims, goody bag with lots of different quality things. Finally the experience of being at the race (in Vegas) and meeting and talking to other drivers from around the world.
They don't run F1 at my local track, I bought it just for this race and experience to do it. Glad I did -- my have finished 10, but I made the show and had a good time. PS - thanks to Brad for the support of the race and the tire decals, totally finished off the look of the car!!
http://www.rc50.com/modules.php?name...bum=72&pos=586
10-08-2012, 11:05 PM
Tech Elite
10-08-2012, 11:56 PM
Tech Elite
---
Originally Posted by
Kevin CBR
Thanks. After I shipped the F103 out to you, I was digging in the "archives" for a bunch of 1/8 Tamiya stuff I posted over the weekend on fee-bay and found an F103 body set I picked up from D-Drive awhile back and painted and detailed in the old Leyton House March livery. I ran the body once and then went to the body I painted up that was shipped to you with the chassis. Will take some pics and post up later.

Panda
Promodvette - here are the pics of the Leyton House cars. First body shell was a D-Drive body set that fit's the F103. Loved the colors and scheme so much, did up a second one on a Tamiya Ferrari F60. Humm, maybe BP will get some ideas.........
10-09-2012, 06:14 AM
Tech Champion
Join Date: Oct 2001
Location: Philadelphia, PA
Posts: 7,020
---
that looks cool on the F60 body...Might have to try that on one of the Mclaren bodies I have sitting around
If BP does want to do the Leyton House colors - I have a complete sheet of unused ones that i'd loan out
- and I'm sure his will be better then the originals
10-09-2012, 07:20 AM
Tech Elite
---
The Leyton House is on the list of sheets to do, I actually have a Decal Island sheet that I bought before I started doing my own. Lots of new stuff coming in time for the holiday

10-09-2012, 07:31 AM
Tech Elite
Join Date: Jan 2003
Location: Tokyo, Japan
Posts: 2,030
---
Howdy y'all, has anyone mucked around with using different o-rings under the t-plate for an F103. I've noticed that o rings come in different compounds such as soft, med and hard.

Just want to get an idea if this is worth testing out.

PS this is for asphalt racing.
10-09-2012, 08:28 AM
Tech Champion
Join Date: Aug 2001
Location: Macho Business Donkey Wrestler
Posts: 7,753
---
10-09-2012, 08:35 AM
Tech Elite
Join Date: Jan 2003
Location: Tokyo, Japan
Posts: 2,030
---
Thanks for the info, I already knew about the 0.30 nylon washer after watching you video!
10-09-2012, 01:25 PM
Tech Elite
Join Date: Dec 2004
Location: Marietta, Ga
Posts: 2,179
---
10-09-2012, 04:38 PM
Tech Addict
Join Date: Sep 2010
Location: RC dojo
Posts: 705
---
Wanted to share my new McLaren Mercedes - a Unimog car carrier: [Tamiya CC-01]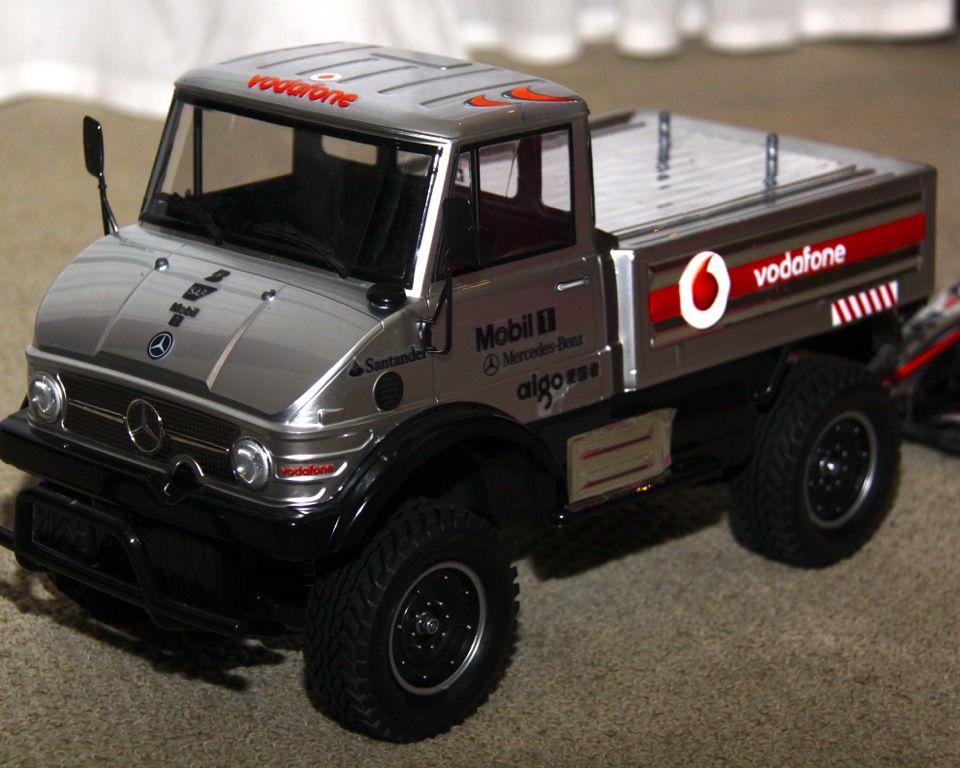 Actual car carrier currently awaiting completion of fabrication.
Also, due to LewHam leaving McLaren for MercedesGP - the F104X1 livery has been updated to reflect car #1. (It started as the Heikki #2 ride)
---
Last edited by macavant; 10-09-2012 at

10:46 PM

.
10-09-2012, 10:11 PM
Tech Elite
10-09-2012, 10:39 PM
Tech Master
Join Date: Mar 2012
Posts: 1,558
---
I've been running my f104 pro at our local track on practice days, as there's no class for it currently. I've seen many pics of the exotek f1r chassis for this, and I do like the design/layout for it, as I have a rc12 5.1 pan car and am familiar with the whole tweak/spring/damper setup. Can anyone else give me a review or better idea of what this chassis is about? Good/bad? Also, anyone use the hi capacity lipo conversion kit for these cars?
10-09-2012, 10:55 PM
Tech Elite
10-10-2012, 12:14 AM
Tech Elite
Join Date: Dec 2004
Location: Marietta, Ga
Posts: 2,179
---
Haha too bad its just not red enough. And as BP said above this, hes got one and will be sending it soon! The Lotus on there is a fine body and will get lots of runs, I'm just going to have the Ferrari for backup when I finally destroy or get tired of it, whichever comes first
Already set my esc and receiver and battery in the F103 just to see what it looked like
10-10-2012, 12:42 AM
Tech Elite
---
Promodvette - save that 643 for your shelf and just keep beating away at the Lotus body. She still has some good miles on her and proper tune-ups with Shoe Goo will extend the life.