1/10 R/C F1's...Pics, Discussions, Whatever...
11-11-2008, 08:46 PM
Tech Addict
Join Date: Jan 2006
Location: Ontario, Canada
Posts: 544
---
Well I just panned all through that.. and said OMG about ... ohhh 500 times!!!
My wife was in the room, and said.. you know your either 6 or old when toy cars are getting you that worked up!
The Castrol Lotus, WHAT IS IT!! HOW DO I GET IT!! That is my Favourite!!!
WOW.. thanks for those pics!.. hope you dont mind Vyger, but I saved a lot of them.. wow..
James
ps found it!!
http://cgi.ebay.ca/TAMIYA-1-10-RC-LOTUS-107B-FORD-F1-FORMULA-1-58126-NIB_W0QQitemZ170265413600QQcmdZViewItem?hash=item1 70265413600&_trksid=p3286.c0.m14&_trkparms=72%3A12 15|66%3A2|65%3A12|39%3A1|240%3A1318#ebayphotohosti ng
But I can't afford that right now
oh well...
---
Last edited by Bikerbob; 11-11-2008 at

09:04 PM

. Reason: found it on ebay
11-11-2008, 09:05 PM
Tech Master
Join Date: Mar 2005
Location: Australia
Posts: 1,063
---
blooody hell. Thats just an awesome collection of F1's.
Yup I saved a lot of those pictures as well.

Vyger keep up the good work.
11-11-2008, 09:38 PM
---
Looking for someone to machine some aluminum parts for my cross cf01'08. Ran the kit last weekend and was able to get TQ on its maiden run. But reliability issues plagued the mains. So i was hoping to make the kit a tad bit more reliable by having the front bulkhead and probably the topdeck mount posts done in aluminum. But otherwise the kit was loads of fun to drive considering i was the only one running rubber tires and everyone else was on f103 kits and kit foams.
11-11-2008, 11:00 PM
Tech Addict
Join Date: Jul 2005
Location: Melbourne , Australia
Posts: 747
---
Wow i think i need glasses after those great pics , couldn't stop staring
.I think you have motivated alot of us to get off our ass and build some of these replicas .
Just wish i had 36hours in a day .
11-11-2008, 11:05 PM
Tech Addict
Join Date: Dec 2002
Location: Planet earth
Posts: 535
---
vyger ,
'
you are the man
11-12-2008, 09:23 AM
Tech Addict
---
Thanks guys. Iím just happy that other can appreciate my lot. Iíve had a blast working on these over the last year. Iíve got a few cars that didnít get pictured because theyíre in boxes still (Pennzoil Indy car, Tyrell 6 Wheeler, Kyosho Williams). Plus the recently completed FW-18 is at work on my desk. One of these days Iím going to line them all up in front of the house and snap some pics like a grid.

Thank you again everybody for the kind words. Iíll post up more pics of the MP4/7 when Iíve made some progress.
11-12-2008, 12:46 PM
Tech Addict
Join Date: Sep 2005
Location: Huntington Beach, Ca.
Posts: 512
---
Wow, what an awesome thread! I am very, very impressed.
Now I think I've found a thread that knows a thing or two about these cars.

I bought and raced in the TCS series a F103GT, but this year they are running F1's with foam. I'm planning on buying a new kit to race and am somewhat confused by all the variations:

1) What is the difference between the "T-Body" vs. "M-Body"?
2) Aside from looks, is there any performance difference in racing between all of these different bodies?
3) Do all the bodies fit on the F103 RX, RS, RM's? (I understand that the long versions probably are different).
4) Looks like the only new kits being made are the RM and soon the 15th aniv edition; anyone have some racing recommendations on a preferred racing kit and racing body?

Thanks for your thoughts,
Jeff Smith
11-12-2008, 03:00 PM
Tech Addict
---
Hey Jeff, Iíll take a shot and trying to help you out.

1) The M-Type body is the generic version of the McLaren MP4/13, the older West sponsored car. The T-Type body is the generic version of the old Tyrell Nokia car. There is also word of a new L-Type body that will be the generic version of the Ligier. Genaric meaning the body is the right shape but it doesnít include any of the original stickers to make the car the way it use to. That sort of sucks for us.

2) This is my personal opinion, but Iíve always found the following bodies to be the best performing of the lot.

a. Ferrari 412T1 Ė great foam tire car, high traction
b. Williams FW-14 Ė great foam tire car, high traction
c. Honda Footwork Ė good foam tire car, neutral feeling
d. Jordan 191 Ė good foam tire car, neutral feeling
e. Suaber C12 Ė good foam and rubber tire car, neutral feeling
f. Lotus 107B Ė Excellent rubber tire car, high traction

Note, most of these are low nose cars and none of the re-released body types are mentioned. SorryÖ.

3) You are correct, they will all fit the F101, F102, F103, RS, RX, RM and now the R cars. You could use F103L, but youíd need to get a different chassis and upper-deck.

4) If youíre thinking about diving into this Iíd go straight to the deep end and get the 15 Anniversary kit. The kit comes with every hop-up for the car. Not most, EVERY. If you try to piece the parts together and build one yourself itís going to cost you close to $600, MSRP (take my word on this one, I did it), while the new F103R kit is listed from Japan around $260, MSRP. I think itís pretty clear which is the better way to go. However, with that being saidÖ.Iím not sure exactly when the Anniversary kits will be available.

I hope this helps. Please keep in mind this is all based on my opinion. I'm sure others may say differently.
11-12-2008, 03:28 PM
---
@vyger,

just woke up, switched on my computer and checked the forum...

saw your post with all the pics...

now i think i need to lie down again... i think my head was spinning from being overwhelmed by F-103 overload... hehehehehehe

my personal favorites are the ff:

Footwork FA13 Mugen
Lotus 102B Judd
Lotus 102D Ford
Williams FW14 Renault
11-12-2008, 04:10 PM
Tech Addict
---
Tommi your killing me! I told you I like F1ís. LOL
Now do you believe me? LOL
VooDooPH: Iíve never worked on one of the more modern F1ís from Chevron or TRG. They look sort of difficult/fragile with respect to mounting all the extra lexan bits and pieces and those same bits and pieces look like theyíd fly off pretty easy with a little tumble. But I canít say thatís what would happen, since Iíve never built or driven one. Iím sure there are others on here that have.
Chevron Body Kit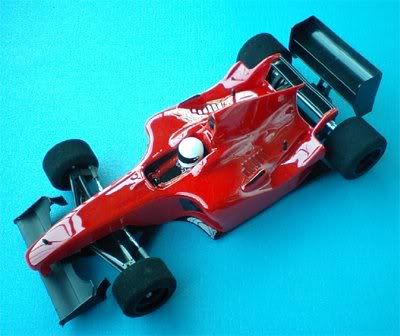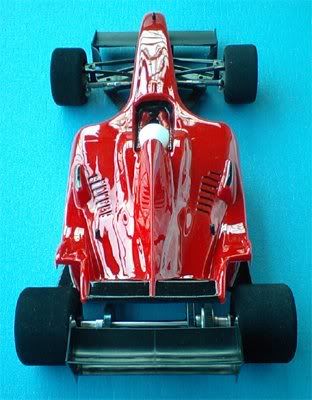 TRG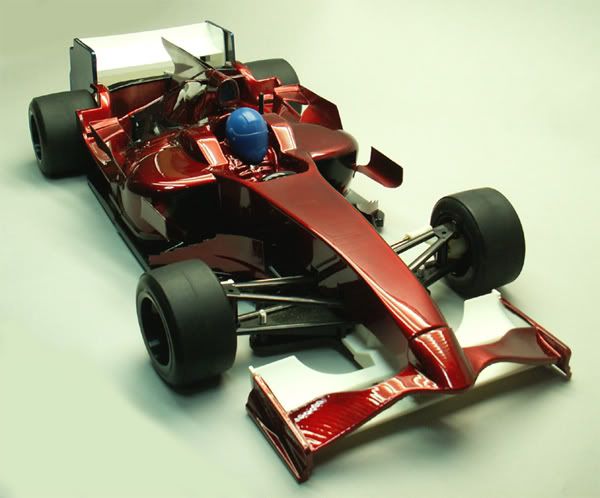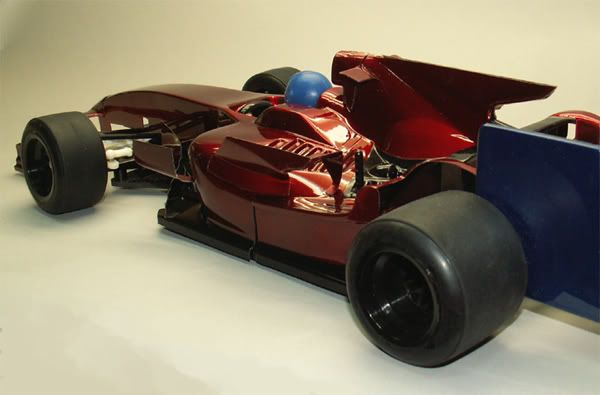 Can anyone comment on the Chevron or TRG modern F1ís, does anyone have pics they could post?
11-13-2008, 09:14 AM
Tech Addict
---
Good morning all! For those of you that donít know or havenít heard about MLP, I strongly suggest you check out their new website. I did last night and I was thoroughly impressed. From my point of view this looks like a first rate operation. They offer data feedback on their testing, lists events, car set ups, products, image gallery, shopping and a forum dedicated to all that is Formula 1. If youíre like me, which Iím assuming you are, thatís why youíre here itís VERY COOL! I put a link below for everyone, so check it out!
Hereís the link.
www.mlpmotorsports.net
11-13-2008, 09:19 AM
---
I guess it's Ofisshul now, Vyger has more F1's than me. Maybe more 103's than Tamiya!
Not sure if he has more than Alphacat but it would be fun to see the results of that comparison.
Now, as for the Chevron stuff my understanding is that they do no make cars but they do make kits to upgrade them and very detailed bodies. The TRG's and other F103 clones can be seen at
www.d-drivesportsenglish.com
. Of those I favor the Tech-Racing version since it seems to have all the right stuff on it.
Which leads to another question. Will Tamiya allow the older F103's to compete in the TCS events? How could they stop them since they are the same car? I will purchase the RM model, not sure about the new bling edition though. I think Tamiya should welcome all who wish to compete.
For all the local races I have the new MLP V103 which is miles ahead in technology and based on the 103's but the only Tamiya stuff on it is the front a-arms and shock. Marty will have the MP 3/8 which is the same car but uses the Tamiya axles front and rear but with a better chassis and rear pod. Not even close to TCS rules but much better for local stuff.
I can't wait for the TCS here in the states again but keeping track of what everyone is driving at the local level is what I would like to hear about. Lot's of cars out there to chose from. By the way, have any of you seen the new Alpha's? Very smooth cars and track well on any surface. A couple of them came to the F1 race in Atlanta and put down consistent TQ laps in every heat.