CRC Battle Axe, GenXPro 10, 1/10th pan, Brushless, Lipo,4c, Road, Oval,TipsandTricks
02-22-2010, 09:08 PM
Tech Elite
---
I am copying this as I will be trying this speed control In the Pro 10 wide pan in the near future.
LRP SPX8 Arrives
Here are some preliminary impressions. Firstly the SPX8 case is identical to the older LRP TC edition (Pre SXX). That is the last 1/10 scale speed control that used to work for me in mod TC on our track. A couple of racers still run it successfully at our track. See the first photo. The fan has been changed to a thicker unit. Hopefully it is as powerfully as the old fan. The weight of the SPX8 is identical to the old LRP TC edition in the photo once the wire lengths are equalized. 3.5 ounces out of the box. In the installation into the TC the wires can be trimmed shorter and you end up at 2.7 ounces.
There is a familiar capacitor installed with nice leads internally. There is also what looks suspiciously like a Shottky diode installed externally connecting the plus and minus lead. The fan is wired internally rather than plugged in as in the Old TC edition case (not the SXX)
This compares to the Tekin RX8 at 4.2 ounces installed with capacitor.
Setup was familiar and easy. You do have to solder the BEC wire to your positive lead to run 2S LiPo. I did this under the board. I also soldered motor fan leads under the board.
The car is at our tracks weight limit of 50.3 ounces. I lost 1.5 ounces of extra weight. Side to side weight is good. I centered the speed control in the large space for the best cooling.
Now my demands of the speed control are simple. I don't want it to show normal temps on motor and speed control and then catch fire one day for no reason. We will have to see on this.
I had a Black Diamond Speed control in my hand a couple of weeks ago. It may have worked in this application as it is advertized down to 3.0 turns. I could not bear the price though.
__________________
02-22-2010, 09:45 PM
Tech Regular
---
I have the Vector 2500kv motor and it's a decent motor. Too weak for 1/8, but is one cool running motor in 1/10. Same dimension as a 1520 motor. It's currently hooked up in my FLM Rustler with 18 degrees boost with the MMpro.
So that diode thing you see on the ESC, could be a TVS. Any closeup pics of it.
Here's the 1/8 motor pic.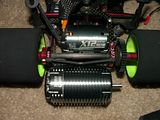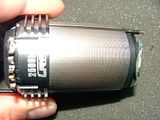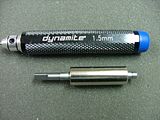 02-23-2010, 09:17 AM
Tech Elite
---
Snellemin-Thanks for the post. Here is a pic of the possible diode.

So are you using that 1/8th motor in a conversion?

I notice a 3.0 in your pan car. What gear are you running it with. How did it perform?
02-23-2010, 09:52 AM
Tech Regular
---
Ah, kinda looks like it's there to stop the reverse current during braking. But I'm just guessing.
I'll be stuffing the 1/8 motor in an old school TRC Lynx. The middle one in the pic. If it doesn't fit well, I have a 1/8 cobra pan car that will work for sure.
Yes, I'm running the 3 Turn in the crc on 44/9, 44/10 32p gears. It's fun to drive it on concrete. My traction compound of choice is warmed up honey. As I mostly drive it in front of my house, I opt for 32p gears.
This runs on 2s2p A123, which under load is pretty close to 1s lipo. You can say I was ahead of the 1s rage.
02-26-2010, 05:30 PM
Tech Elite
---
Wide Pan News
I ordered a second LRP SPX8 for the wide pan. Should be here next week. It should do a lot to lower the center of gravity, move weight back, and make for a very neat electronics install. Weight savings will be 1.7 ounces or so. This will allow it to be installed on the left side Nerfwing without a lot of extra ballast on the opposite side. A big receiver and transponder will be mounted as far out as possible on the right side Nerf Wing.
I hear some grumblings that my graphite is being cut for the suspension kits. Maybe late next week. No promises just an estimate.
The website is improved slightly with downloadable .pdf files that show the chassis mods needed for Gen X 10 (200mm), Battle Axe (200 mm) and JS Pro 10 (230 mm). Here is a set of links in case you are interested in mounting the dual A-arm front suspension on your CRC kit or another brand of kit. Note also that you can mail your chassis in for mods using an Aluminum drilling jig with hardened steel drill buttons. You can also buy a spare chassis for a reasonable fee with the mods done to it.
Kit Assembly, Templates
Gen X 10 (200 mm) Pan Car
Battle Axe (200 mm) Oval Car
JS Pro 10 (230 mm) Wide Pan
Another popular page on the site.
Building tips for your stock Gen X 10
http://www.stranahan-rc.com/Genx10BuildingTips.html
---
Last edited by John Stranahan; 03-01-2010 at

07:58 PM

.
03-01-2010, 05:37 PM
Tech Elite
---
LRP SPX8 installed in JS Pro 10 kit on CRC Gen X 10 Wide Pan
I'm in hog heaven. The LRP Spx8 arrived today for the wide pan. The speed control is within $20 of lesser speed controls that sometimes catch fire in this application. It is exactly the same size and case as the old LRP TC edition speed control which is also quite capable in this applications. The newer SXX is not. Install was identical to the old LRP TC edition save one item. You have to solder your BEC input wire to a source of 7.2 V nominal. For 2 cell use this means anywhere on the red input wire to the receiver. I chose the bottom of the circuit board where there is a Shottky diode installed between the red and black input wires. The smaller diode lead makes a handy place to solder something small like this input wire without disturbing the bulk of the solder joint to the red wire. Weight installed is 2.7 ounces which saves 1.5 ounce over the Tekin RX8. It is also light enough to be counterbalanced by the receiver and AMB transponder set far to the opposite edge of the Nerf wings. Corner weights at the rear came out even to .2 ounces without ballast. This was the goal. Rear mounted weight for better forward traction without having to add ballast which kills some cornering potential. The install came out nice. Here is a pic. (This car should be available soon. Look for it at Stranahan-RC.com in a week or two.)
I had a good session with the car this last weekend. Setup seems about perfect now except for this little weight preload improvement. Weight now is 43.8 ounces with a 5000 mA-h Thunderpower. This is ideal for a track with some dust on it. This includes a diffuser on the body and a front RPM bumper. I tested the car with a lighter 3800 Orion pack and it worked very well also at a 2 oz lighter weight. The front suspension weighs exactly 1 ounce more than a sliding kingpin CRC pro strut front suspension. That is a small weight penalty to pay for a modern dual A-arm dampened front suspension. CRC World GT spec front and rear tires continue to work very well at a good price!
---
Last edited by John Stranahan; 03-01-2010 at

08:00 PM

.
03-02-2010, 09:33 AM
Tech Elite
Join Date: Feb 2002
Location: Southern Cal - Claremont
Posts: 3,405
---
that absolutely looks awesome, John! Work of friggin art!
03-05-2010, 04:42 PM
Tech Elite
---
Boomer-Many thanks
Boomer and Pro 10 Holland are two guys which have followed and contributed ideas to the experiments which went into this JS Pro 10 pan car project from the very beginning of the Pantoura Thread to here. Many thanks.
2010 1/10 IC Sedan Preworlds
Our track is hosting this race at the moment which has brought racers and teams from around the world. I had a nice chat with Joaquin De Soto, President of Serpent. They were testing one of their new 1/8th scale electric cars and that had a balky Tekin RX8 speed control (no lights). I was tasked with repair. We took it up into our secret skunkworks repair area. The cure was to reinstall a previous version of the firmware. Then I put in settings that were requested. More brakes. Mine the same. I set it to 100% so you can turn them down with the radio. Less motor heat. We went with 85% amp limit. I experimented with this recently on the touring car to good effect. I added 15 % drag brake. Against my wishes we added another 10 degrees of timing advance for a total of 20, on a Novak 6.5 2500 Kv 1/18th size motor. The gear selection was limited and more top speed was desired for our long 250 foot straight. We left it in profile 3 linear.
Anyway it was interesting having this car in hand. Rear axle was locked, front had a dual one-way. It was running on four cell LiPo.
Note that other car in the second pic. Is that a JS Pro 10?
03-05-2010, 08:31 PM
Tech Regular
Join Date: Aug 2008
Location: Calgary
Posts: 454
---
This serpent car seems to be what you have been trying to build privately for quite sometime. You just need to delete the belt running to the front wheels.
03-05-2010, 09:01 PM
Tech Elite
---
Captn Slow-There are a few differences. One is that my car fits in an existing Ifmar/Roar class that is popular and raced in Europe, Canada, and one group in Colorado. The 1/8 scale has no class yet. This is the first example I have seen.

The 1/10 pan is running at 1/10 Nitro speeds, The 1/8th Serpent car is going to need some more developments in the electronic-motor-gearing package, to reach those speeds. It has a lot of potential. I have heard of some good reports on a 1/8 th on-road conversion run by Brian Kimwald. The price difference between this car and mine will buy a couple spares of mine.

My main goal was to bring pan cars out of the early 1990's, prevent blowovers, have some grip on medium traction surfaces, accelerate through bumps. All this is achieved.
---
Last edited by John Stranahan; 03-08-2010 at

10:59 AM

.
03-08-2010, 10:42 AM
Tech Elite
---
Wide Pan Track Test
We had the 2010 1/10 (IC) Pre Worlds at our track this last week. I had a couple of opportunities to test the wide pan. One Tuesday with med-high traction during unofficial race warmutp, and once Sunday with high traction after the race. Tuesday I learned I had a bit too much steering traction for most corners and a bit too much rear traction in the high speed chicane. Previously the car was dying a little late in the corner. It would not keep up its corner speed. Sunday I made adjustments to address the three problems that resulted from high traction and put on a relatively common setup for wide pans. Pink rear tires (medium height). These actually produce slightly less traction forward and cornering than the CRC spec rears which are slightly harder than pink. Purple front tires (medium height) to reduce cornering bite and turn in. I reduced caster to 4 degrees from 6 degrees to reduce mid corner bite and keep the car rolling.
Some other things to note. I have 3 lb custom wound springs on all four corners, 35 weight oil on all four corners. Ride height is a 6mm for the chassis, 3 mm for the pod. Front left camber -2, front right camber -1 for even tire wear.
All was well. The car was really fast like it was on the new asphalt. Speeds on the straight were probably about 65 mph as I measured on the new asphalt. Turn in was great. A little too good. I probably could have run double purples or raised the front roll center a bit. Fastest Lap times were easily better than my electric TC. Chris Tossolini, The nitro race TQ, happened to be on the track at the same time after the races. He never passed me (but fortunately he was stopping every two laps or so for the crew to make adjustments to the car.) I was not as fast as he, but then, he might have been if running my car.
LRP SPX8
The LRP SPX8 performed very well the first heat of practice. Motor temp was about 187F from the high traction. Gearing was 90/14 for good straightaway speed on the long straight and good punch out of the corners. I rushed the second pack a little without giving the car enough time to cool fully. Also I was faster due to the practice from the first pack. The SPX8 thermalled late in the run. One little blue light was blinking on inspection. I could easily reduce gearing just a bit for these high traction conditions. (It turns out that the LRP X12 rotor had exploded causing this thermaling. See the discussion at the next track test.)
Serpent Electric 1/8th scale
The Tekin Speed control that I reset, caught on fire on the bench. I don't know if the 20 Degree timing was to blame or not. Another road report was not possible.
Picture
JS Pro 10 Kit on CRC Gen X 10
Note plenty of shock clearance from rear shocks to body. Whale tail spoiler to get a little more wing. No Side dams, instead I have left material behind the wheel; this saves weight and reduces wear and tear to the back of the body. No big body cutout at the rear. My wind tunnel test on this body showed air entering the body just below the spoiler. Big meats. Steel screw kit blue loctited to the pod.
Second pic: Note I am running no center post now for excellent Panhard bar clearance and eliminated chatter on forward wheel spin. I am using the CRC 4 mm Heavy duty top plate. Motor has increased ventilation. It used to have an internal home made fan for summer use. Battery top plate is cut away for wire and charging plug clearance. There are actually three other copies of this rear end out in the field, one on a road pan in Canada and another on an oval car in New York and a third on a road pan in Japan.
---
Last edited by John Stranahan; 03-10-2010 at

03:57 PM

.
03-08-2010, 02:05 PM
Tech Elite
---
Battle Axe News, Stranahan-RC Heavy Duty Offset Pod Kit
For the first time, available at Stranahan-RC,
a heavy duty offset pod package for the Battle Axe 2.0 for $65
. The package includes an SRC heavy duty bottom plate, SRC heavy duty top plate, CRC 1/12 pod x brace, Hyperdrive offset pod hub pair.
The heavy duty parts have extra material around the crucial side link holes on the bottom plate and forward securing hole on the top plate, to increase strength and prevent tearout. This pod is ideal for 1 cell work.
In addition this kit is upgradable to a 3-link rear end if so desired at a later time. It includes holes for two vertical side shocks.
Expect this pod to be the basis for the JS Pro 200 kit for the Battle Axe coming soon.
Note that the newly released CRC offset pod kit is also available here.
Thanks to John Fisher for helping develop my offset pod kit earlier around page 84 of this thread.
---
Last edited by John Stranahan; 03-08-2010 at

04:00 PM

.
03-08-2010, 02:19 PM
Tech Regular
---
Great looking kit John.
03-08-2010, 02:23 PM
---
Hi racers.
I just opened the new indoor carpet rc track in Chino, CA.
90'X45' CRC Carpet and barrier, super flat and smooth.
Please check out at
www.tqrcracing.com
Thanks and here is our flyer.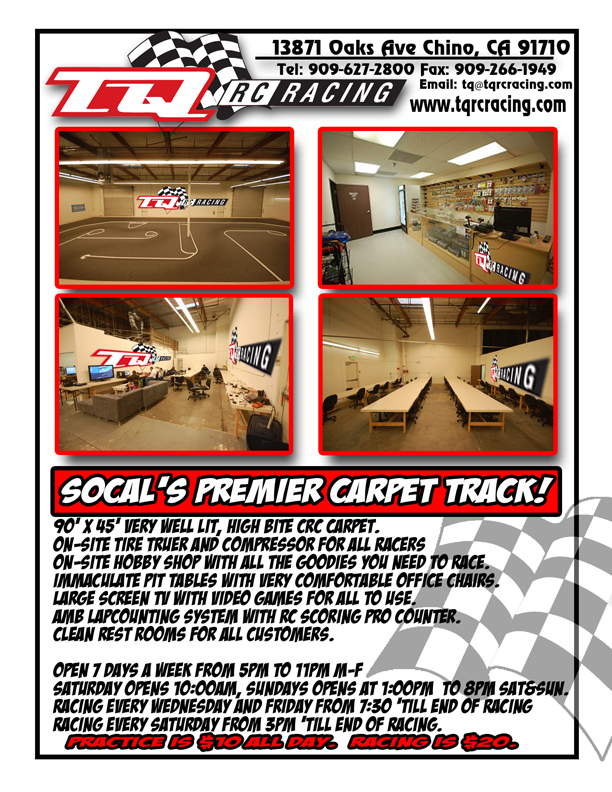 03-08-2010, 05:20 PM
Tech Rookie
Join Date: Oct 2009
Posts: 4
---
Hi John (and all) - I'm the guy running in Canada. There is no wide pan season as such in winter so I've been limited to some test runs on our 1/12 carpet track - as you can imagine the car is ridiculously overpowered for the space available. Novak 4.5T.
When I had it configured for the Protoform body (narrow front end) it drove very nicely, the only issues being my own, not being able to handle the extreme punchiness of the motor and a steering servo that didn't center very well. I got some OK laps in though.
The rearend was set up really quite soft with 45wt oil and cut down green Associated VCS springs. Side links are mounted as flat as physically possible, as there's a lot more mechanical traction on carpet. Jaco green rear/purple front. Front was the stock CRC kingpin frontend on white springs - green (one level stiffer) would probably be better, but again, considering the power involved it was very driveable.
Last week I tried a Mcallister Jaguar body for a full 235mm front track width, and stiffened up bigtime with gold springs in back and .020" standard kingpin springs up front. Not nice at all, so I'm going back to the previous setup.
John's kit is very well put together and I can see how it will really improve things immensely on asphalt.