Interested in getting the 13.5 and 10.5 of these.
Does anyone know if these are any good, maybe specs wise , how do they stack up against such other motors as the Novak 13.5's/Orion Vortex's etc.
FANTOM PRODUCTS
Pro Brushless Racing Motors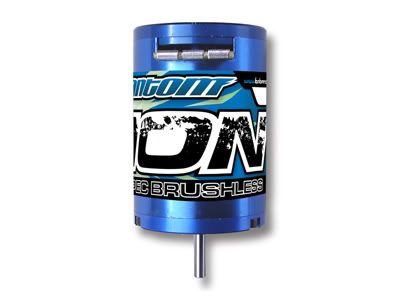 13.5 TURN ION SPEC PRO BRUSHLESS MODIFIED MOTOR
FAN28107
13.5 Turn ION Spec Pro Brushless Racing Motor
The next generation of high-performance brushless motors are here! Introducing the new Fantom ION Pro Brushless racing motors. These motors are built for racing and represents the latest in R/C brushless motor technology. The Fantom ION Pro Brushless motors are setting the new standard for Power, Efficiency, Reliability & Performance!
Check out these features...
Sintered Neodymium Magnet Rotor - Produces huge power and high efficiency. Also, the sintered design provides increased strength and durability to withstand the heat and rpm stresses of racing.
Multi-strand Heavy Gauge Wire - Combined with the sintered neodymium magnet rotor, this combination produces the ultimate power and efficiency required for today's high level racing.
Sensored or Sensorless Operation - The ION runs sensored or sensorless, and is compatible with all popular racing speed controls.
Dual Ball Bearings - For maximum rpm and smooth operation.
Fixed Timing - Meets specifications for spec class racing, for easy tech inspection.
Color coded for easy tech inspection.
Includes sensor cable.
Available in all popular winds.
Meets ROAR and EFRA specifications.
RECOMMENDED FOR: All classes allowing spec 13.5 turn brushless motors. This motor is the spec equivalent to 19 turn brushed motors.