GT10 Class
02-26-2008, 08:55 PM
---
Its good that we have something that we can agree on. I know Jimmy is workin hard on putting something together and all this feedback definitely helps. I know he also is going over the bodies (which I know is a minor point) so hopefully once we have a good idea what to do somebody would mind giving it a try at their track. I know VTA essentially calls this one track in IL the home of VTA so hopefully GT10 can have a "home track" where it can be properly birthed
02-26-2008, 09:19 PM
Tech Addict
Join Date: Apr 2006
Location: Ottawa, Canada
Posts: 552
---


The current Pro10 rules are 1244gms and a 4200 6 cell pack weighs approx 400gms. Knock 1/3 of that to get 4 cell and we're around 1105gm (or 39oz).

From memory, my 10L3T is well over the 1244gms w/ 3800s. That 1244gms was fine when running the older batteries that were significantly lighter.
02-27-2008, 03:38 AM
Tech Elite
Join Date: Dec 2002
Location: Florida
Posts: 4,484
---
Jason if you want to see what a 4 cell -13.5 on the outdoor track looks like come to the next state race at Superior(march 8th-9th). You'll see both me and Rocky driving that in the Trans am class.That's what the rules are for Pan cars in this class along with the proper Trans Am body.
02-27-2008, 12:40 PM
---
Well looks like we are starting to get these things on the track which is good. Hopefully everybody that is running these things will give a report on what then have been doing and how the cars ran. Again, I dont see a problem with having 4 cell for indoors and 7.4 for outdoors. I still think that having a sprint race and having a like 10 minute feature race would be a fun thing to do. thoughts?
02-28-2008, 08:48 AM
Tech Regular
Join Date: Jan 2004
Location: Durham, NC
Posts: 313
---
I thought I would add a body to the list, HPI Mustang GTR
02-28-2008, 05:19 PM
---
02-28-2008, 07:42 PM
---
I think it is a pretty fair looking body bro. Id think seeing a few Mercedes along with the Corvettes and Mustangs and whatever bodies teh list ends up with that Jimmy and I agree on would be pretty cool. I'll let him weigh in though because he is the one doing a lot of testing and analysis
02-28-2008, 08:31 PM
---
We have just sent press releases launching the BMI DB10R. They will start shipping in 2-3 weeks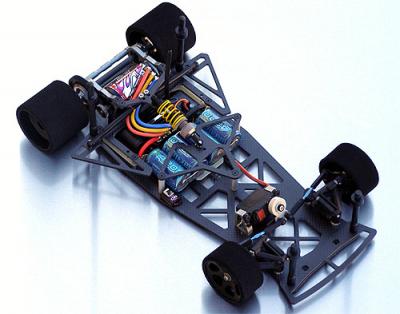 Check out more pics here:
http://www.redrc.net/2008/02/bmi-rac...-10/#more-8163
03-03-2008, 08:24 PM
---
I know this has gotten real quiet for a while but I made a suggestion about race lengths so I thought Id put something concrete down and hopefully stimulate more constructive discussion:

I was thinking that having two qualifying rounds. the first is your pretty basic qualifying, and then the second round would be a sort of "sprint race". 18 cars max, double file heads up start, race for 5 minutes. Invert starting positions of top 3 6 or 9, then set the grid and have a 8 minute "feature race". Thoughts?
03-05-2008, 02:31 PM
Tech Regular
Join Date: Feb 2002
Location: MI
Posts: 462
---
We ran a different qualifying structure for our F103 series locally a couple years ago. As a racer it was nice to run some thing different but it was a nightmare for the guy running the computer. Resorting heats, and messing up the program. Manual inputs etc.

If the lap counting software won't run the race all day without having to be reset, it's a pain. Keeping it simple 5 min quals and mains is probably a good place to start IMO.
03-05-2008, 07:56 PM
Tech Apprentice
Join Date: Apr 2004
Location: No VA
Posts: 84
---


Here's my 2 cents:

I would like a 2s LiPo combination for both indoor and outdoor. That may be a 17.5 or higher for indoor and a 10.5/13.5 for outdoor. I really think having a lot of competitive choices (chassis, batteries, motors, bodies) is the key to any class. I have seen several classes in the past that have narrowed to a very small set of competitive choices, and this typically ended up in boredom...