need a new rc car but which
02-12-2008, 06:25 PM
need a new rc car but which
---
hi i am new to this forum as you can see
i am fairly new to rc cars i have a tl-01 at the minute but i took it club racing last week and it didnt go half as fast as the other cars as i had stock tamiya motor and they had 27t but i am looking to go back with a new competitive chassis but i am on a fairly tight budget of anything up to £130 i am maybe thinking of somthing a couple of models behind the latest but not far off its performace the ones i have been looking around for are
schmacer mission 1,2,3
tc 3,4
yokomo bd
xray t1
is there any i have missed that are good but still on the cheap side
02-12-2008, 07:44 PM
Tech Master
Join Date: Nov 2003
Posts: 1,052
---
Are you racing rubber or foam at your local track?

If cost of concern, and you don't mind a used car, look for a XRay '007, Schumacher Mi3, or Corally RDX Phi. All of these cars are leaders on the track with ample support.

If you want new and competitive, the Associated TC5 seems to be picking up a little steam on setup support, plus the parts are cheaper than most.
02-12-2008, 07:53 PM
---
i am planning on racing standard for a year and that means i have to race on rubbers are losi xxx-s still competitive
02-13-2008, 01:34 AM
Tech Addict
Join Date: Dec 2002
Location: Kaneohe, HI
Posts: 681
---
How do you think your TL-01 would have performed if you had a 27t stock motor instead of the Silver can? Do you think it would have been more competitive if it had equal power/speed? If so how about getting a 27t stock motor first and see how things go?
But if you want a better chassis (and almost anything else will be better
hehe) then all the cars you listed will be a big improvement over the TL-01.
Giving you a more adjustable and efficient racer. Look at the cars the other racers are running and ask them questions about them.
02-13-2008, 03:33 AM
Tech Initiate
Join Date: Sep 2007
Posts: 46
---
Well the Schumacher Mi3 is probaly the easiest car to work on and make go fast. If you do go Mi3 I can garentee you will have so much fun playing around with all the different simple changes that you can do.
Like changing the top deck to flexi standed stiff or '08
or changing the dif heights with two screws..
It really is the easiest car to work on.
if you really start getting into the hobby and start touring around the country and then around the world you would probaly want a Hot Bodies because no matter where you go there will be somebody to help you out.
Otherwise, run what the majority is running at your club because then you will be able to help each other out when you have problems, or get what evere you local hobby shop (LHS) sell because you can always drop buy and ask for a part and some advice.
good luck finding a car that suits you
02-13-2008, 04:29 AM
Tech Elite
Join Date: Oct 2005
Location: Netherlands
Posts: 2,479
---
I would choose the Yokomo BD or TC5. TC5 is probably one of the cheapest competitve cars with carbon/alloy parts ever made and they are fast too! The Yokomo has been around for a while has been proven that it is competitive.
02-13-2008, 04:58 AM
Tech Champion
Join Date: Mar 2006
Location: UK
Posts: 6,151
---
If you're only racing at club level consider the Tamiya TA05. Very capable car and very upgradable if you've got the money.
Mine went from this:
http://www.tamiya.com/english/produc...f430/index.htm
to this: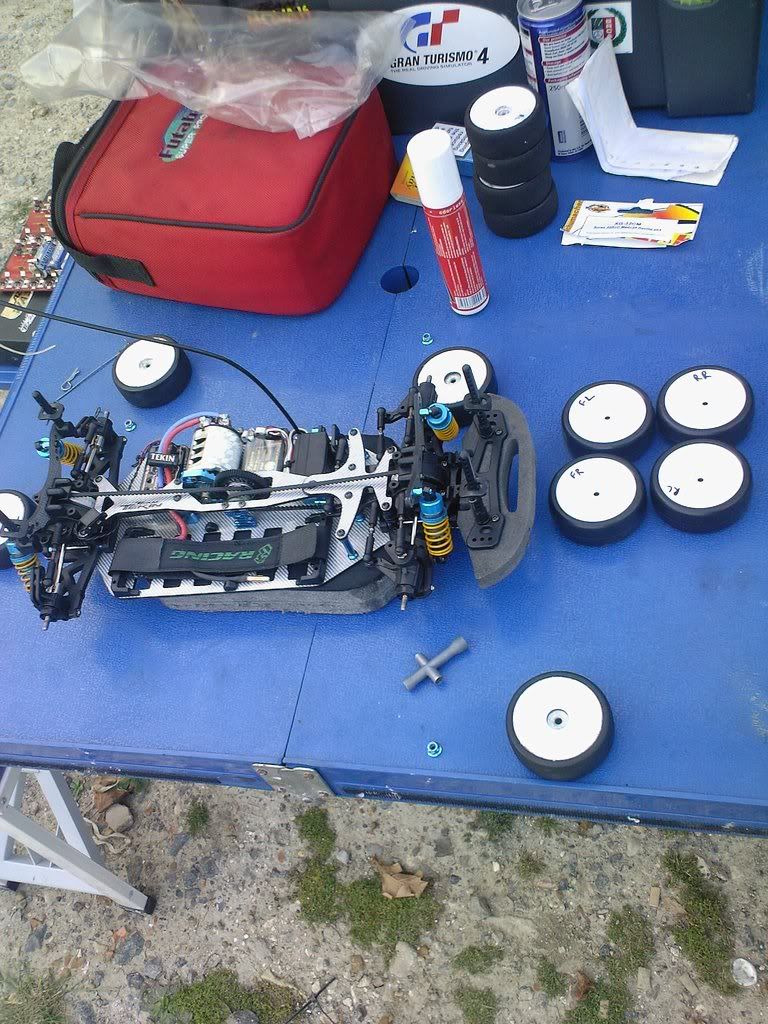 Has the Version 1 3racing graphite chassis on it with trf shocks. Ive had a few people ask me what car it is lol
02-13-2008, 05:50 AM
Tech Master
Join Date: May 2007
Posts: 1,238
---
Losi type r all the way! It has great part support and setups avaliable
02-13-2008, 06:37 AM
Tech Master
Join Date: Nov 2003
Posts: 1,052
---
Correct me if I'm wrong, but didn't Losi just stop sponsoring On-Road racing and telling their drivers to take a hike?
If I were the person looking for a new car, I would want something that is supported by some local racers, and the the company still has an interest in supporting...
Losi has already stopped production on some add-on parts for the Type-R.
02-13-2008, 06:47 AM
---
thanks for all your help they seem to be racing the x-ray t2's and the schumacer mission i see a schumacer mission on ebay with peak charger and spares £105 fully running is this good ?
02-13-2008, 06:48 AM
---
SCHUMACHER MISSION PRO (CARBON FIBRE) (RRP £198.00)

LRP SPEED CONTROLER (RRP £45.00)

ACOMS REMOTE AND RECEIVER (RRP £50.00)

FUTARBA BALL BEARING SERVO (RRP £24.99)

NEW ORION ELEMENT MOTOR (RRP 55.00)

SANYO 3300 BATTERY (RRP 45.00)

PRO PEEK CHARGER (35.00)

BOX OF SPARES (= 5 SETS OF TRACK WHEELS / SPARES COGS / SERVO BITS / CRISTALS / 5 SETS OF RACE SPEC SPRINGS / + ALOT MORE

NISSAN SKYLINE BODY (RRP 35.00)

MAZDA BODY (RRP £35.00)

VOLVO V40 BODY (£35.00)

DODGE STRATUS (RRP £35.00)
02-13-2008, 09:35 AM
Tech Elite
Join Date: Mar 2007
Location: Bristol, England, United Kingdom
Posts: 4,857
---
that's suspiciously cheap.... check the guy's seller rating. and i notice the £ sign
where are you in the UK?
02-13-2008, 09:43 AM
---
yeh i from the uk i noticed not many are from the uk on here
02-13-2008, 10:23 AM
Tech Regular
Join Date: Feb 2007
Location: UK
Posts: 480
---
Most of the suggestions on this thread are ridiculous! Where is he going to get an MI3 or TC5 for £130?!? Both retail at around £270.

Barker; what do you want for your budget? Most of the competitive cars come as a bare chassis with no electrics. So you'd have to continue to use your speed controller, radio and motor from your Tamiya. No matter what car you stick them in, you're not going to go much faster.

I'd avoid the Schumacher Mission. As a new starter you're going to be crashing it quite a bit. Getting spare parts for the mission (it's a very old chassis) will be hard. If you want a decent car for a good price, try and pick up a decent 2nd hand TC4. You can pick them up on ebay for around £60 for the team or £80 for the factory team. That would leave you with a bit of change to update your electronics. You can also get parts easily from Apex models.

To be honest, I'd stick with the Tamiya for a couple of months until you get used to racing. It's a decent car to learn with.
02-13-2008, 11:03 AM
Tech Elite
Join Date: Jun 2005
Posts: 2,584
---
If your car is running slower then the other cars then it is not the car, but the batteries & motor. Since you are running a stock motor just like everyone else that most likely isn't the problem either. So, your problem most likely lies w/ the batteries. Some batteries will deliver more power then others. I would wait to purchase a new car or any upgrades for that matter & get yourself a good lipo & charger. This will be an investment that will make your car much faster & it will be one that you can cary on to your next car. If there is still more speed to be desired I would purchase a larger pinion gear. You should be able to easily find a lipo & charger in this price range. These packs are popular in the u.s.
http://maxamps.com/products.php?cat=25
you will want the 7.4 volt one.
You will also want to purchase a low voltage device of some sort.
this would make a good charger.
http://www.maxamps.com/Skyway-A2078-Charger.htm
Then you should be able to find a power suply for a fair price.
w/ the tl-01 you will probly have to do a little chasis hacking to make the pack fit since the tl-01 isn't made for a standard stick pack. A good cheap car would be a hotbodies cyclone s, they sale for about $140usd. Since your budget is really only enough for the batteries, charger, & power suply I would just save your left over money & then you can put it towards a new chasis. A new chasis will not improve the speed of your car though. It will improve the cars handling once you get a fast motor/battery combo.