Tamiya mini cooper
04-11-2012, 07:46 PM
Tech Apprentice
Join Date: Sep 2009
Location: Dayton Ohio
Posts: 78
---
if you don't wanna drop the cash on the TRF shocks, and the 3racing ones are hit or miss, get the mini cva shocks tamiya makes..
the clear bodied ones are crap - plastic is brittle...but the mini cva shocks are way better
just another option that would be in the same $$ ballpark as the 3Racings ones
thanks for the idea on the cva shocks, the defiantly sound like they will do the trick
04-12-2012, 01:46 AM
Tech Addict
Join Date: Jul 2009
Posts: 587
---
Have anyone tried the Team Powers mini-lite motors? how are they compared to the Hobbywing?

Was thinking about getting a 9.5T
04-12-2012, 08:12 AM
---
Here is my just finished M05 Pro build. My base set up is:
Suspension:
Front shocks 55wt/blue springs 3 hole piston
Rear shocks 40wt/yellow springs 3 hole piston
Height: front 5mm rear 6mm
Camber: rear +2
Tow: +1.5
Tires: any combination of S-Grips, Type A/soft and Type A/firm
Drive Train: TA03 Ball Diff, M03 CVDs
Motor: Revtech 17.5/20t pinion
Speedo: Novak Edge
Body: Alfa Romeo Giula (CRX on order)
I will test this weekend at Speedtechrc
did you expand the wheel wells on the alfa? i like how low you got it, but i don't think i'd be able to get away with that for a TCS race
04-12-2012, 09:02 AM
Tech Regular
Join Date: Dec 2011
Location: Torrance, CA
Posts: 374
---
The Alfa is from my old M04 rwd and probably wouldn't be allowed for that reason. I'll use it for practice. I have a CRX body on order and will post up pics.
I did hack away the body, TCS allowed me to cut the wheel well before, but then it was only enough to clear the tires. Now its really noticeable.
I'll take the Alfa body to tech just for laughs!
04-12-2012, 05:44 PM
Tech Elite
Join Date: Oct 2006
Posts: 2,367
---
Don't disagree with you that often, Jim. However, the Rover Mini Cooper body works with the 60D tires just fine. Gets a little close when using the 2 degree rear hubs, but this body was used for TCS racing for a long time. Don't see it much anymore since most guys run the mid or long WB cars now.
The body of choice for the MWB cars is the Swift and the best body for the LWB car is the BMW or the 2006 Cooper. The others just don't seem to work as well. You, of course, may find other bodies working better at certain venues, but so far have not run at any track where this was true.
And No, they don't allow much, if any body "butchering" at a TCS event.
04-12-2012, 06:01 PM
---
Maybe I'm trying to mount them too low. I've always had to hack up the wheel wells to gain clearance. One of my fellow racers got a better idea. He used a heat gun to reshape the body subtly. Very cool work on his part and fit within rules as the body was cut along the proper lines, etc.

EDIT: Y'know what? I've just been looking through my photo collection and discovered that we're both kind of right, Bob. Tamiya seems to have made a few versions of the Rover Mini shell over the years and several of mine fit just fine without any tweaking. It appears that some versions were designed to work with 55D tires and some with 60D. I've got a really early version in a box around here someplace. I should have a look at it. I'm pretty sure the reason I never used it was because I couldn't make it fit.
---
Last edited by monkeyracing; 04-12-2012 at

06:12 PM

.
04-12-2012, 06:53 PM
Tech Regular
Join Date: Nov 2008
Location: Ks.
Posts: 303
---
The body set is Tamiya 51489
Tower Hobbies shows it as being available mid April.
http://www3.towerhobbies.com/cgi-bin...I=LXCBCZ&P=SM#
04-12-2012, 09:08 PM
Tech Addict
Join Date: Mar 2011
Location: Hobart
Posts: 707
---
My new mini body:
My sister painted it for me with a matching TC for an event I have on the weekend. Its her first go airbrushing so I think it turned out pretty good.
Its a Colt New Mini, SWB.
On the rover mini 60D debate you guys are having, I found my tamiya mini difficult to fit the 60d sized tyres under, they rubbed front and rear.
04-13-2012, 02:03 AM
Tech Adept
Join Date: Jul 2010
Location: Suffolk, England
Posts: 184
Ezrun 13.5 troubles.
---
You guys with the ezrun 13.5's fitted, do you have have any cutting out issues at full throttle up the straights? A mate is running this in his M03 with a lipo and getting exactly this. He doesnt have the punch or the timing cranked right up. I was thinking of fitting a power cap?
04-13-2012, 02:29 AM
Tech Regular
Join Date: Oct 2005
Location: Newtownforbes, Ireland
Posts: 253
---
I think the Monte Carlo Rally Mini shell has smaller wheel wells as it is designed for the 55D tyre.
04-13-2012, 03:03 AM
Tech Rookie
Join Date: Nov 2011
Location: Bellevue, WA
Posts: 4
---
I have noticed that the Tamiya CVA black shocks need some improvements:
1) The shafts are often dinged up and need smoothing (2-6 dings are typical and can be felt with your fingernail.) Use a hobby knife to "shave" the ding repeatedly until it is mostly gone, do not sand it or scrape with the blade vertical wrt the shaft, and
2) Assembly instructions have you insert the o-rings into the shock body and then push the shaft through. I do it the other way around, sliding the well oiled shaft and o-rings together and then sliding the pieces into the body. Less possibility of scratching the o-rings that way. Note the e-clip is already on the shaft.

Cheers
04-13-2012, 04:30 AM
Tech Elite
Join Date: Feb 2009
Location: All over the place
Posts: 2,974
---
I don't think that is possible. To insert the shaft with the e-clip on you have to insert it from the top of the shock body, whilst the o-rings go from the bottom. And you need to have the piston on too.

It is true though that you can put the shaft through the body and then put the o-rings on the shaft (at the other end) and then slide them home. This is my preferred method.
04-13-2012, 08:37 AM
Tech Addict
Join Date: Jan 2010
Location: Youngstown, OH
Posts: 678
New Mini Body #1
---
I got this body when I bought my Used M05... don't know what car it is...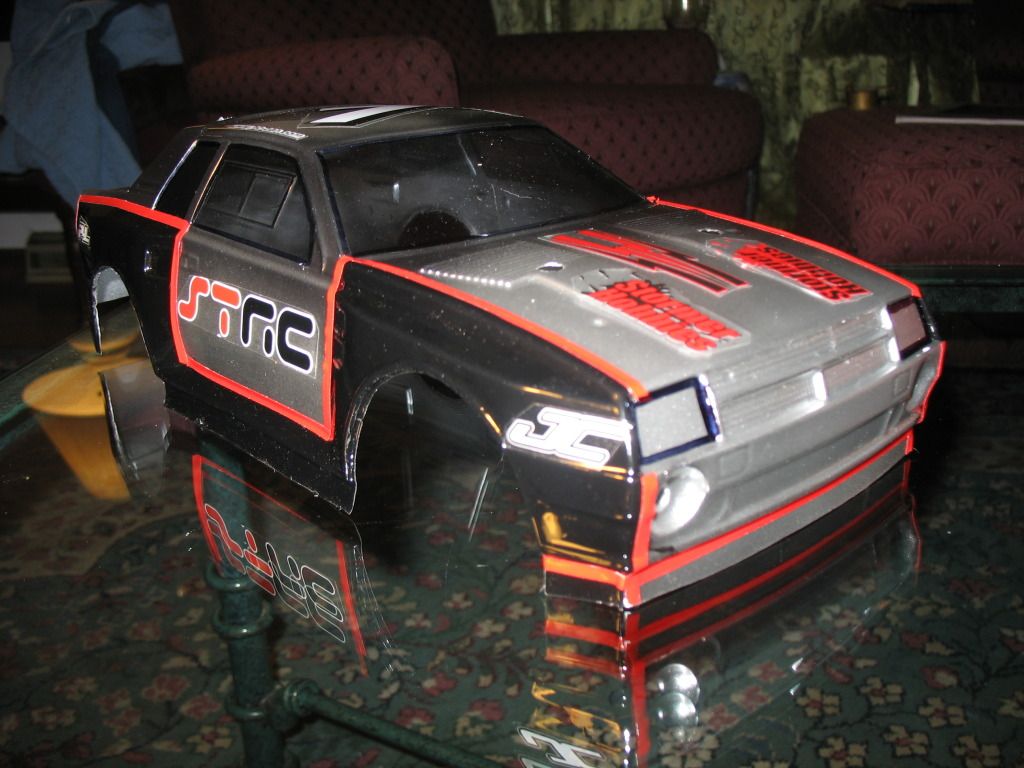 04-13-2012, 08:40 AM
Tech Addict
Join Date: Jan 2010
Location: Youngstown, OH
Posts: 678
New Mini Body #2
---
Another I got when I bought my used M05.... don't know what it is.... lol