SpeedMerchant Rev 5
07-01-2009, 08:31 AM
Tech Master
Join Date: Nov 2003
Posts: 1,052
---
I use the Associated 12R5 aluminum servo mounts.
https://www.ssl-stormerhobbies.com/c...=ns&pn=ASC4630
They are short for the mini servo's used in 1/12, allowing you to use both screw holes on the left and right of the servo. Yes, they use "metric" screws, but it's not like there aren't any other metric screws in use on the car. Part of the Silva shock included in the Rev.5L uses a 1.5mm set screw.
07-01-2009, 08:35 AM
---
07-01-2009, 08:38 AM
07-01-2009, 08:51 AM
Tech Champion
---
I'm gonna use the associated ones my buddy is giving me but I'm going to servo tape it to the chassis to keep the servo steady while I figure out where to drill the holes.
I should have my mounts tomorrow morning
07-01-2009, 08:55 AM
Tech Elite
Join Date: Jan 2005
Location: ★Wylie, TX★
Posts: 3,782
---
Send your chassis with my order and I'll mount it and send it back.
07-01-2009, 08:56 AM
Tech Champion
07-01-2009, 09:03 AM
Tech Master
Join Date: Dec 2003
Posts: 1,701
---
just use the flat ears on the bottom of the servo and screws/locknuts... You dont really need servo mounts for this servo:
07-01-2009, 09:05 AM
Tech Champion
07-01-2009, 09:27 AM
Tech Addict
Join Date: Feb 2006
Posts: 734
---
The asc offroad (t4/b4) mounts are standard hardware. Can't use all 4, but not really that big a deal. Just use cut #4 washers on the screws. My guess on the ones Dumas is using would be GPM ones (ala these:
http://www.hobbyetc.com/cgi-bin/item...#ilikepictures
)
Biggest thing I've learned when mounting a servo by drilling is line up your servo front to back within the little pocket in the chassis and then measure the distance from the front of the chassis to where the screw will go in the servo mount. Lock that distance down in your calipers and scribe a straight line so that both your servo holes will be the same distance from the front.
07-01-2009, 09:40 AM
---
Originally Posted by
JoelV
those are the ones. he grinds down the lip on the bottom of the mounts so the servo mounts flat on the chassis
07-01-2009, 10:21 AM
---
sorry, missed what you were asking. here is what I use.
http://www.niftech.com/catalog.php?mode=3000
near the bottom of the page. but I run titanium lower screws from lunsford. they have no lip to them so they sit a flush with the bottom of the chassis.
07-01-2009, 11:16 AM
Tech Master
Join Date: May 2007
Posts: 1,267
---
Few Pics with the Thunderpower pack....fit is sweet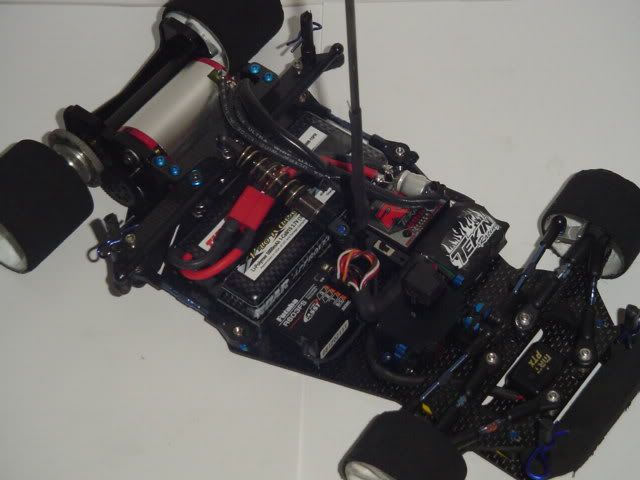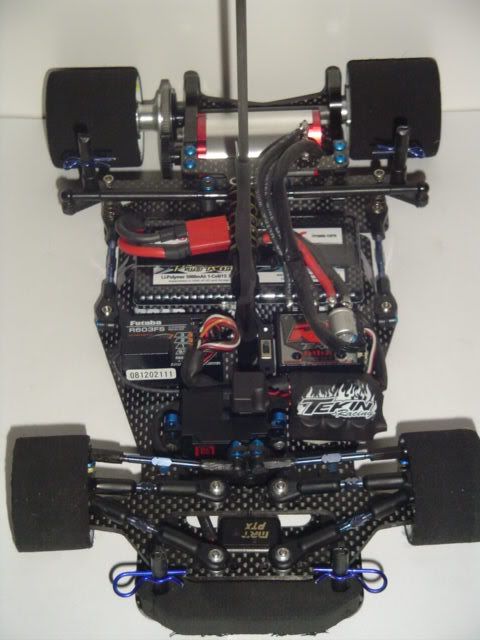 07-01-2009, 11:19 AM
Tech Champion
07-01-2009, 11:23 AM
Tech Master
Join Date: May 2007
Posts: 1,267
---
Booster
07-01-2009, 11:24 AM
Tech Champion