Official Drift Thread
09-12-2007, 07:30 AM
Official Drift Thread
---
Welcome all,

Lets use this as a data base for Drift information. Many like myself would like to get into drifting but know little about it.

So to get the ball rolling: Shaft or Belt drive, which is better for Drift cars.

and should we run to ball diffs or a one way up front?
09-14-2007, 06:15 AM
Tech Apprentice
Join Date: Aug 2007
Posts: 52
---
well i personaly run a shaft drive with difs all round but they are very tight you literaly have to hold one wheel to get them moving independently.

high torque motor 19t i think it is haven't checked in a while almost due for upgrade.

and atm very very hard foamies these things have no depresion factor at all no matter how much i squeeze

but all that reli matters is controll tight drive train and hard tires oh and your run location under cover carparks work best although i do enjoy the ocasional drift on my local track.
09-16-2007, 05:22 PM
---
I read an article that talked about torque steer. Is that a problem for you? What brand/compound tires do you run? Thanks for the imput.
09-16-2007, 05:38 PM
Tech Adept
Join Date: Jul 2006
Posts: 196
---
finally a thread i can respond to
alright drift
shaft vs belt is an age old question but after going throught 11 chassis ive come to the conclusion that shaft is better for getting the power down
now with tyres i use abs
(do a quick search on ebay and look for "sushi" abs the best stuff)
when you have really hard compound tyres or abs (which is a type of plastic that allows a really good grip to drift ratio) torque steer really isnt a problem due to the fact the is no real pressure on any wheel at any time.
im part of a drift forum in australia (yep good old oz)
people on here are using every kinda 4wd touring chassis you can think of from tt-01's to tb evo 5's to xrays... you name it we run it
motors.
we have found the best mixture is a high wind brushless motor i.e a 13.5 novak or a 4600 kv mamba
BUT you can again use anything for a silvercan to a 3.5 novak the sky's the limit
i must say this though.... for drift nothing beats the mambas
i think our forum now has about 15 to a population of 30 not bad if you think about it
any further questions about drift pm me
or visit
www.rcd1.org
and check us out
09-17-2007, 08:37 AM
---
VP thanks and good post. Just ordered an HPI Sprint 2. Does anyone in your club run those?
09-17-2007, 09:05 AM
Tech Master
Join Date: Aug 2007
Posts: 1,067
---
Im actually part of Team Point 1 Drift, we have done demos in shows, Hpi is helping us promote rc drifting, I currently run a tc4, but the guys on the team have Yokomos(LCG, SSG) tamyia(tt01,ta05), tires we use are either just abs tires, yokomo single rings, hpi t drift, odyssey(from africa, great tires)
If you want a good forum to go to about this, go here
www.drccentral.com
, this is probably the best rc drift forum u will find,
You will learn that drifing is not all about hard tires and and torque motors, yes those are needed but you must tune ur suspension like no other, spools are most common in just the rear, I just locked my rear diff and threw a 1 way in the front but took the 1 way back out cause i really didnt like it, but my buddy with a yokomo has a 1 way and i like it, its all about setup and what you like, so go out there and test the waters and figure out what suites u the best
09-17-2007, 12:32 PM
Tech Initiate
Join Date: Aug 2007
Posts: 24
---
i drift my TA tc4 on the stock rims and tires... might not be the tightest drifting, but high speed going sideways its just fun.... i have a post called "how NOT to drift your new tc4" where i crashed it the other day, but it all comes with practice...
09-17-2007, 04:57 PM
Tech Fanatic
Join Date: May 2007
Location: Malaysia
Posts: 838
---
hi fellow drifters,
there is already an Official Drift thread in RCtech:
http://rctech.net/forum/showthread.p...l+drift+thread
why not use this instead of starting another same thread?
10-23-2007, 02:36 AM
Tech Rookie
Join Date: Feb 2007
Location: SAN JOSE/LATHROP, CA
Posts: 11
Attention: All NORCAL Drifters
---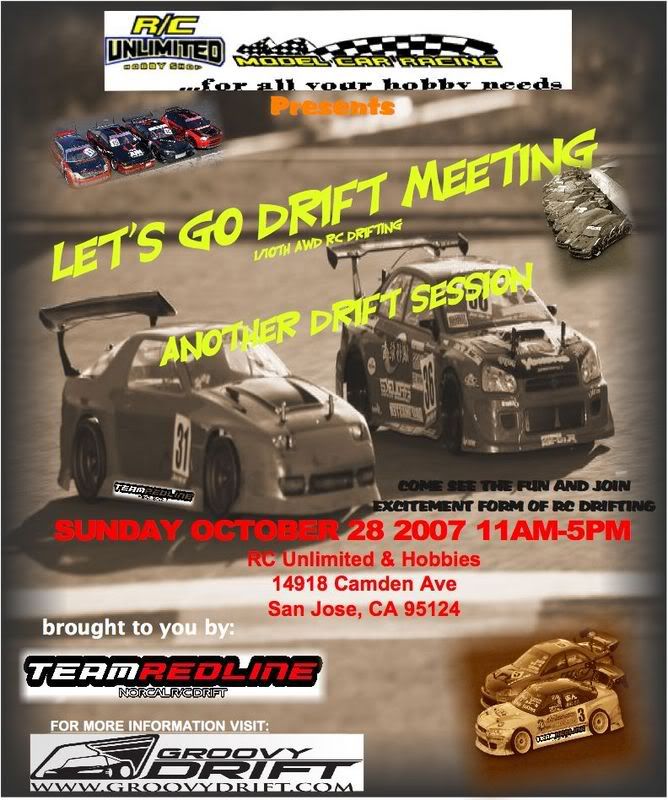 for more info contact IAN 408.833.8218
Currently Active Users Viewing This Thread: 1
(0 members and 1 guests)
Posting Rules
You may not post new threads
You may not post replies
You may not post attachments
You may not edit your posts
---
HTML code is Off
---