Tamiya TRF416 / TRF416WE / TRF416X
12-31-2007, 09:56 AM
Tech Master
Join Date: Aug 2001
Posts: 1,007
---
If you have not grown tired of looking at photos of the TRF416 yet you can check out my blog for some more
http://kentech.blogs.se/
and some here as well:
http://racingfactory.wordpress.com/
Happy New Year! (and with the TRF416 here there's no reason why 2008 should not be a good year..
)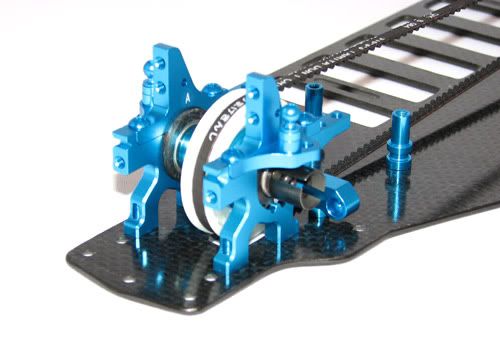 12-31-2007, 10:28 AM
Tech Fanatic
Join Date: Nov 2001
Location: Somewhere on earth
Posts: 930
---
Is everyone still sanding and sealing carbon chassis plates these days? Waiting for my 416 to arrive and i was just wondering.

Also where are you all at with battery's? I will be running 27 turn stock and need a whole new set of cells.
12-31-2007, 10:54 AM
Tech Elite
Join Date: Nov 2002
Location: Pasadena, CA
Posts: 2,563
---
I had a chance to run my 416 for the first time this weekend and I have to say, other than the rear wanting to come around a little out of a turn, the car was pretty good. I ran the kit setup too. It felt very smooth to drive. I was impressed.
12-31-2007, 12:34 PM
Tech Master
Join Date: Jul 2007
Posts: 1,326
---
Recommend to sand the edges and seal at least the lower chassis. I did it for all of my parts. Becareful of the top deck though. You may need to sand the ends of the top deck so it does not arc the bottom deck.
As for batteries, I found the EPs to be the most stable of the 4200s that I bought. Not sure if the IBs (I lost a pack) got better, but I would get more opinions on that brand.
12-31-2007, 06:46 PM
---
Okay, I ran mine today for the first time in at a parking lot track. The asphalt has good grip if it is blown off. And it's smooth. A group of us decided to run today because the race was rained out yesterday. Plus it was New Years eve. And some didn't have to work. Anyways...
I started with kit setup. But this track was very technical. And the oneway just wasn't consistent. So I went with a spool. I had no time to file down the aluminum sleeves for the delrin outdrives. So I went with the TA05 outdrives. Not my preference. I prefer delrin for better steering feel. But no choice today. If you use TA05 outdrives, you must use the 46mm steel bones. The 44mm are too short and run near the end of the outdrives. Could pop out or cause spreading/flowering of the outdrives.
I ended up moving the rear shock in one hole on the tower. And I moved the tie rod forward to No.1 hole on front upright. This causes the steering tie rods to hit the suspension block if trying to turn full lock to lock. So you need to turn down dual rate. Mine was set to 62% with 100% being lock to lock set by EPA. May need to remove some shims on the steering rack later on.
Overall, I like this car alot. It was very smooth. The oneway made the car very nervous in the quick chicanes. But with the spool and changes, it was very quick and precise through it. If only the day was longer and warmer. Track temp for the main was 60°. But we ended up with faster lap times. I was on Sorex 36R gold label tires with Xenon rims made for sorex tires. Insert was... uhhh, I don't remember haha. I mounted them in the summer.
Well the shake down was good. Can't wait to get some more track time so I can learn the car better. Here are some pics before I took it out today. I hope I didn't make them too big.
I'll take some pics of the spool so other will know how it's done. People like pictures...
---
Last edited by JimmyMac; 12-31-2007 at

06:49 PM

. Reason: photo resizing
12-31-2007, 06:55 PM
---
Here we go... resized smaller... You can see all the weight I had to add to the Carbon 3200 and just behind it to balance the car left to right. Final weight with PF Speed6 body was 1511g. One of these days I'll get more NiMh. But for club racing, these are just fine.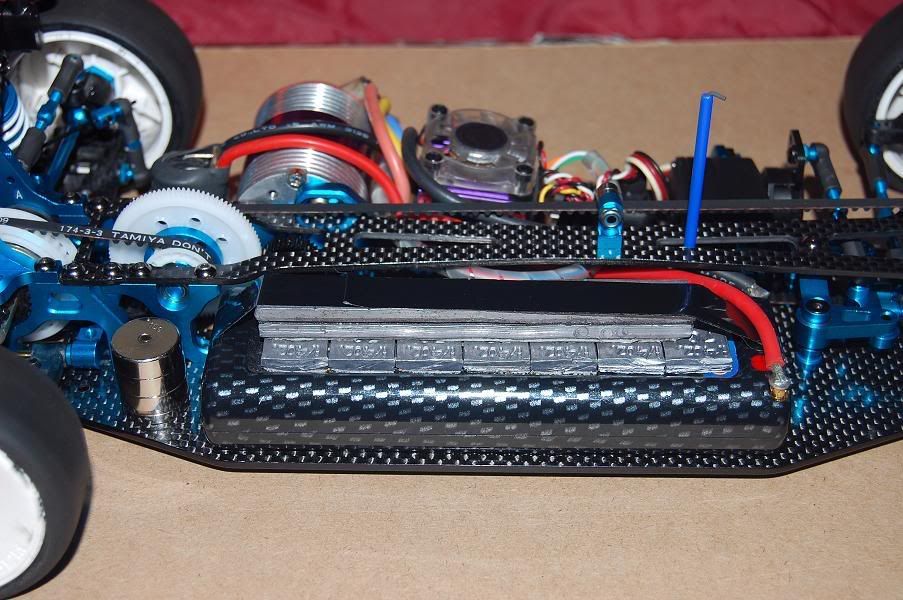 12-31-2007, 07:48 PM
Tech Apprentice
Join Date: Dec 2005
Location: San Jose, Cali
Posts: 61
---
Could someone please tell me what are the weight requirements for electric sedan racing? I have not raced in some time and I don't know what ROAR weight requirements are.
01-01-2008, 02:43 AM
Tech Adept
Join Date: May 2005
Location: Europe
Posts: 165
---
What is part number for TA05 steel outdrives?
01-01-2008, 02:51 AM
---
I dunno. I just took the ones off my TA05 spool when I had a TA05. I'll look around and see if I can find a number for just the steel outdrives. Right now I have the delrin outdrives on there. I took the aluminum sleeves and ground them down on the belt sander. Now they fit no prob over the delrin MRE outdrives. Handling should be nicer now. At least for me....
01-01-2008, 03:30 AM
Tech Adept
Join Date: Nov 2001
Location: Lund, Sweden
Posts: 159
---
01-01-2008, 04:58 AM
Tech Rookie
Join Date: Dec 2007
Posts: 7
---
Hi,

can i use the 44mm steal bones with the delrin outdrives?
Or must i use the 46mm?


greetz Max