Tamiya TRF416 / TRF416WE / TRF416X
09-03-2008, 02:34 PM
---
Well, if anyone has any of the TRF teams setups from the IIC, feel free to post them.
Certainly looking to get the 2.5mm chassis for this winter season, my standard one is looking a little worn after all it's outdoor work
And good to hear how well the team are working, bodes incredably well for the Worlds soon
09-03-2008, 05:11 PM
---
What effect does running a larger rotor have? My LRP vector has a 12.3mm stock spec rotor but I see they make 12.5mm and 13mm rotors. I was looking at getting some little goodies like the ceramic bearings and thin cooling front plate to maybe get a bit more of an edge so just wondering if I should pick up a rotor too
Also with the HPI springs, I see the Reedy setups are using the silver fronts on hole 1 and the blue rears on hole 2, for the euros it looks like Jilles is running silver all round, but still looks like it's on hole 1 at the front & I would think that setup would be a bit taily... actually looking a bit closer he's raised the front RC compared to the reedy setups (2.5mm under the camber link vs 3) - interesting stuff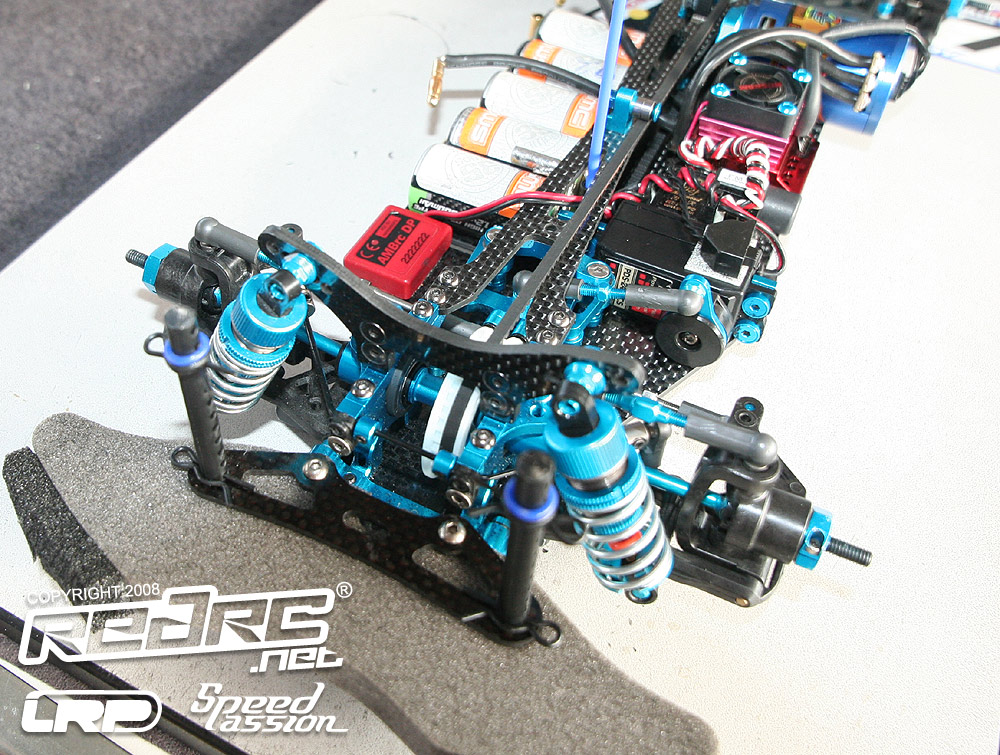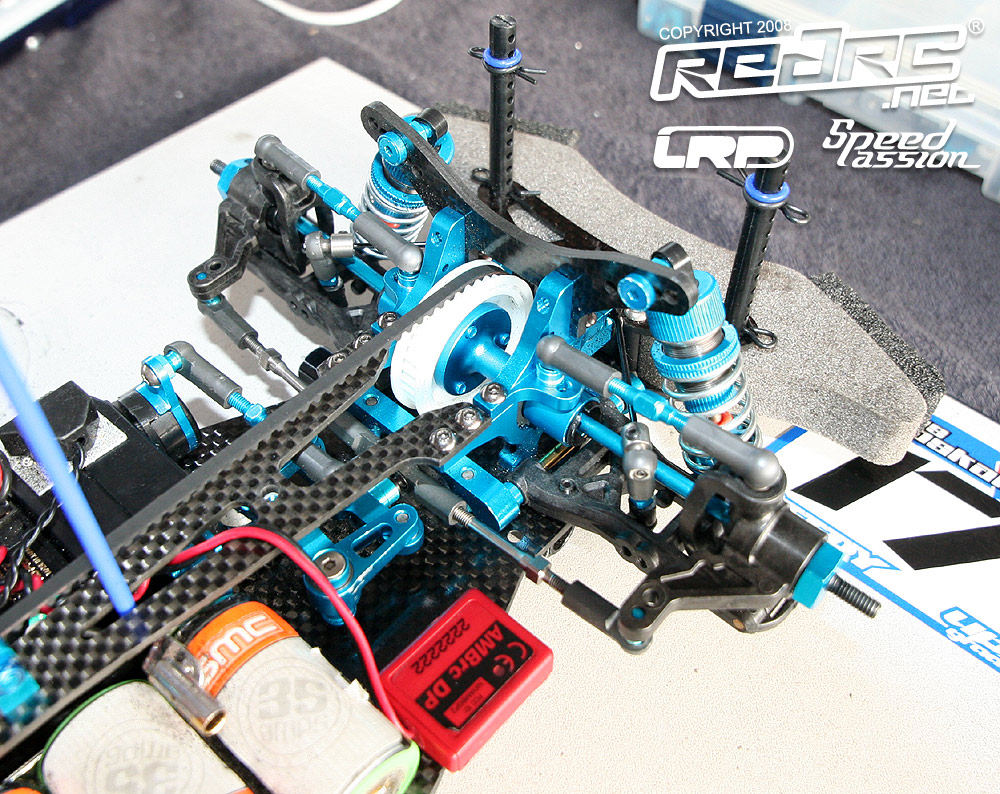 09-03-2008, 09:33 PM
---
09-04-2008, 03:50 AM
Tech Adept
Join Date: Apr 2007
Posts: 186
---
the black and blue rubber rings that the "guys" are using on the bodymounts -anyone knows where you can get them.
I get mine from the Tamiya dampers andfrom the body kits, but want to stock them as they tend to break af a while....
09-04-2008, 07:51 AM
09-04-2008, 12:43 PM
09-04-2008, 05:47 PM
Tech Addict
Join Date: Jul 2004
Location: North Bay
Posts: 517
---
greetings all,

I currently run a 415 original and have a spool for it but want to get those trick blue alum covers that go over the delrin spool outdrives. anyone know the part number.

cheerz
09-04-2008, 05:59 PM
---
09-08-2008, 02:33 PM
Tech Regular
Join Date: Nov 2007
Location: Flanders, Belgium
Posts: 360
---
does anyone know what ESC Marc Rheinhard is using in his TRF416?
I see him on the Speedpassion-webpages AND read about him being part of the LRP-team.
??

Anyone know the Tam-number for the thicker 2,5-chassis?
09-08-2008, 03:38 PM
Tech Adept
Join Date: Sep 2004
Location: Holland, Gouda
Posts: 113
---
He drives an LRP speedo and uses Speed passion motors.

The part nuber of the 2.5mm chassis is 49495

Arjen
09-08-2008, 07:44 PM
---
09-08-2008, 09:19 PM
Tech Elite
Join Date: Feb 2006
Posts: 4,310
---
Originally Posted by
TryHard
You got PM bro..
09-09-2008, 12:14 AM
Tech Adept
Join Date: Dec 2003
Location: Oslo, Norway
Posts: 237
TRF416 Diff Covers
---
Hello all!
Firs victory for THE TRF 416 Diff Covers: Thanks Erik Andreassen Norwegian Champion:
This is how it works:
1. keeps the dirt out.
2. keeps the lubrication on the balls.
3. the diff last longer, You don't have rebuild it that often.
4. very light.
5. more consistent over the run.
6. precise CNC made.
If interested send me an e-mail, the adress is on the picture, or PM.
Alf Skaar
Norway