Old school LaTrax Mustang Cobra II
09-11-2007, 06:16 PM
Tech Fanatic
Join Date: Nov 2005
Location: Las Vegas, Nevada
Posts: 752
Old school LaTrax Mustang Cobra II
---
I'm looking for more information on my first RC car: The LaTrax Mustang Cobra II.
This RC car had the price and quality of a Radio Shack type of RC car with one exception: It had variable steering. Forward and reverse was either on or off, but this car had variable steering! That was unheard of in Radio Shack RC cars. I quickly fell in love with this car and drove it silly. Hours and hours. Eventually, the car started steering in one direction more than the other. Slowly it got worse and worse. Then my father took me to a real RC race night at the local Monroe County club in Webster, NY. We were hoping that some of the RC racers could help to fix the problem, but of course, this was on the toy level compared to what they were using, and nobody knew how to adjust the circuit board. A few days later, since I had nothing to lose, I started messing with the 4 variable pots on the circuit board and fixed it myself. But after seeing the real RC cars racing, I was hooked!
Sadly, all I have left, over the years, is the body. The rims had given out eventually, beyond repair. I went back to my local hobby shop to get parts, and was shocked to hear that he had a few brand new in the box, but had recently thrown them out in the dumpster because they were toys and a pain to service! I ran to dumpster, but they were long gone.
Anyway, I'd love to know more about this LaTrax company. Eventually, I'd like to make a custom chassis for this body to drive it once again. (It's slightly smaller than a 1/12th chassis.)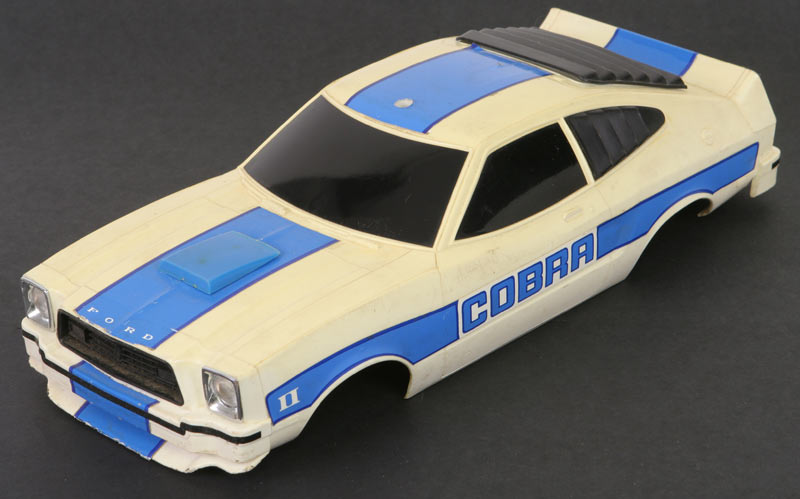 The real thing:
---
Last edited by James35; 09-11-2007 at

06:31 PM

.
09-11-2007, 06:29 PM
Tech Champion
Join Date: Sep 2001
Location: Mongville
Posts: 6,990
---
Not sure about the RC version, but the Aussie version Cobra is much sexier
09-12-2007, 12:53 PM
---
I think RC CAR has a vintage column that did a article on a latrax car, maybe a jeep or jeep like vehicle. Try emailing them, or look at tamiyaclub.com, they have tons of old cars on there besides Tamiya. Actually, they have a lot of stuff I have never even heard of...
01-06-2009, 12:08 PM
Tech Rookie
Join Date: Jan 2009
Posts: 1
i got one if you want it
---
the hood scoop, grille, and the rear louvers are missing, but everything else is there. don't know if it works, no reason it wouldn't, but it's been sitting in the attic for 30 years. rechargeable battery packs and a trailer, all laTrax.
if you cover the shipping, it's yours.
[email protected]
01-06-2009, 12:27 PM
Tech Fanatic
Join Date: Nov 2005
Location: Las Vegas, Nevada
Posts: 752
---
Oh yeah!! I'd LOVE that! I'll send you an email. Thanks!
Currently Active Users Viewing This Thread: 1
(0 members and 1 guests)
Posting Rules
You may not post new threads
You may not post replies
You may not post attachments
You may not edit your posts
---
HTML code is Off
---