Electric 1/8th circuit car
09-09-2007, 03:25 PM
Tech Master
Electric 1/8th circuit car
---
Hi

With the big increase in power from brushless motors and LoPo cells I think the time is right to come up with an electric 1/8th circuit car that will beat the IC cars.

Does anybody know what I would need to control a 3hp brushless motor and how many LiPos to have 6-10 min run time?

Thanks
09-09-2007, 10:46 PM
Tech Master
---
Do a google search..there is a guy building one on a Serpent chassis. Aside of that, look for the user "RURC", he is the massive "electric power to duff nitro cars out" guru.
09-10-2007, 12:24 AM
Tech Master
---
I cant find the page on the Serpent, have you got a link?
09-10-2007, 06:24 AM
Tech Master
---
I havent the foggiest what the url is. Its been a hot minute but I know it was on another forum where I did see it. RURC has built 1/8 scale on road cars using the Seerpent chassis that do 65 miles an hour for 45 minutes straight. It wont come cheap, but the boy knows his stuff. Look him up on this forum but especially on rcuniverse in their electric thread.
09-10-2007, 07:02 AM
Tech Master
---
Even if the motor is $300 and the batteries are around the same and then some spares with a decent charger the cost will still be less than an IC circuit car.

You need 1 engine a season or 2 plus the fuel is $50 a gallon and you get through at least one gall a weekend. It will be more expensive outlay with less running costs

I'll check out the other forums

Cheers
09-10-2007, 10:12 AM
---
Originally Posted by
ziggy12345
Hi

With the big increase in power from brushless motors and LoPo cells I think the time is right to come up with an electric 1/8th circuit car that will beat the IC cars.

Does anybody know what I would need to control a 3hp brushless motor and how many LiPos to have 6-10 min run time?

Thanks
here it is
http://www.redrc.net/2007/04/electri...nt-18th-scale/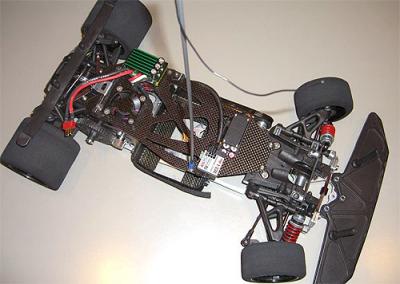 09-11-2007, 02:23 AM
Tech Elite
Join Date: Oct 2005
Location: Netherlands
Posts: 2,492
---
09-11-2007, 06:56 AM
Tech Master
---
Originally Posted by
Marcos.J
Thats the one. I knew my fellow Marine would know. You sure you and RURC arent the same person? Then again, he said he was never in the military and I know you were....proud ass devildog!
Currently Active Users Viewing This Thread: 1
(0 members and 1 guests)
Posting Rules
You may not post new threads
You may not post replies
You may not post attachments
You may not edit your posts
---
HTML code is Off
---