R/C DRIFTERS UNITE!!!
08-20-2007, 07:06 PM
R/C DRIFTERS UNITE!!!
---
Hello and welcome to the r/c drifting scene. This thread was made for r/c drifters and for the people who are interested in Drifting. If you have a drift kit, you are welcomed to post your set-up such as; electronics, batteries, tires, ESC, and Controler. If you are new to drifting here is some history for you, drifting started in Japan and has made its' way the to USA. More and more people are getting interested in the "art" of drifting. Manufactures found out that customers made ABS/PVC tires, and put them on a AWD car. The manufacture named "yokomo" designed a kit for drifting, then HPI made a specific car for drifting, and now almost all of the manufactures have created kits just for drifting. R/C Drifting is very popular now, but most of it is in California. I would like to make a group for r/c drifters in the Midwest area. if you are interested please PM me. Well happy drifting!
08-20-2007, 07:22 PM
PLZ HELP NEW TO THE DRIFT SCEAN
---
ok i got a hard question i need the cheapest best drift setup RTR any ideas?
links would be awsome:]
08-20-2007, 07:39 PM
---
08-20-2007, 07:43 PM
but this is my first rc car so i dont want to have to deal with servos and a radio becuse im not good with all that is it easy?
08-20-2007, 07:52 PM
---
Well if you want to get into r/c cars your going to have to start somewhere right? I picked a kit for you even thought you asked for a RTR. A kit will teach you everything about the car, such as how a differential works, and the steering works. I will find you a nice car that is a RTR, and it is new.
http://www2.towerhobbies.com/cgi-bin...H=HPI+Sprint+2
Pick Your Poison..hahaha
there is a RTR that you don't have to build!
08-20-2007, 07:56 PM
u know what ima do something diffrent for a change and get a kit thnk u for helping me now the first car u showed me is belt driven y does ever body hate belt driven cars for drifting?
08-20-2007, 08:08 PM
---
No, the first car i showed you was a SHAFT Driven car, the second car i showed you was a BELT driven car. Look at the specs on tower hobbies in the link i have provided you with, its in there, but yeah anytime you need help just PM me.
08-20-2007, 08:22 PM
---
Hey guys keep posting in here because i would like to hear what kind of set-up's/ kits you guys drift with and tires.
Happy Drifting
08-20-2007, 10:05 PM
Tech Fanatic
Join Date: May 2006
Posts: 847
---
10-23-2007, 02:41 AM
Tech Rookie
Join Date: Feb 2007
Location: SAN JOSE/LATHROP, CA
Posts: 11
---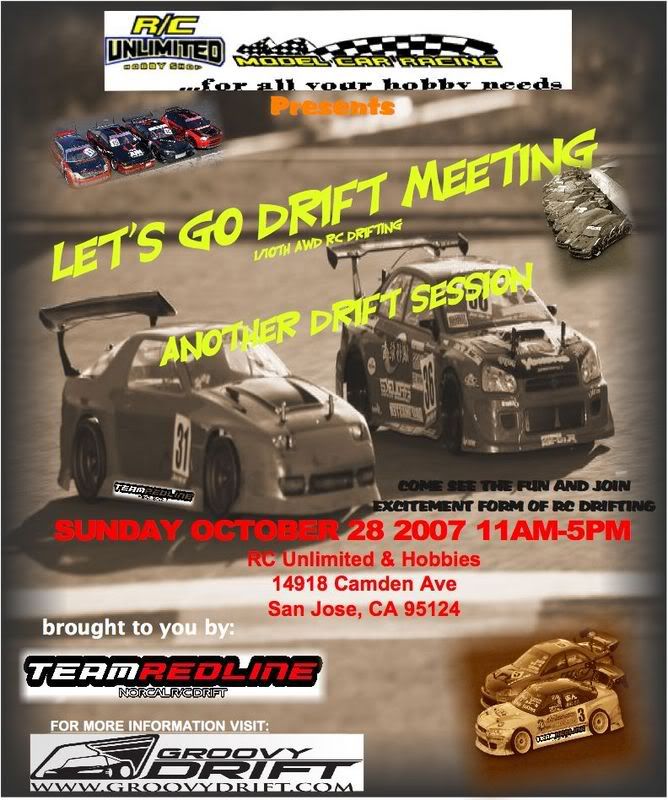 Currently Active Users Viewing This Thread: 1
(0 members and 1 guests)
Posting Rules
You may not post new threads
You may not post replies
You may not post attachments
You may not edit your posts
---
HTML code is Off
---