rc drifting
07-20-2007, 04:02 PM
Tech Rookie
Join Date: Jul 2007
Location: penistone
Posts: 3
rc drifting
---
hi there i've just started drifting my rc car the only problem is im using my indoor race car at the moment and its scratching all the carbon fibre underneath can anyone suggest a good car to start with any help would be greatly appreciated
07-21-2007, 03:58 AM
Tech Rookie
Join Date: Feb 2007
Location: SAN JOSE/LATHROP, CA
Posts: 11
---
anything with 4wd and put ABS or yokomo drift ring you're on the go
or check drccentral.com/forum for sure a lot of people will tell you what chassis to start with.
07-21-2007, 04:36 AM
Tech Elite
Join Date: Aug 2005
Location: Durban, South Africa
Posts: 2,810
---
Bud you might have your car too low.Id suggest raising tehride height.
Also check out oneten.co.za fpr some tips and lots of pics and info.
If you need another chassis then get any shaft type and you dont have to buy new .You could pickup some nice 4wd cars 2nd hand.
---
Last edited by razzor; 07-22-2007 at

12:45 PM

.
07-21-2007, 05:18 AM
Tech Master
---
I suggest you buy the Tamiya TA05 kit, just put on drift tires and drift!!!
With its great balance and great performance, this is 110% excellent for drifting... Trust me... I know... And give you additional tip on making it to drift with tight corners and with tight hair pins, get the center one way and practice with it and for sure you'll have a fun drifting!!! Yeah... hahaha
BTW, you're kit maybe too low for drifting... for you've said this is your on road kit (grip) so I guess it is lowered for optimum center of gravity... (am I right???)
Anyway, HTH's
07-22-2007, 11:53 AM
Tech Regular
Join Date: Jan 2007
Location: PERTH
Posts: 489
---
not to like bag u out all Xanavi....but i drift and race my car....my ride height is 4mm all round.....now for racing...u dont need any lower..same goes with drift....all the bois i drift with (ausdrift) have a ride height of about 5mm
07-22-2007, 11:01 PM
Tech Master
Join Date: Jul 2004
Location: Falls City,TX
Posts: 1,145
---
Actually HPI has come out with a drift car with drift tires that you can buy seperately. The tires are a harder compound with treads or no treads. HPI calls that class Stage D.
07-22-2007, 11:05 PM
---
me to!
i drifted my cylone because i was REALLY BORED today
ride hight is at 4-5 mm i dont remember for shure, but i didnt change anything but taped a old set of tires to make it slip, was REALLY AWSOME and drfts VERY controlled i could drift anything i wanted to, and very predictable.. was sweet
07-24-2007, 11:39 PM
Tech Rookie
Join Date: Feb 2007
Location: SAN JOSE/LATHROP, CA
Posts: 11
rc drift competition
---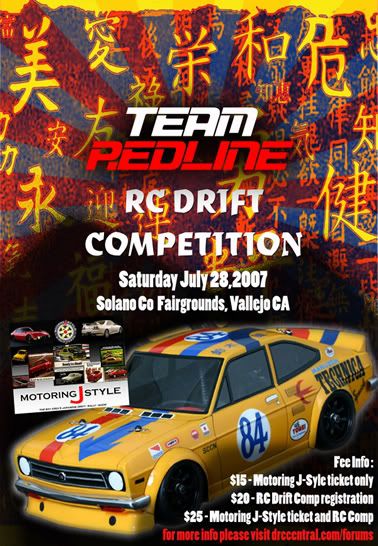 07-25-2007, 06:45 AM
Tech Initiate
Join Date: Jun 2007
Location: Stafford,Va
Posts: 40
---
Hey guys im looking for a good place to buy some 26mm drift wheels, and links, or should i just go to my LHS..?
07-25-2007, 07:17 AM
Tech Master
---
sorry for the confusing post of mine the other day... What I meant was that his ride height is to low that is why his chassis (under) are getting scratched... Don't get me wrong for I drift and I just not drift but I am a drifter... So don't tell me what's wrong and what's right when it comes to drifting... Again, I'm sorry for my confusing post the other day... lol
Don't get me wrong with my post... I don't mean no harm...
PEACE
07-25-2007, 07:36 AM
Tech Master
---
Just want to add about the ride height... I actually drift my kit with more than 5mm ride height... It's most likely at 7mm ride height...
07-25-2007, 10:21 AM
Tech Regular
Join Date: Jan 2007
Location: PERTH
Posts: 489
---
way to go to confuze me man.....head spins......

ahhhh.....
Currently Active Users Viewing This Thread: 1
(0 members and 1 guests)
Posting Rules
You may not post new threads
You may not post replies
You may not post attachments
You may not edit your posts
---
HTML code is Off
---