Tamiya TA05 IFS
10-18-2008, 07:13 PM
Tech Adept
Join Date: Jun 2008
Posts: 220
---
Hi all,
just a quick check for all IFS-R out there.
Anyone using Novak XBR 8.5 BL system and the gearing range?
I am using 105/34 now.
DOes anyone else uses a different setup ?
Thanks ya.
10-22-2008, 11:15 AM
---
I just stopped by my job and we got out order in. I ordered a body for my IFS-r. I got the Tamiya Raybrig NSX (part #51306).

I am going to clean and paint it later today. Tomorrow I will apply the stickers. There are alot and it will take some time. At least they are all pre-cut. Tamiya saved me a few hours there!

I will update with pictures soon!
10-23-2008, 12:40 AM
Tech Addict
Join Date: Sep 2008
Location: ohhh, that guy...
Posts: 639
---
Since P-Dub is MIA, what are you guys doing for a more solid bumper?
11-02-2008, 05:41 PM
Tech Rookie
Join Date: Oct 2008
Location: Cary Il
Posts: 1
carpet woes
---
any body have any setups for the tao5 ifs R for carpet
11-03-2008, 06:12 AM
Tech Master
Join Date: Jun 2008
Location: Maryland
Posts: 1,002
---
I read the earlier post. I'd like to ask the guys that converted a TA05 to IFS, now that you've had it a while, what's your opinion?
11-03-2008, 07:45 AM
Tech Initiate
Join Date: Jul 2008
Posts: 21
My TA05IFS
---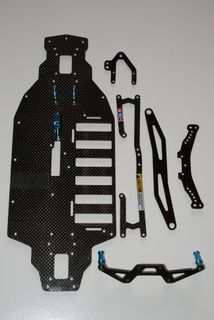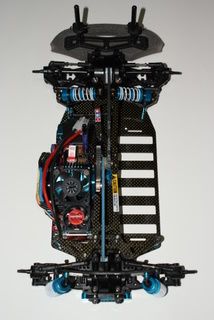 11-03-2008, 09:20 AM
Tech Initiate
Join Date: Dec 2007
Posts: 24
---
Very nice CF chassis conversion for your IFS! Pretty similar to what I have..

I have a IFS converted to a Kawada CF chassis, what's this one that you use?

It must be a very nice drift car!

Sincerely,
Den
11-03-2008, 07:30 PM
Tech Initiate
Join Date: Jul 2008
Posts: 21
---
Mine is Xenon Racing... Ya, it drifts very nicely... very balance chassis...
11-05-2008, 09:18 PM
---
Hey guys wondering if anyone can help with set up suggestions for this track:
http://maps.google.com.au/maps?f=q&h...03433&t=h&z=18
It's an ex nitro track, now electric so fairly large, at the moment my TA-05IFSR is set up as:
2 degrees neg camber
1 degree toe out front
2 degree toe out rear
Yellow springs front, 35W oil, 2 spacers on rocker arms
Red springs rear, 35W oil, inner most suspension hole.
6mm ride height
3mm droop front, 2mm rear
No antisquat / kick
factory roll centre heights
Factory settings for wheel base, although I think maybe taht should be lengthened to settle it down a bit?
Running:
LRP TC Sphere
Trinity 10.5 Brushless
S9551 Servo
IB 3800 Lipos with 20 grams weight on top of battery
Jaco Blue Rubber Tyres
Honda Accord Shell
Race weight is 1509 grams.
I am finding it is liking to push a lot into corners and the rear can then break loose. As such I am 1-2 laps behind the pack by the end of it with offroad excursions etc. Need to get some help!
11-21-2008, 01:27 PM
Tech Adept
Join Date: Mar 2008
Location: MA
Posts: 103
---
Hey guys. Im in the process of building the TA-05 IFS kit and have come across a problem with my servo being too big to fit in it's place on the chassis. The servo i have chose is a Hitec 311 which i believe is standard size for most servos. So my question is if i will have to trim some of the plastic off the servo ears in order to make it fit, or is there another way to solve this issue. Thanks as always guys.