Pantoura, 1/10 Pan Car, 2S LiPo, Brushless, Tips and Tricks.
05-18-2007, 06:45 PM
Tech Addict
Join Date: Apr 2006
Location: Ottawa, Canada
Posts: 552
---
I think it depended on what track they were at as to which aerodynamic package they ran, hence making the cars look different.
This is a picture of the ZX-T in Le-mans trim:
05-18-2007, 07:10 PM
Tech Adept
Join Date: Nov 2006
Posts: 109
---
I think you're right but the newer cars didn't have a seperate spoiler, they had it attached to the car as show in your pic but the one that John has shown has the spoiler seperate from the body which was on the earlier car. I appologize if I'm wrong about that though, who knows I very well could be.
05-18-2007, 07:11 PM
Tech Elite
---
Toughbeard-Nice kit. I think you will be pleased as will V12 with his new LRP competion TC edition.
Originally Posted by GreaseMonkey

I agree on Tamiya over-complicating things. This is a great example actually, redesigning the suspension just to that a certain body can be installed is overkill.
Greasemonkey- Well I disagree here, of course, because that's exactly what I am doing. I want to fit a low GTP GT1 or LMP body and at the same time have shocks so the thing does not fly away on the straight. That is also exactly what all the full size guys do: fit the suspension within the body restraints of the regulations they run under.
As far as the Tamiya system goes it is elegant with pushrod and bellcrank operated shocks. This lets you use a big shock. Our servo would interfere with one of them. I have very little trouble with my Tiny RC18T shocks which greatly simplifies the suspension while still allowing a low body. It does some other things too though. It makes the shock very direct to the bump. The bump does not have to take up slack and flex a bunch of members. The bump is immediately acted on by hydraulic dampening. I think that these little things matter in an RC car after the testing that I have done. On a full size car these indirect system work better due to lack of play and stiction in the fullsize parts. They probably work OK on a Revo sized RC car.
My rear suspension is superior to the standard pan car (indirect) rear suspension. It makes a huge visible difference in the top speed of the car using the same motor on our straight. So I vote for direct shocks as close to the bump as possible.
Mamba 7700 Motor Track Report
Track Temp 128F (cool front still in effect)
I went out with a 87/16 gear ratio. This turned out to be the best of two that I tried. The motor came back 180-185 F. Perfect temp, maybe a little high. I added three teeth to the spur and ran a 90/16. I lacked mid straight punch and top end speed. The motor came back the same temperature so I went back.
The Mamba motor exhibited the same irregularieties as the other two motors I have tried with the Mamba Max Speed control. I did not expect any different. It starts backwards sometimes. Twice on a delicate corner with light throttle applied it actually shut down and caused mini spins before restarting. (I ran 4 packs). After a different spin, caused by the rough brakes, it would fail to go forward for an agonizing amount of time. I ended up using 40% brakes. To my eye this is equivalent in braking (same deceleration) as a Novak at the same setting. The bad part is the Novak controller is so much smoother that I could push the Novak brakes up to 65% on these same loose condions we had today. This costs me valuable lap time.
Sensorless: So whats the verdict
. Get this system for bashing, or as a hot weather spare, get a sensored system for racing. I think you guys are probably dreaming that the GM system without sensors won't have the same problems in a pan car on outdoor asphalt. Note the sensorless system works better, the more you are into the throttle, so on high traction surfaces or with 4-wheel drive, you may not notice many problems.
So why is this? Well a Hall effect sensor does an amazing job of giving a Voltage signal to the least change in magnetism, like the rotor turning (sensored system). It feeds out of dedicated wires that are free of other huge currents. Chances are the Novaks start backwards 1/2 the time, but the hall effect sensor is so good that rotation is reversed almost immediately. You don't even know there is a problem. The sensorless system has to wait for the rotor to build up enough speed so that the voltage produced in the coil of wire (back EMF) that is trying to run the motor is high enough to detect against the background. It obviously takes more rotor speed for the speed control to detect back EMF (sensorless) than for the hall effect sensor (sensored) to spit out a voltage. At least that is what I think at the moment.
Mamba 7700 vs Novak 4.5R
The Novak 4.5R definitely has the edge on two sections of any straight over the Mamba motor. First of all it starts a little softer just out of the turns. This reduces your corner exit spins. Both motors have a good middle, good punch. The Novak 4.5R is considerably faster at the end of the straight and the 3.5R faster still. I going to try running my 3.5 R with the mamba tomorrow with a 96/13.
McAllister Body Nissan NPT90
Eric-Thanks for the pic of the REAL full size replica of the McAllister Body. I tried the body for 1/2 a pack (still clear but with decals). It seemed to work great. I had no tail out spins on the sweeper. The car is doing this with a much lower rear wing, but farther back. Looks promising.
GreaseMonkey-Thanks for that second pic. It looks a lot like the McAllister body as well by having an integrated wing.
---
Last edited by John Stranahan; 05-18-2007 at

07:22 PM

.
05-18-2007, 07:15 PM
Tech Champion
Join Date: Nov 2001
Location: Hawaii, USA
Posts: 7,191
---
Have you looked at the F201 suspension setup? The shocks are much smaller and may be easier to fit. You could also try running your servo flat and have the shocks mount over the servo.
05-18-2007, 07:32 PM
Tech Master
Join Date: Sep 2006
Location: Saskatoon,SK Canada
Posts: 1,654
---
John, thanks for your testing and report on the Mamba system.

One tiny point: The way I read the Mamba manual, it says that you can shorten the Mamba Max motor's wires. It also says you shouldn't do it to other brands of motors.

-Adam
05-18-2007, 07:34 PM
Tech Elite
---
Adam- Thanks.
The wiring point is moot, though, as it has been superceeded in their thread. Shorten the wires to hearts content.
Be careful removing the stock wires. I think the procedure would be to act like you are soldering them and add solder so that heat conducts quickly and then pull them out. Heat from the top. Reheat later and blow out the holes by mouth.

Greasemonkey-my front spring actually calculates out to 35 lbs/inch in its shortened form. Same range as a TC. I used to run 17 lbs on oudoor asphalt.

InspGadget-I actually am through with my front suspension as it has the performance I want, Crash parts are on the wall. The shocks have the perfect stroke for my applications. I have looked at the F201 suspension. It suffers from the defects I noted in my previous post. The only way to run the servo flat and have good bumpsteer characteristics would be to install a TC5 type of bell crank to run the steering links. I went through a series of tests on this. (Production of my front end is not likely at this point). There is actually a very grainy picture of the suspension you suggest earlier in this thread custom built onto a pan car. Shocks are under the servo.

One of the impediments to making a car in the US is the number of parts that need to be fabricated from scratch. My current front end has probably the minimum number of parts that would need to be fabricated while still providing roll center adjustment on both the upper and lower arm. Steering block, two shim blocks, one ball/kingpin. One lower arm extension. I notice that the Shumacher MI2 has some really neat 90 degree adjustment blocks on the upper rear links, that could take the place of my shim blocks. They would also let things flex a little more in the crashes preventing damage.
John
---
Last edited by John Stranahan; 05-19-2007 at

01:11 AM

.
05-18-2007, 07:48 PM
Tech Addict
Join Date: Apr 2006
Location: Ottawa, Canada
Posts: 552
---
John, I think what you are doing and what Tamiya have done are different in ideology despite the end result being somewhat similar.

This is how I see it:
You started with a pan car. GTP bodies already fit on your car before you even started modifying it. You had issues with the way the car drove and handled and so you devised a way to remove the performance issues while maintaining the ability to fit your GTP bodies.

Tamiya started with a touring car that drove and handled fine for what it is. They see a 1:1 car running around the race track and think "mmmm, that thing is pretty, we should make it fit our cars. Wait a second, it's too low at the front. Let's make a car that we can put that body on" and so they redesigned a car so that it can look nicer with probably no improvement in drivability whatsoever.

You may be doing the same thing but you're doing it for completely different reasons.
05-18-2007, 08:30 PM
Tech Champion
Join Date: Nov 2001
Location: Hawaii, USA
Posts: 7,191
---
Many of the new 1/12th scale cars are now running with a flat servo. There has been a lot of discussion as to which is better...both ideas have merrit. It seems the angled servo is more for ackerman then bump steer though it does effect both. However the angle of the servo was designed around a fixed lower arm which has different travel characteristics then an independant suspension so you may not be seeing as much of a benifit from it as previously thought...something to consider...
05-18-2007, 09:24 PM
Tech Elite
---
Greasemonkey-I see your point. That Tamiya car is not really built for top performance. They have other models for that. They are definitely concerned with the scale appearance of their cars and have a huge number of models that are more appearance cars than performance cars.


Inspgadgt-I know that some 1/12 scale guys are running servos flat. I went through the 1/12 photo thread. Hence the idea. What I found was reduced steering with bad (horrible) bumpsteer. I corrected bumpsteer with tall spacers on the steering arms. This improved the steering traction but reduced steering precision on the turns. Too much flex from the spacers. (More recently I made ackerman changes as well by using wide and narrow tipped servo savers).
I found the reduction in steering traction with a flat servo was minimal with a light car, 1 LIPO about 38 ounces. More significant with a heavy car with 2 LiPos, 45 ounces, where the front end just scrubbed too much on the sweeper. Problem solved with high servo. Most of the pan racing is 6-cell (heavy car) overseas. Change in steering from changing Ackerman was very small in comparison to the bumpsteer problem.

Bumpsteer characteristics are the same with my suspension as the with the Associated front suspension. The high servo eliminates it on both. In any case I make changes to eliminate bumpsteer or leave it just very slightly bump toe-out.

Carpet guys like to do things to kill front traction. Asphalt guys need the opposite.

I noticed Mathijs had his servo flat as well as myself. We have both gone back to tilted servos. The exact reason for the improved performance may not be known. I do know that it wrecks the bumpsteer to run it flat. Tire scrub from bumpsteer not allowing the proper ackerman to be achieved is the likely problem for me and a flat servo.
---
Last edited by John Stranahan; 05-18-2007 at

11:18 PM

.
05-18-2007, 10:09 PM
Tech Fanatic
Join Date: Jan 2004
Location: Colorado, Above The Rest
Posts: 992
---
Originally Posted by Thomas P
Sorry John, but im so happy, recived my I-Force tody and the kit looks amaizing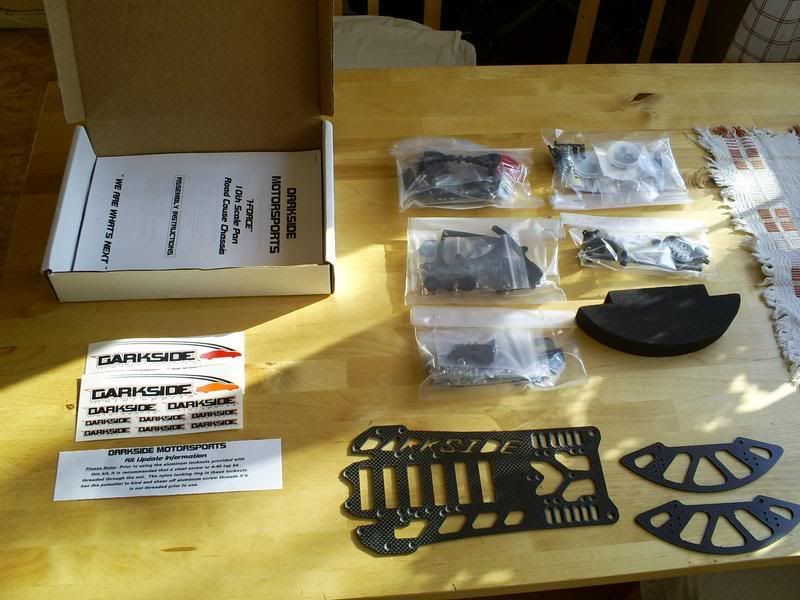 will keep ya informed about some uilding(not this weekend)
Ahh... great news, I was starting to get a bit worried since it took so long. Don't worry Serdar, your's is on the way!
05-18-2007, 11:07 PM
Tech Elite
---
Here is a pic of the McAllister Nissan, Ready to go and track tested. I will add a soft dam to the front tomorrow.

Mamba Max Guts
Here is a pic of the Mamba max guts. I was looking to see if there was a good solder point to undo the lead wires so I could leave the speed control alone. Well there is not a good way. The heat cycles loosened the glue and I could pry the puppy off. Aso I scratched the bottom so it was no longer in like new condition. You can clearly see the stackless construction I spoke about previously. I don't have hard data on this yet but my Novak 4.5 R was runnning for about 10 minutes yesterday. Today I was only getting about 6-7 minutes as I ran out just after the gas guys ran out of fuel. I seems that the cored (with stack, or slotted) (Novak high velocity series) motors might be more efficient. Now I would expect this, so this may be a bias. No hard data will be forthcoming on this from me however. So what is the advantage of the stackless. You can wind this thing around a tube or mandrel with some end plates using machinery, then remove the mandrel after the glue dries and stuff this all inside. It is much harder to wind wire around a slotted stack like the Novaks. It might even be done by hand.

I know from testing a stackless brushed motor coil and an the exact same coil on an armature stack that the induction ( the amount of magnetism produced by each bit of electricity) is multiplied by a factor of about 14 by the stack of metal on the arm. I don't see how these guys (Trinity and Mamba) can give this up in a performance motor.
John
---
Last edited by John Stranahan; 05-19-2007 at

12:30 AM

.
05-19-2007, 12:22 AM
Tech Champion
Join Date: Oct 2004
Location: Ocala, Florida
Posts: 5,248
---
looks great John, even kept the down turn on the rear quarter panels..
I might be able to shed some light on these cars as I did a bit of research to have one of my 12th scales painted up like one..
the car with the wing up in the air is a lola up to '87 if i'm not mistaken. then 88 and 89 were Jim Chapman's JC Prototypes built for the Electramotive branded team. then they reformed as NPT in 90 and in-house designed the p35..
An interesting read here..
http://www.mulsannescorner.com/nissanp35story.html
youtube of gtp action.. some crashes and some good battles
http://youtube.com/watch?v=TFd4IZB_mMY
mostly the electramotive car from 87-89
tons of photos at motorsport.com , speedarena.com .. and i'm sure others.
my 12L3 as the Electramotive car..
05-19-2007, 12:37 AM
Tech Elite
---
Note there is a new Mamba Max efficiency report and a pic of the 7700 kv motor guts that I added to my previous post.


Mason-Thanks for the post. Nice paint job. Are those Nissan emblems decals and are they recent or are they custom made. I'll have a look at your links later. Getting late. I don't understand why you guys don't believe the guy that owns one of the cars that describes it in the Video as both an NPT-90 (in the video title) and GTP ZX in the video itself. If I owned the real car I would probably know all the details about it and anybody that ever raced it. I think his is the race winning car that is in the very next video on you tube after the link I posted. The one that is complete with fiery crashes. (I posted the link in a more recent post) I can see why you don't believe me, by the way, as I have erred here previously. I see that more recent cars look more like the McAllister body. The McAllister body does have two small scoops on the hood by the body posts that represent the two huge scoops in some of the photos and not in some others. Interesting what strikes a chord in people as I have been posting these full size car pics with nary a peep except for Mathijs on occasion. Nice to have a busy thread.
John
---
Last edited by John Stranahan; 05-19-2007 at

01:08 AM

.
05-19-2007, 12:42 AM
---
That's an interesting observation about the efficiency (or lack thereof) of the stackless design. I'd love to see more hard numbers on this. Brushless is gaining momentum overseas due to its increased efficiency now that 5 cell and 4 cell are being used. The less efficient motors could ultimately find their way out, if that's indeed the case.

Novak's site says all their motors are hand wound.

We need to get someone (*cough* Orion *cough*) to give you a SpeedPassion based sensored motor to try out. And the Tekin, if it ever stops being vaporware. :-)
05-19-2007, 12:58 AM
Tech Elite
---
Here is the link to the 1990 Imsa GTP race that has a Nissan #83 that I believe won the race. I mentioned this in a previous post. 5 spectacular crashes.
http://www.youtube.com/watch?v=TFd4IZB_mMY&mode=related&search
=
That Mamba motor is not equivalent performance to the Novak 4.5 R. It is less. I should have been able to run longer if it was equally efficient. No more stackless or non sensored motors for me. Well if it was free maybe. I actually have quite a fleet of Novaks (6.5,4.5,3.5) that I am very happy with.
Here is a link to the Schumacher MI-3 that I spoke of. The part I like is the two way adjustable inner pivot support on the upper rear camber links. These are similar to my front suspensions shim blocks in function. You can go up and down or left and right by shimming. It is a cleverly machined and stylish piece. two purple cylinders at right angles to each other form the piece. A little hard to see in the pic.
http://www.racing-cars.com/usa/images/mi3_ftq_plan_1000.jpg
John
---
Last edited by John Stranahan; 05-19-2007 at

01:28 AM

.