Team Losi JRXS Type-R
05-21-2008, 06:10 PM
Tech Master
Join Date: Aug 2001
Location: BUFFALO
Posts: 1,794
---
Cough Cough.. Hi
05-21-2008, 06:52 PM
Tech Master
Join Date: Sep 2005
Location: NYC
Posts: 1,475
05-21-2008, 07:52 PM
---
joey, that looks sharp! what springs are you using, and how long of a sensor harness did it take to do that? also, take a pic of the other side if you dont mind. im thinking of turning all of my solder posts the other way around and going with that layout.
05-21-2008, 08:03 PM
Tech Master
Join Date: Sep 2005
Location: NYC
Posts: 1,475
---
those are yellow tamiya springs, there not gonna work with the setup i have on the car, i just put them on to take a pic of the wiring i have on it..

ill try to get another pic tomorrow when i get a chance, and for wiring harness thats the longest one orion makes..
05-22-2008, 02:02 PM
Tech Master
Join Date: Aug 2001
Location: BUFFALO
Posts: 1,794
05-22-2008, 02:31 PM
Tech Addict
Join Date: Aug 2004
Location: Kent UK
Posts: 578
---
Originally Posted by
B-Master
I am unsure if this will help anyone but when i treated my self to a brushless setup this week i found it extremly hard to work out where to put everything after lets of messing about and testing diffrent layouts i think i have found one that works
can anyone pick any faults in this layout as i dont want my speedo to get damaged on any impact .. thanks
PS. i woudl liek to thank jal874 for his help via PM regarding how best to layout the speed passion brushless
First off i needed to change the way the battery bars were positioned on my batterys these angles fit very well the - is just behind the sput and the + just behind the reciver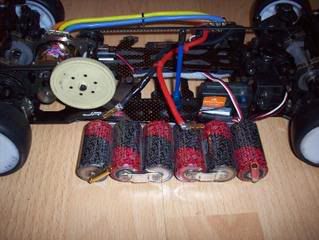 Top view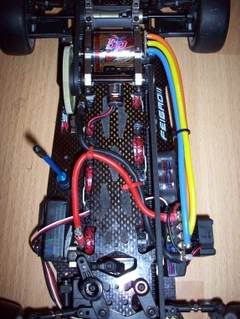 side view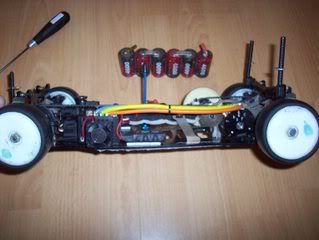 hopefully this will help some people out with how best to layout there brushless ?
*Edit*
maximebeauvais there are some great setups on this site hope it helps
http://team-spoon.bravehost.com/#tl
This post was very helpfull thank you.
Best wiring layout I've seen
05-22-2008, 06:04 PM
Tech Master
Join Date: Apr 2004
Location: Baltimore, MD
Posts: 1,182
---
I tried to mount the speedo on both sides of the chassis. I also tried mounting it on the side and flat. The car wieghts 5247. No matter what side you mount the speedo on, that side is going to be the heavy one. The weight difference does not effect the car handling. I can not justify adding the weight for balance.
05-23-2008, 06:22 AM
Tech Initiate
Join Date: Jul 2005
Posts: 34
---
@ tim fry i am glad the pics helped you out and thanks for the complament
05-23-2008, 06:28 AM
Tech Fanatic
Join Date: Feb 2005
Location: Gatineau, QC, Canada (beside Ottawa)
Posts: 794
---
Since I got my car, I was running a diff and the car was great (track around 90X45, carpet and rubber tire, 13.5 BL motor and lipo)

Last night I installed a one-way (dam losi and one-way, took me more then 1 hour to install).

OMG!!! Same setup but with a one-way and ouch, the car was going everywhere. Very hard to control, the rear was going left and right…etc.

Question 1: is it harder to run with a one-way? I guess yes

Question 2: is it really faster to drive with a one-way (our track/rubber tire). After 2 batt, I was just not able to drive it (setting maybe) and I was still faster with a diff then oneway (9.7 sec diff VS 9.9 sec with oneway)

I have copied around 6-7 setup sheet but it all pretty different and only 1 was running a oneway. Someone else have a setup sheet with carpet/13.5/rubber/oneay??

thanks
05-23-2008, 06:45 AM
---
one-ways require a very smooth throttle finger getting both on and off power. It takes some getting used to but either a oneway or spool is usually faster with rubber tires on any surface. If you can't get the hang of the oneway, get a spool pulley and build up a spool for the front. If you're used to running the diff in front, the spool should suit your driving style better.
05-23-2008, 08:22 AM
---
For anyone who is off put by the gold of the Trakpower 4900,
Team Checkpoint
now sells the same lipo. These are 25C whereas the 5400 is only 16C.
05-23-2008, 06:28 PM
---
I thought I would give a quick little review of Lipo Lead. Bottom line, I think it works. I'm not really experienced enough to notice minute changes on the car, but I could definitely tell the car felt more planted after I put this on. The car was way less skwerly and way more predictable. It felt like it reacted a tad bit slower due to the added weight I'm sure. Guys at my track run Schuies and Xrays with lipos and only about an ounce to an ounce and a half of weight, but I dont think the Losi was meant to drive that light like I was trying to do.
If you want to buy some the #2 is the only one that will fit. The #4 is too thick. You have to remove the battery foam and its a perfect fit. Also, Team Fusion gives you more than what you pay for. They throw in some end cuts of other thicknesses. I went Fry's and got some 1 1/2" black shrink so it would hide the lead(still need to shrink it).