Team Associated TC5
01-02-2009, 06:42 PM
Tech Master
Join Date: Apr 2008
Location: Louisiana
Posts: 1,142
01-02-2009, 07:23 PM
Tech Master
Join Date: May 2008
Location: tampa florida 813
Posts: 1,591
---
01-02-2009, 07:39 PM
---
Originally Posted by
AdrianM
BMI Racing (
www.bmiracing.com
) sell pinions from 45T to 60T in 64p
They are machined aluminum plated with a special nickle/teflon coating. Very hard and slick.
Nice lookn product Adrian!
..but I have a challenge for you! For 12th and WGT...
Please make us some small spurs for brushless that allow us to have a smooth diff...as smooth as with a Kimbrough gear that is...
Pretty Please!!!
01-02-2009, 07:46 PM
---
Ask and ye shall recieve. This gear is machined from acytel, takes 12 diff balls, is WAY harder to strip than a Kimborough and is just as smooth.
Note that now they are black not white. They look like the black 48p gear below but 78T in 64p. DB5078 $7.99ea.
This is the 78T gear with a 60T pinion on the DB12RR. Don't know if you would ever need a 110mm roll out but its nice to know you could get it if you needed to...lol!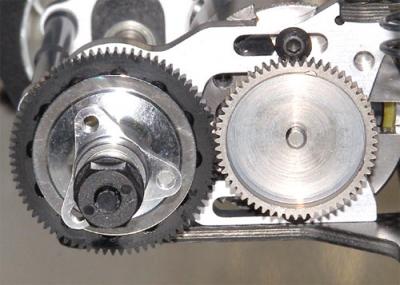 01-02-2009, 07:55 PM
---
01-02-2009, 10:50 PM
Tech Master
Join Date: May 2008
Location: Maple Valley, WA
Posts: 1,622
---
Has anyone tried running the itf chassis with the regular upper deck on carpet with rubber tires? If so was it good bad or same.
01-03-2009, 12:04 AM
Tech Master
Join Date: Mar 2007
Posts: 1,585
---
01-03-2009, 04:13 AM
Tech Master
Join Date: May 2008
Location: tampa florida 813
Posts: 1,591
01-03-2009, 10:50 AM
Tech Master
Join Date: Nov 2003
Posts: 1,781
01-03-2009, 11:47 AM
Tech Master
Join Date: Apr 2008
Location: Louisiana
Posts: 1,142
---
sorry for asking again, but either i missed the answer or it was overlooked. what brand or rather part # 64 pitch spur you guys runnin? thanks