hb tcx parts
05-16-2020, 11:13 PM
hb tcx parts
---
just purchase a hb tcx kit used, the kit is missing the front and back pivot blocks. Does any one know were I could find them? Or any aftermarket ones that would fit.
thanks in advance for any help.
05-16-2020, 11:31 PM
Tech Master
Join Date: Oct 2005
Location: Hayward, CA
Posts: 1,832
05-17-2020, 12:04 AM
---
Thank you purchased it right away, 3 more to go.
05-20-2020, 10:17 AM
Tech Fanatic
Join Date: Feb 2012
Posts: 880
---
You can also try the exotek ones, I think they are pretty universal for the earlier time period cars such as the HB, Team Associated, Tamiya cars.

05-21-2020, 11:22 AM
---
Thanks, so far have found 3 pivot blocks, just looking for pivot block 68755. I found different ones that have different degrees, they are front rear, how much does the degree effect the car? I'm probably just going to purchase the 1 degree pivot block

---
Last edited by Dmgp1; 05-21-2020 at

01:57 PM

.
05-21-2020, 04:46 PM
---
Are we talking about that?
Originally the TCX use 2.5 as FF, +1 as FR , 0 as RF and 3 as RR.
It was clearly one of the important setup point of the car. It will change the behavior of the car...
05-22-2020, 09:02 PM
---
I think those go on the outside of the bulkhead not sure the one I'm looking for goes on the front behind the bulkhead if that makes sense. I can't post pics yet, so can't add an example
05-24-2020, 02:28 PM
---
that's what I meant with the notation I used, they are quite common:
FF is the part fixed behind the bumper
FR is the part near the steering
RF is the part behind the motor
RR is the part at the rear extremity of the car
Your RF is probably more like that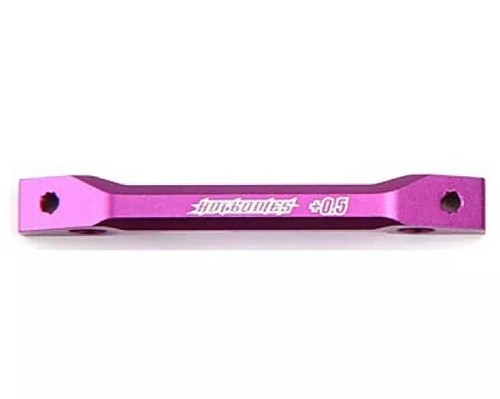 The +0.5 indicates that you must substract 0.5 to the FF block. It also exist in 0, +1 and -1.
You can also find split blocks like these: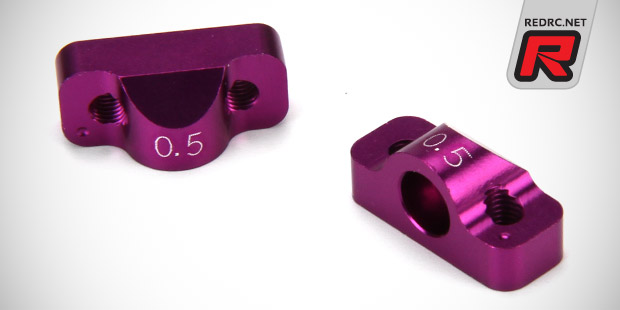 05-25-2020, 01:41 AM
---
Yes, 68755 look similar to your image. I was just going by the manual and trying to attain the parts it calls out for. I wasn't aware I could use the split blocks, are they preferred?
am I able to use any block as long as it states its an FR.
thank you for the info, I'm a noob to these touring cars
05-26-2020, 05:03 PM
---
You can, this is a setup option. Split blocks will give you a little more front flex, so it can help the car enters the corners. Mainly depends on grip...
05-27-2020, 10:46 AM
---
Do you happen to know if the tcxx pivot blocks will work? I found (tcxx)68476, from the images it doesn't seem to be the same as the (tcx)68755, it does state its F/R.
I did look through the old tcxx thread and I believe one post stated they were interchangeable. Your advice would be greatly appreciated
thank you

05-27-2020, 02:17 PM
---
quite hard to remember. I know that Cyclone TC has only 2 holes for FR block. I think TCX has four. If it is the case, they are the same parts (as most of the rest of the car by the way)
Currently Active Users Viewing This Thread: 1
(0 members and 1 guests)
Posting Rules
You may not post new threads
You may not post replies
You may not post attachments
You may not edit your posts
---
HTML code is Off
---