Sakura Zero S Shocks
08-13-2018, 11:04 AM
Sakura Zero S Shocks
---
All,
Just completed my Sakura Zero S build (after purchasing 3 years ago haha), and am setting up for VTA.
I was wondering, being most parts are discontinued, if there are any threaded shocks that will work on it? The upgraded shocks I have seen aren't available, or are only available for about as much as the kit cost. Any input would be great, thanks!
08-13-2018, 01:45 PM
---
Zero is still very competitive in VTA, we see one sometimes at our local track
Just about any brand shocks will work just make sure to get the same length as yours. 3Racing SAK-48/PK is a direct factory upgrade for your Zero.
I have a set of SAK-X28 shocks on my XI Sport VTA that I am upgrading to Big Bores ... they are 54mm eye to eye, if ur interested.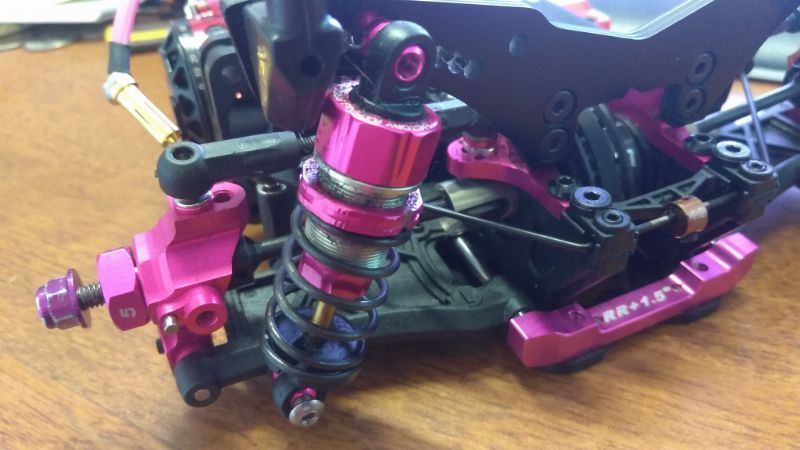 ---
Last edited by moparSRT; 08-13-2018 at

01:58 PM

.
08-13-2018, 01:56 PM
---
You might be able to get big bores to fit if you can cut the shock towers down like I did on the XI, sorry have
zero
experience with the
zero
Big Bores are a lot shorter so they require a shorter shock tower, easily done on the XI and should be the same with the Zero.
SAK-A517 Aluminium Oil Damper Set Big Bore
or
SAK-U314/PK Big Bore Aluminum Oil Damper Set(Coated Teflon)
08-13-2018, 07:19 PM
Tech Addict
Join Date: Oct 2012
Posts: 736
---
Keep us posted with what you are using
08-14-2018, 06:04 AM
---
I found the plastic shocks in the kit to be rather, well, cheap. Almost no adjustment, and just seems like a joke to have plastic shock bodies.

Here's what I have in the car so far, it is pretty much stock:

- Vertical Motor Mount
-Aluminum Steering Assembly
-Belt Tentioner
-Novak 25.5T VTA edition Ballistic Boss Motor
-Novak Edge 2s ESC
-34T Pinion, 69T Spur to get final drive ratio close to 4.00
-Savox SG1251 Servo
-Gen Ace 5000MAH 50C Battery

I have a set of titanium turnbuckles on their way, really hard to adjust the stock turnbuckles. I will post more on my setup after I get my parts in and start running. Any advice?
08-14-2018, 06:23 AM
---
Will you be racing on asphalt or carpet ?
You will want to be able to gear anywhere between 3-4 fdr, my carpet VTA is currently geared at 3.59 while my asphalt is at 3.33
08-14-2018, 06:27 AM
---
I will be running on concrete. Good to know, I will get some more pinion gears.
Currently Active Users Viewing This Thread: 1
(0 members and 1 guests)
Posting Rules
You may not post new threads
You may not post replies
You may not post attachments
You may not edit your posts
---
HTML code is Off
---