New Gravity Foam spec tire
01-15-2018, 04:51 PM
Tech Master
Join Date: Feb 2004
Posts: 1,200
01-15-2018, 09:35 PM
Tech Elite
Join Date: Oct 2005
Location: St. Louis
Posts: 2,646
---
Originally Posted by
Larrysraceprep
I just had the opportunity to test the foam tires on asphalt yesterday in mod at ( N Control rc track) where we currently use sorex36 tires I had extremely high hopes about the foam tires but they were significantly slower around A half a second per lap then the rubber tires not to mention added a few strange handling characteristics that made the lap times very inconsistent and yes for the people that are going to ask the questions about track conditions the track was almost 90° cleaned and prepped very well it was a perfect day to test we even tried out a brand new set of rush tires as well that were slightly faster than the foam tires but still not as good as used sorex36's. I'm not here to pump up or knock down any specific brand of tire just giving my Feedback of yesterday's test in my opinion The foam tires would be a bad choice for us at our track as it adds quite a few new degrees of difficulty especially for the more novice drivers with almost 0 benefits, and yes and a few spots on the track they might have the illusion of more grip But had even more downfalls then they had benefits
I see someone already answered that traction was placed with soda. By chance, what compound, if any, was used? Also, if you have not tried this, use Coppertone waterbabies suntan lotion. I seemed to have better luck on sugerwatered asphalt with that. Also, something had to be wrong, I have never seen TC's with foams turn slower lap times than rubber, on any surface. Even dirt oval, foam is faster. Was the rollout the same?
01-16-2018, 10:56 AM
Tech Adept
Join Date: May 2014
Location: Austin tx USA
Posts: 171
---
Trust me there was nothing wrong the track was Great the car was stuck and the gizmo gz2 was driven by someone who had just won a roar National at this track a few months prior The foam tires were just slower.
01-16-2018, 11:36 AM
Super Moderator
Join Date: Sep 2003
Location: Semper Fi
Posts: 32,289
---
01-16-2018, 10:43 PM
Tech Elite
Join Date: Oct 2005
Location: St. Louis
Posts: 2,646
---
01-17-2018, 08:55 PM
---
I am waiting on my shipment of Gravity foam tires. My experience with swiching between Sorex 36 and "cut" rear/front Capricorn 40/37 at our 340 meter track is that just looking at the laptimes there is no doubt that with capricorn foams laptimes are faster and more consistent. That is with no prep on foams and with sauce and heaters on the Sorex. We do not have the perk of air temperature of 90 very often
I will not be able until May to compare lapetimes at our outdoor track due to snow....
i will start to use them indoor to compare with the Volante V5 28CP. My main objective is to see how fun they are to drive.
01-27-2018, 05:55 PM
---
Dialed.
01-28-2018, 01:44 PM
Tech Elite
Join Date: Jun 2006
Location: Loading...
Posts: 3,421
01-28-2018, 08:13 PM
---
I had a blast driving the Gravity foam yesterday. I passed 3 sets out to my friends that came a long to pretty decent track that we have in Örebro 200 km from Stockholm Sweden.
After 7 runs on preglued Volante V5 28CP rubber we switched to G-SPEC Type F tires. My best time on rubber with mod 5.5 was 11.26 and shawed of 0.4 in the first run and the best was 10.50. Decent 12th stock drivers were running low 10.
Main goal was to test how fun it was to drive and It was real fun. Me and my friends that are new into TC had the same feeling. I have "persuaded" three of of my buggy friends that they need to drive touring cars to be able to be faster buggy drives
They also enjoyed the feeling driving on foam compared to rubber.
I changed rear camber to 3 degree accroding to instructions, and that was the only modification we did. We were saucing with Mighty Gripper V3 Additive - Yellow, full rear and 30% front.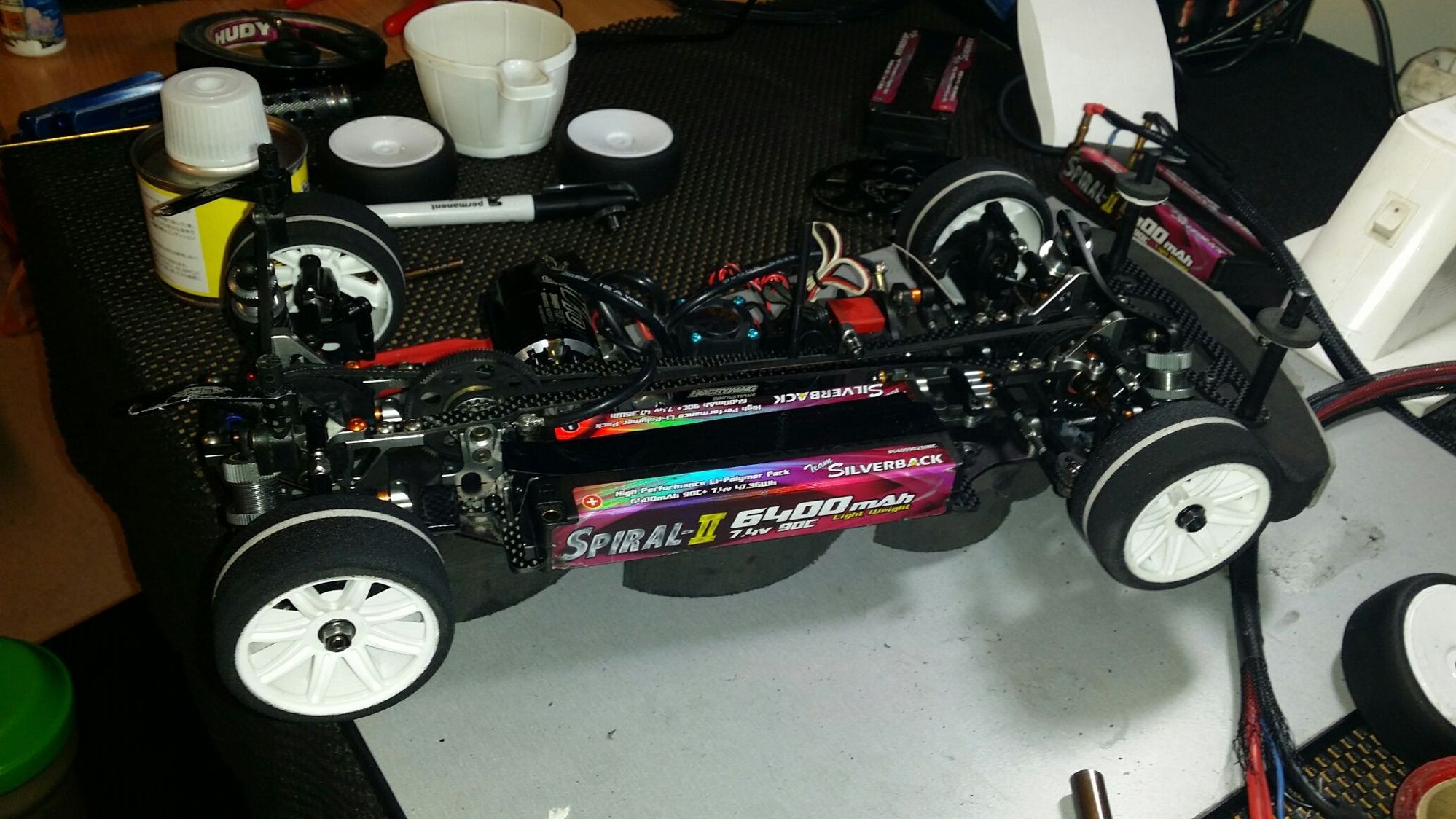 ---
Last edited by Linguster; 01-28-2018 at

08:23 PM

.
01-29-2018, 08:51 AM
Tech Master
Join Date: May 2014
Location: SW Chicago Burbs
Posts: 1,268
---
I raced yesterday where they use foam tires on their 21.5 cars and they were quite a bit faster then me through the turn when I used the Gravity GT tire , When I switched to rubber Jaco Blues I was getting closer to their performance.
02-02-2018, 10:56 PM
---
I had my second "session" with Gravity foam yesterday evening at another track than last time. I was practicing with guys that will running at the race today at the track.
I did some adjustments on the camber after looking at the wear of the tires after last run. I needed to start with at fresh set due to the rear wear. I need to true the front tires down before I can use that set.
I decreasd the camber rear to 2 from 3 and increased front from 1.5 to 2. I sauced a little more than half of front tire and full on rear tires. After 6 runs I had pretty even wear front and rear.
Other guys were pretty surpries of my speed to my normal speed
and that is fun. This is all about fun in the drining
My best lap at this track went down from 9.91 to 9.06 Now I could keep up a few laps with decent 10.5 stock 1/12 drivers.
I think it would be a good idea to be able to purchase rear sets individually to be able to match if the wear is higher rear and not need to true front tire.
02-05-2018, 07:20 PM
---
I really wanted to like this tire. They ran good. I had good traction even on whooped out grey ozite, and I wasn't chunking them. The verdict for me right now though is, they are too low profile for my car (T4 '17). I have to crank the hell out of the shock collars to get ride height (5mm), especially on the front. Makes the suspension real springy as the springs are damn tight on the shock.
Back in the day these would have been perfect diameter, but with these modern cars I'm just not sure they work. I could be wrong, but I tried everything I could think of to make it work. If anyone has the answer for this, please let me know!
02-05-2018, 09:01 PM
---
I have had the same thought.... I am running Xray 2.5-2.8 front and 2.6 rear on my Serpent Eryx and there is very little to adjust. I sold a couple of older Eryx rollers to buggy friends and they got the Yokomo Blue springs on their cars. They have more to give in adjusting. Cars seem to work fine also with the Yomomo Blue that was popular to use on carpet some years ago.
In Italy they race with tires that are trued to 53 mm I do not know how they do that...
Electric foam tyre sh35 medium 26mm- 53mm - pre trued 2pcs - CapricornRC
02-05-2018, 09:13 PM
---
My second objective after how fun the foam tires are to drive is to get back former TC drivers to track and to "extend" the buggy drives understanding of driving
I have sofare some success. The 3 buggydrives new to TC tested first rubber than foam and they are saying "no way" drivning on rubber is to hard.. and I have one TC driver coming back after quiting a couple of years ago. Not a big impact in the RC world but somthing
02-06-2018, 05:13 AM
---
Yeah good call on trying taller springs. I've thought of that but I don't have access to different springs, and I wouldn't know which ones to buy that would work. I'll have to look into the yokomo's. I'm running the exact same springs as you right now.