4wd stadium trucks!
07-23-2019, 06:39 PM
Tech Elite
Join Date: Aug 2010
Location: Vancouver, Washington
Posts: 4,444
---
Love this class but it died really quick in my area. May have an XT4 for sale soon.
07-24-2019, 05:32 AM
Tech Elite
---
Originally Posted by
BenewahRCTeam
I just picked up a VT64 roller.... got it setup and running now...with some AE offset Stadium Truck wheels and tires(we have those handy).
. With it came parts to make it back into a B64, as well as some Tekno away bars. I dont k ow what fluids are in it yet, and plan to open shocks to see what pistons are inside , and refill.....but looking for some setup advice.
We will be using it mostly on large-ish, outdoor dirt tracks...built for both 1/8 and 1/10.... Holeshots work at most of them fairly well.
Looking for some advice on sway bars, diff oil weights, shocks(oils, springs, mounting), and ride height....
. Thanks for any input.
I don't have any experience with your track conditions, but if I was in your situation, I would probably hit up the TEKNO ET410 pages on Facebook and ask for some setup sheets for your track conditions and use that as a starting point for your VT64. I have seen a couple VT64's run at the local turf track in our area and they have been fairly competitive with those drivers running similar setups with the TEKNO trucks... I have recently switched over to the PR 401R-T and have been trying similar setups with TEKNO too.
07-25-2019, 02:18 AM
Tech Adept
Join Date: Aug 2017
Posts: 116
---
Originally Posted by
billdelong
I think you might be confusing the term offset with backspacing, 0 offset will have the hex perfectly centered, I think you want to have max negative offset (or zero backspacing) per this illustration here where Tamiya wheels have the greatest negative offset that I have seen in the industry: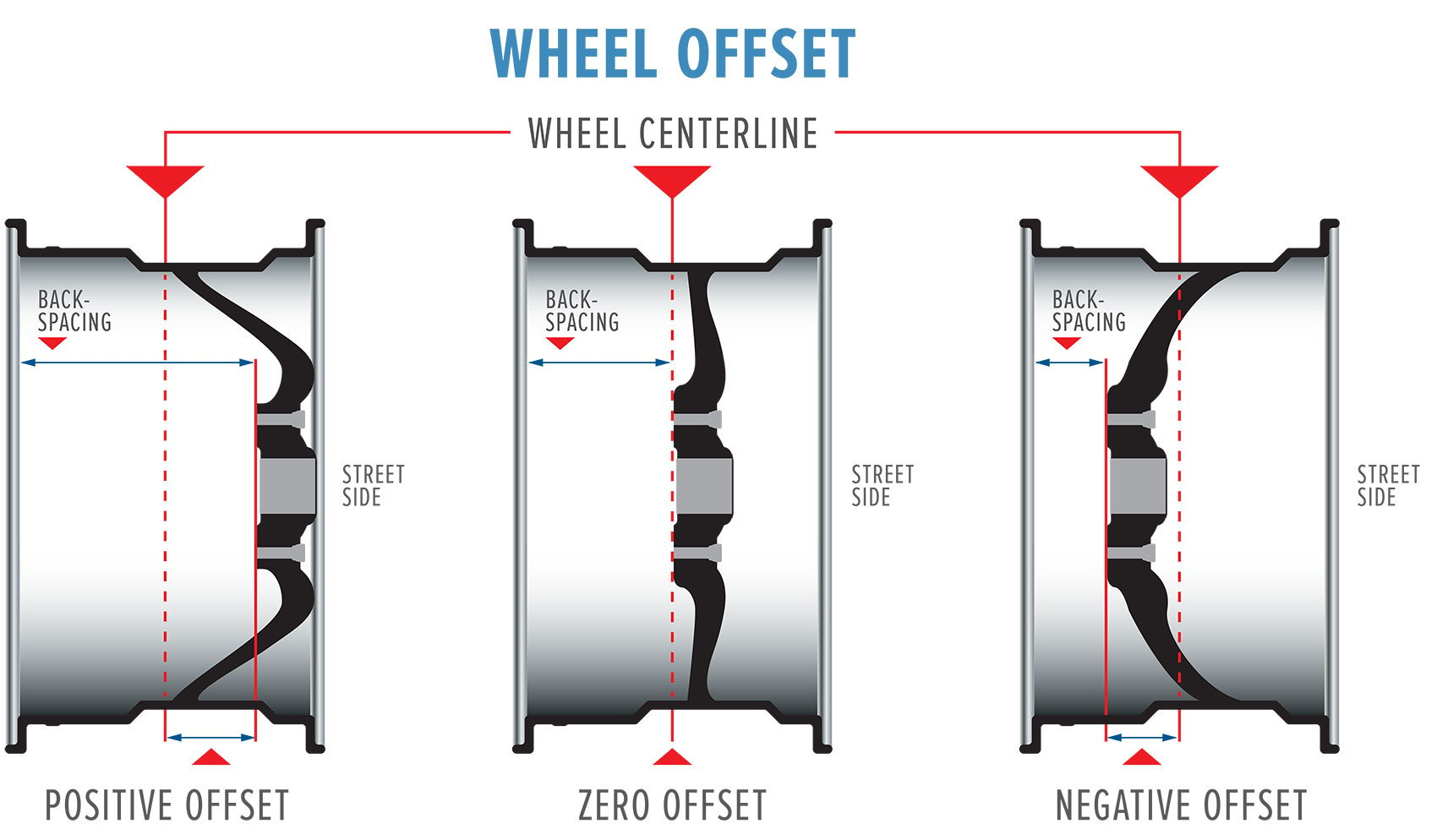 TBH this is jus tone of the conventions. Some see wheels like 1.8 buggy as 0 offset, and count from there going inward.
07-25-2019, 05:54 AM
Tech Elite
---
Again, you are talking about backspacing, it's semantics on 1/8 buggy offsets, once you start to measure from hex face inward, then you are talking about the backspace. Each measurement are derivatives of each other, but are very much different depending on the context of the measurement. I have grown to appreciate the importance of measuring front spacing instead of backspacing to get actual track width changes. This becomes very important when changing brands of wheels, even brands that are marketed for compatibility with the same car I have found it necessary to add hex spacers in order to get the same track width due to very slight differences in the front spacing yet both brands of wheels had the same back spacing. When you change your track width, this will effect your traction:
---
Last edited by billdelong; 07-25-2019 at

06:43 AM

.
07-25-2019, 06:05 AM
Tech Adept
Join Date: Aug 2017
Posts: 116
---
07-25-2019, 06:37 AM
Tech Elite
---
I don't race 1/8 classes anymore so I don't have buggy wheels to measure, I have seen some threads which state 1/8 buggy wheels are 0 offset as industry standard ( I should not have trusted those sources), but now that I think about it, you are correct, I recall them having a huge positive offset, after a quick search I see most online retailers marketing them as "standard offset" not "zero offset" my bad
07-27-2019, 08:11 AM
Tech Adept
Join Date: Jun 2004
Posts: 200
---
I only know of the Rustler. Which other brands are out there?
07-27-2019, 09:08 AM
Tech Fanatic
Join Date: Jan 2017
Location: Seattle
Posts: 798
07-31-2019, 10:58 AM
---
Yokomo YZ4SFT conversions went 1 and 3 here at an RC Underground Race this past weekend. Unfortunately was unable to get in on the fun due to breaking a CVD, pin dropped out of axle and popped it.

I am doing the Foote conversion on mine, those doing it I would say you may need to limit the front shocks more than say a common 1mm and / or go with the 89mm bones up front versus the 87.5mm mentioned in the conversion to get what I feel is better pin engagement. Also use yz2t hingepins up front if you don't want to trip the stock yz4sf outer hingepins to make them fit (like mm or so of trimming so not bad).
---
Last edited by Cain; 08-05-2019 at

09:10 PM

. Reason: corrected finish order to 1 and 3 versus 1 and 2
07-31-2019, 01:37 PM
Tech Initiate
Join Date: Apr 2018
Posts: 31
---
Team Velocity VT64 Outdoor Dirt Setup
08-07-2019, 10:39 AM
---
For dirt conditions looking at going with SCT Tires since not much options in stadium. These again will be dirt conditions, things like where a enduro or cityblock works well. Anyone using SCT style tires in that kind of conditons, how has performance been versus a stadium tire. Tracks are 1/8 oriented I am looking at using it on.
08-09-2019, 01:16 PM
Tech Adept
Join Date: Sep 2016
Location: Wisconsin
Posts: 185
---
Not sure what 1/10 based rig I'll run indoors.. however.. some may remember that I shortened up an mbx5 to a 280mm wheelbase.. finally found a CVA that fits!
Motor clearance? *shrugs*
Currently Active Users Viewing This Thread: 1
(0 members and 1 guests)
Posting Rules
You may not post new threads
You may not post replies
You may not post attachments
You may not edit your posts
---
HTML code is Off
---