BZ-444 Pro from Hobbyking
10-15-2016, 09:13 AM
Tech Elite
---
I was recently lucky enough to get a B44.3 for a song, so my 444-pro, enough parts to build a complete 2nd car (minus some hardware & bearings) and even a Team C 2wd (TC02?) is available if someone wants to keep their 444 or 444 pro going (all spare parts are Team C, not Hobbyking). Shoot me a PM if interested.

Car is great, I just run AE in all my other classes and the opportunity fell into my lap.
02-07-2017, 11:11 AM
Tech Adept
Join Date: Dec 2010
Posts: 101
---
I bought 2 of the steel diff gear sets, I know you need the new steel drive shaft CVD's, does anyone know the lengths needed. Hobbyking has 3 different sizes and doesn't tell you which are the 2 correct lengths? I do have the 83mm steel CVD ordered from HK, and I have a 67mm coming from Amazon, but I'm not sure if I need the 67 or 62? I just want to make sure I have all the parts I need so I don't need to leave the buggy half assembled while I wait for parts.

Thank you
06-25-2017, 12:55 AM
Tech Elite
---
I grabbed one of these and did some surgery on it. I hate saddlepacks and decided to do what JK racing did. Its coming along pretty good. I had a cast center mount lying around and also used it for a little more strength, also I believe the gear shroud amplified the gear noise a little so this may make it quieter. The one pic shows where I ground the chassis material for the swap.
I still need to make a bracket for the center and in the future may replace both with custom pieces to fit proper.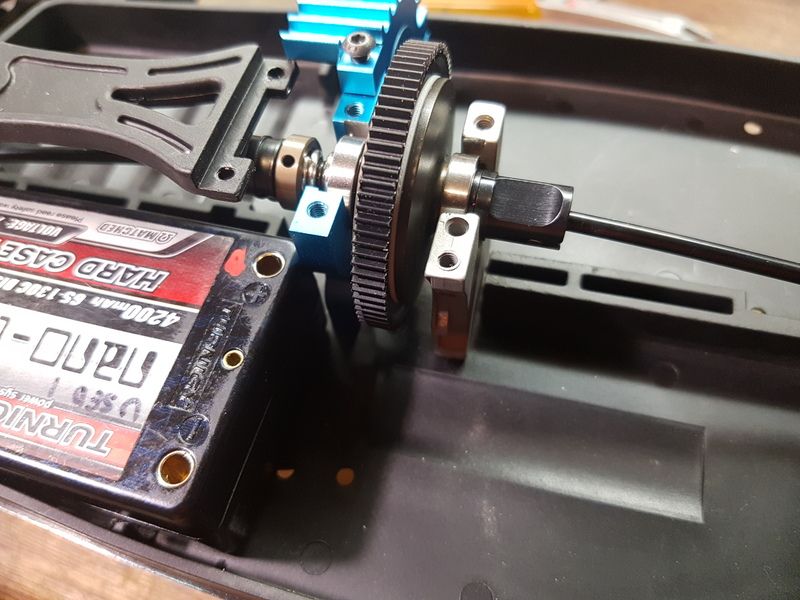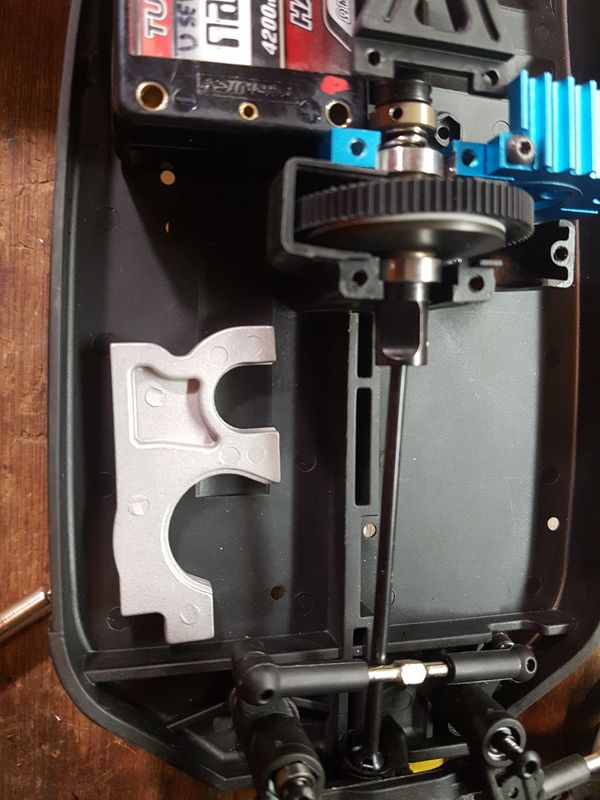 07-05-2017, 09:37 AM
Tech Rookie
Join Date: Jul 2017
Posts: 1
FS: BZ-444 Pro Roller Kit
---
Hey all, I have a BZ-444 Pro roller new in box for sale. I'll throw some pictures below. I can't post any links to my listing elsewhere yet so just message me if you have any questions, thanks!
Asking $150 and I'll cover the shipping!
07-17-2017, 01:11 PM
Tech Elite
---
Sale on at Hobbyking right now on a few parts and the ARR version.
07-19-2017, 09:56 PM
Tech Elite
---
The big bore shocks for the 444 are on sale too, biggest improvement you can make for that car. $40 a set, you cant go wrong.
Dont get the trackstar ones, they are an odd size piston, 11mm
08-25-2017, 07:23 PM
Tech Elite
---
Got around to completing this project. I bought the big bores and built them with ae 1.5 pistons and 40wt to start with. 23mm ride height. All up weight is 1676 grams. With the electronics placed in the positions in the pic, the balance is perfect side to side. 21/85 gearing with a 6.5. Diffs shimmed tight but free spinning. 1.3 rear swaybar.
Fiberglass sheeting purchased from hobbyking. I was going to try going without but it was very flexy. I may build new braces with lots of material cut out to ad flex. Our track is hard and dry so flex will help.
And yes Ill redo the wiring, this is temporary
04-20-2018, 08:44 AM
---
Anyone still running these? I found the ARR on hobbyking. Looking for something cheap for my son who wants to race. Seems the parts are still available i'm just not crazy about the saddle configuration as it appears harder to get batteries. Can this be setup to use shorty lipos?

I believe someone also said you can use team C parts on this as well?
04-21-2018, 06:31 AM
---
Couple more questions, what is involved to run the shorty pack? it looks like you just move the motor?

Anyone use any other spur gears, I know there was talk about it previously? The specific one for this is out of stock almost everywhere but the TM4 one is in stock. Can you just use that one and the associated pads?
04-21-2018, 10:08 AM
Tech Elite
---
I modified the chassis for a shorty lipo & modified the slipper assembly to use standard AE pads/spurs. It was a bit of work on both ends to be honest, but the car worked well afterwards.

Not to be negative against the car, I think it works fine, but there are so many used 4wd buggies out there, you should be able to pick up a major brand car for about the same, if not cheaper in some cases that this one. Then, parts are no issue, hopefully your LHS and/or track carries them on the wall. Not to mention, you shouldnt have to modify those for shorty packs or industry spurs.
04-21-2018, 01:45 PM
---
I've looked for used. Not a lot of luck. This currently is 280 plus 50 for a flysky radio and battery and my kid goes racing. I'd prefer to get used of course of a more normal brand. So what did it take to modify for the shorty? And ae spur? Wouldn't it be easier to use tm4 spur and pad? I assume they are similar?
04-23-2018, 09:51 PM
Tech Elite
---
robl45 Ill sell you mine if your interested.
04-23-2018, 10:28 PM
Tech Elite
---
Read back, pretty sure I posted it here - if not, on my racing facebook page (Joey JK Racing King) I know I posted the steps.
Currently Active Users Viewing This Thread: 1
(0 members and 1 guests)
Posting Rules
You may not post new threads
You may not post replies
You may not post attachments
You may not edit your posts
---
HTML code is Off
---