TLR 22T 2.0 Stadium Truck
01-24-2016, 03:44 PM
Tech Adept
Join Date: Aug 2014
Location: Somewhere Near Tacoma RC Raceway
Posts: 239
---
Running a shorty pack sideways vs inline makes the car a lot easier to drive fast, the exotek chassis is wider and it allows you to do this without machining anything. the stock chassis when modifyed to run sideways shorty becomes a wet noodle and has way too much flex. These chassis are actually a bit stiffer than stock due to the use of carbon fiber for the side rails
01-24-2016, 04:40 PM
---
Running a shorty pack sideways vs inline makes the car a lot easier to drive fast, the exotek chassis is wider and it allows you to do this without machining anything. the stock chassis when modifyed to run sideways shorty becomes a wet noodle and has way too much flex. These chassis are actually a bit stiffer than stock due to the use of carbon fiber for the side rails
ok great thank you sooo much for that response i just ordered one. thanks again
01-25-2016, 10:51 AM
---
Hi guys,

I just finished assembling a TLR 22T 2.0 and the differential keeps slipping. I tightened it and comes lose again and again. I took it apart to see if I missed something while assembling but no luck. Everything just seems right, except that it keeps losening.

Any guesses on what could it be or were should I double check?
Sounds like you might need to break it in better before starting. Then you'll always keep it a little on the tight side for 3-5 runs as it will loosen slightly as it breaks in.
https://www.youtube.com/watch?v=EToj2yX76NU
01-27-2016, 10:12 PM
Tech Adept
Join Date: Apr 2014
Location: Spokane, WA
Posts: 114
---
Has anyone used the Protek 130SS steering servo with the 22T 2.0? What shims do I need to use? Do any of you like to ream hinge pin holes? What size reamer do I need? Is it a 3mm?
01-28-2016, 06:52 AM
Tech Regular
---
The
CF mm ST chassis set for TLR22t 2.0
looks AMAZING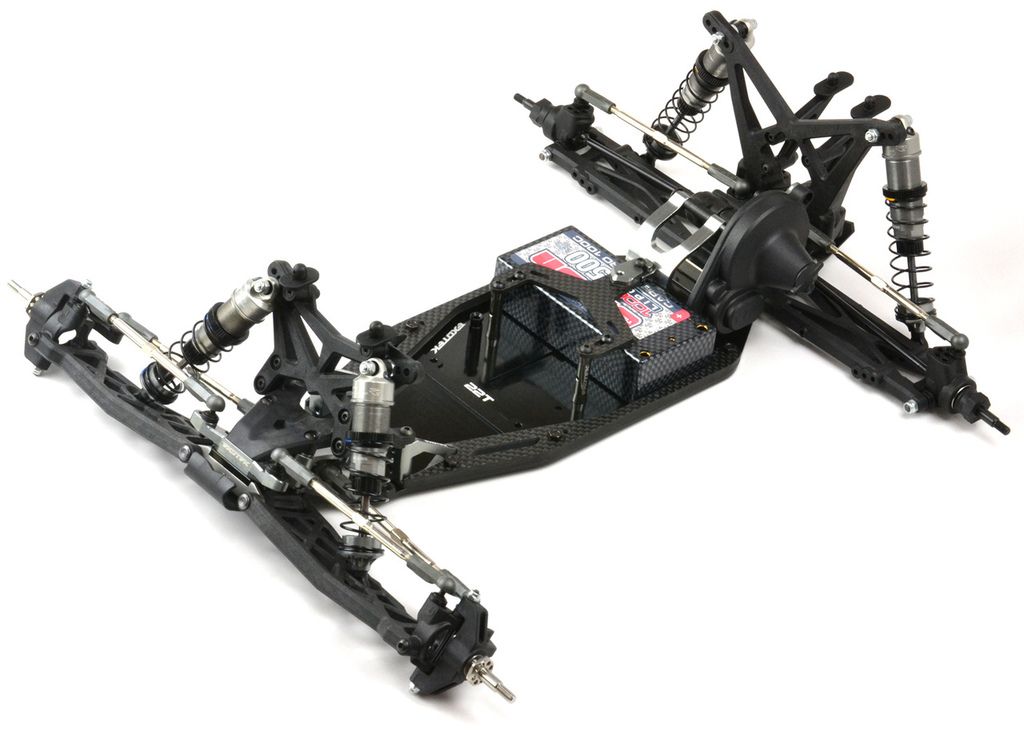 Did anyone get this? opinions?
01-28-2016, 06:56 AM
Tech Regular
---
Post some pics once you get it set up to run please.
BTW Nice paint job are the shark teeth stickers?
01-28-2016, 01:45 PM
---
does anyone know what will change if i go from 1 degree anti squat to 2 degress?
01-28-2016, 01:55 PM
Tech Adept
Join Date: Aug 2011
Location: Southern Oregon
Posts: 209
01-30-2016, 02:29 PM
Tech Regular
---
Is there going to be a 3.0?
01-30-2016, 07:36 PM
Tech Regular
Join Date: Mar 2008
Location: Ohio
Posts: 338
02-01-2016, 03:55 AM
Tech Initiate
Join Date: Mar 2010
Posts: 44
---
I would think a 3 gear tranny would be in the near future for MM. Which could justify a new 3.0 that consist of all new rear suspension and a redesign of the back half of the chassis.
02-01-2016, 04:15 PM
---
hello im wondering what the best ride height would be for a med bite indoor track? please help.
02-01-2016, 04:56 PM
Tech Adept
Join Date: Aug 2014
Location: Somewhere Near Tacoma RC Raceway
Posts: 239
02-01-2016, 05:20 PM
Tech Fanatic
Join Date: Nov 2014
Posts: 979
02-01-2016, 06:38 PM
Tech Regular
Join Date: Jun 2004
Location: Pa
Posts: 288