Tamiya TT02 TT-02 rally / off-road thread
08-04-2014, 12:32 AM
Tamiya TT02 TT-02 rally / off-road thread
---
Hi all,
To compliment the on-road thread, I thought I'd start a thread in the off-road section dedicated to taking the Tamiya TT02 / TT-02 sedan versions off-road and rallying.
To keep it simple, this thread is for showing off your rally TT-02 cars (not the TT-02B buggies), and discussing suspension setups, rally mods, preferred motor and gearing combo's, etc.
If you want to discuss and ask questions on general drivetrain and setup, may I suggest that the TT-02 on road thread would be best suited to these discussions and can be found here:
http://www.rctech.net/forum/electric...02-thread.html
I look forward to seeing your rally modded TT-02's!
Cheers,
Crouch
08-04-2014, 12:52 AM
---
I'll kick off the thread with my TT-02 rally build summary.
In approaching my build I knew I definitely wanted to hopup and mod my TT-02 but I also wanted to keep it on the cheaper side and maintain the stock suspension / uprights / knuckle design to ensure repairs would be cheap and quick. Basically I wanted to get the most out of the chassis cheaply and without losing the core TT-02 design.
I'd already built and hopped up a TT-02 for drifting plus two TT-02B Neo Scorcher buggies (see build and review here:
http://www.rctech.net/forum/electric...ld-review.html
) and had a number of spares leftover. I also wanted a different body to what was supplied with TT-02 kits so I took the interesting step of assembling my rally car completely from spare parts, leftovers and hop-ups.
If you're in a similar situation I recommend you investigate this, I think it actually worked out cheaper.
I sourced the majority of the needed parts from Banzai Hobby and Broadtech / Eagle Racing.
Initial build hopups
In addition to the needed stock parts I added the following hop-ups during the build.
If you'd like pictures they're very similar to what I used on my hopped up TT-02B buggy, which shares the majority of the drivetrain – See buggy build here:
http://www.rctech.net/forum/electric...ld-review.html
If you'd like to follow a full build of the sedan, there's a great sequence over at The RC Racer (
http://www.thercracer.com/2013/05/ta...nd-review.html
) who also posts here under 'Qatmix'.
* Full ball bearings, blue sealed to protect against dust intrusion
* Eagle Racing main driveshaft (TT02-13). This seems to have a better fit / operation that the Tamiya alloy one and is thinner / should be stronger than the stock one
* Eagle Racing solid axle in the rear (TT02-17) to give it a bit more of a dirt-drifter feel. I've also used the Eagle Racing rear diff lock (TT02-21) which works well too but the gearbox joint is captured on the solid axle so it won't fall out and get lost if you break the suspension / uni. Note that the solid axle needs uni's / dogbones with the smaller head. I'm also running Tamiya Anti Wear grease (53439) in the front diff to reduce the differential movement (this is instructed in the TT-02B Neo Scorcher build)
* Eagle Racing alloy steering setup including ball bearings which I've found dramatically improves the steering. They're up to their second version of this so the part number is now TT02-15V2. Tamiya also makes these parts. Tamiya Low friction step screws (54550) are a cheaper alternative
* Eagle Racing uni's front and rear with gearbox joints for improved efficiency and greater steering angle. I got the TT02-06 / TT02-06P1 version although these have proven a tad short (only just enough thread exposed to secure the wheel on) - I'm not sure whether I should have gone with TT02-06P1-L
* Eagle Racing bearing cover (TT02-08)
* Eagle racing alloy shock tower front and rear (TT02-12) for the additional shock mounting options it provides (5 vs 2 on the standard shock tower)
* Square TT-01 suspension guard to protect the front suspension / shocks / steering. Required some trimming to allow the chunky Rally Block tyres to turn fully
* Tamiya super mini oil dampers (2x 50746 + on road spring set 53163 I think – Not sure, had these lying around)
* Tamiya TT-02 low friction suspension balls (54559) to reduce friction in the front suspension
* Tamiya TT-02 alloy motor mount (54558) in case I want to run a faster motor
* Tamiya 3x10mm hex head titanium screws (53530) x20 or so. As well as being lighter, if you intend to disassemble your TT-02 often then I recommend using these tighter screws rather than the supplied 'tapping' screws – They can easily become loose
* Tamiya Rally Block tyres (2x 50476) (which are 26mm wide) and rally rims which I think are the 84272 type with +2mm offset (which sit under Tamiya 190mm wide bodies quite nicely). 54340 rims may also suit
* Tamiya TT-02D (drift) 'A' parts (uprights, shock towers, diff covers, chromed wheel hexes, etc) (9000614 / 19000614). These parts are described as 'reinforced' on the Tamiya.com website (
http://www.tamiya.com/english/products/58584/index.htm
) so obviously were attractive for rally use.
At this point I have to give a big shout out to Banzai Hobby who especially made the above 'Drift' parts available – They are not a standard spare part so they had to go direct to Tamiya for them.
I can't recommend Banzai Hobby highly enough – Their customer service even for a small timer like me is exemplary. Check them out:
http://banzaihobby.com/radio-control...-tt02d-a-parts
Electronics
* HPI SF 10W servo – Cheap, reliable, waterproof, same tooth spline as Tamiya servo's, fast enough / enough torque for what I need
* Tamiya high torque servo saver (51000). Am yet to break a servo using this
* Initially I started with a Spektrum radio combo with HPI SC-15WP ESC (pictured) (which handles brushed motors down to 15 turns, is waterproof and LiPo compatible / has a LiPo cutoff) which is great, but have since installed a basic Tamiya Finespec 2.4ghz system and Tamiya TEU-105BK ESC to allow multiple cars to be run at the same time (the Spektrum gear will go into my XV-01) and also to utilise the training mode (reduces power) to teach the kids how to drive. Please ask if you would like more detail on this feature.
The TEU-105BK ESC is not advertised as being LiPo compatible and does not have a LiPo cutoff but I am currently using 7.4v 2S LiPo with it without any problems thus far
* Hobbyking on-board LiPo low voltage alarm (DL-Volt-Alarm) (given the ESC doesn't have a low voltage cutoff). Just be careful with this as rough driving could dislodge the connection. Also gives you somewhere to connect the balance plug to keep it out of the way. I've cable tied this to the battery cover (pic to come)
* Sticking with the stock 27 turn Tamiya silver can 540 motor. More on this when we get to drive reviews.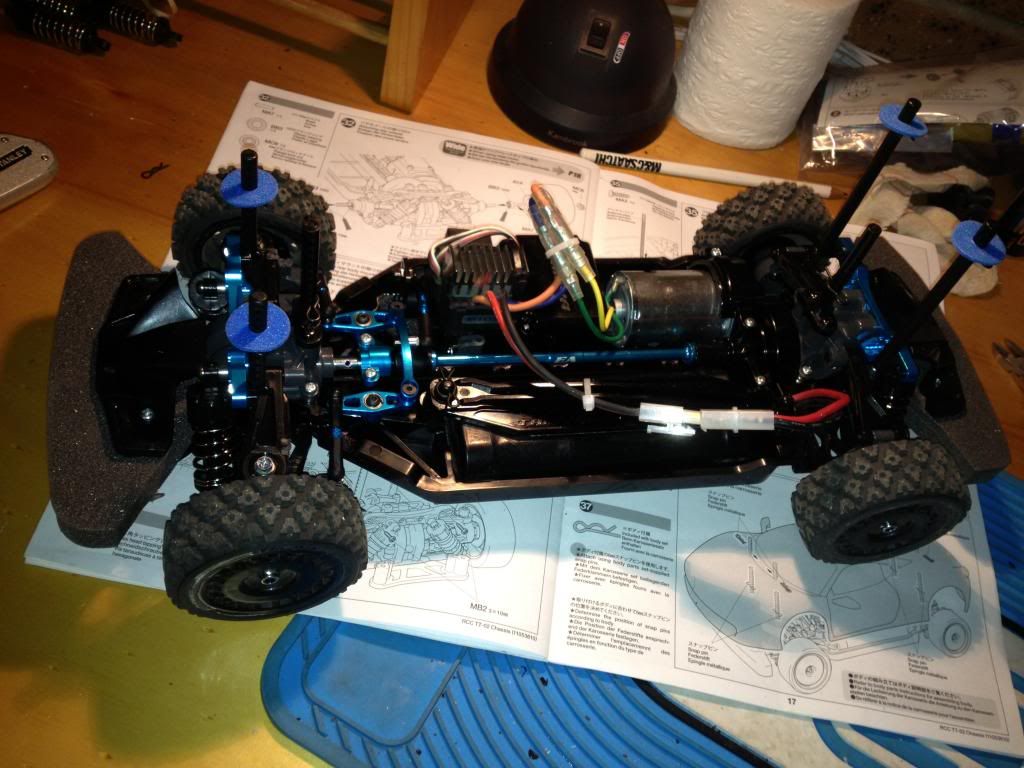 Body
I chose the Tamiya Subaru Impreza WRC 08 body (51364). I also got one of the longer Tamiya TT-01 foam bumpers to better protect the body (51226, or if you can find it 6275067 / 16275067 would be better), leaving the normal front bumper to go on the back.
For my first real body cut & paint I'm pretty happy with how it turned out (yes, it's sitting VERY high!).
This body set also includes LED light buckets – I hope to add lights for night racing in the near future!
I'll leave it there and type up some of the minor mods I've done plus problems I've had.
Looking forward to seeing some of your efforts!
Cheers,
Crouch
08-05-2014, 06:31 AM
Tech Addict
Join Date: Dec 2013
Location: Sydney
Posts: 606
---
I've done some off road racing in my tt02 and I think the biggest concerns I had when racing off road was debris flying into the chassis. Rocks will get in at times in the links but it depends also how swept the track is... But the following I've found helpful when setting up for off road racing with a tt02

-get dampers with allow tops and bottoms. An example I used were topcad dampers that come in blue alloy. These are strong and I've not had issues with these
- alloy front knuckles help as well, stock plastic knuckles will snap in time at the shafts.
- decent universals, I've yet to find a good pair that have lasted as there is a lot of impact on these when using them.
- I've not found anything better than tamiya rally blocks(plus tamiya inserts). They're a hard compund but they do well enough on so many dirt surfaces. I've not used many but these are the best I've used so far
- rubber sealed bearings (given)
- I believe the body shouldn't be too raised above the wheels - any higher than normal I'd feel it'll just allow debris to enter easier

At the end of the day the tt02 is an on road chassis so it'll have its limits. I think the main hopups will be the alloy shocks and knuckles. This is where all the strain occurs. I will add more notes if I can think of anything else but that's it for now.
08-05-2014, 06:33 AM
Tech Addict
Join Date: Dec 2013
Location: Sydney
Posts: 606
---
Hpi rally tires are rated well but I've not had experience in them. I've used speedmind rally tires of a pin type style. I think these may be ok on a very well swept hard clay track.
09-18-2014, 03:57 AM
---
Hi all,
I've done a few different mods to my rally TT-02 but by far my favourite thus far has been adding toe-in rear uprights.
Tamiya make these in alloy (54549 - 2.5 degrees) however they look more designed for on-road use with a thinner design and are quite expensive.
I opted instead for alloy Yeah racing versions (TT02-007-2BU - 2 degrees) designed in a similar way to the original parts.
I also used low-friction suspension shafts (Tamiya 54395) for improved suspension movement.
The affect of the toe-in rear uprights is immediately noticeable with vastly improved straight line stability and steering response.
Their design also allows for much greater suspension movement than the stock parts.
Obviously you can't use as much as is shown here as shocks / uni's won't move that far.
With the low-friction shafts honestly there's probably not that much point using these unless you can also reduce the friction / tightness in the joints where the suspension arms join to the chassis (which would likely require some sort of alloy suspension arms with metal rod connectors).
But definetly recommend the rear toe-in uprights!
Cheers,
Crouch
09-18-2014, 06:00 AM
Suspended
Join Date: Sep 2014
Location: Rawalpindi
Posts: 7
---
It is very complicated thread.
11-03-2015, 09:50 PM
Tech Adept
Join Date: Dec 2008
Location: San Fernando Valley (818)
Posts: 117
Not sure why this thread isn't more popular
---
The TT-02 allow for easy conversion from lowered ride height for on-road use to lifted height for off-road use.
I agree with DJChows not exactly for the same reason. The body mounted higher raises the center of gravity. I think it would be better to work on shock/spring tuning depending on the track you run on with the stock raised height found in the TT-02.
Also a softer rubber compound tire will help with suspension control. I personally like the HPI or Tamiya Pirelli gravel tire which has a less aggressive tread pattern and can be had in a few compounds.
It can be ran on most surfaces and traction will be good to excellent.
You can't tell me a TT-02 setup for rally but with CVA's and some suspension tuning will do worse than Jang's Exceed conversion and this is around a 1/8th scale outdoor off-road track.
He started with the Tamiya rally block tires, but went with the HPI Pirelli as I suggested, in part 2
Here it's has a Brushless motor, better servo and the newer tires.
You don't need extreme ride height even when the WRC used to go to Africa they didn't raise the cars much more than they ran on gravel. Non scale rocks only exist in certain conditions. Both videos shows what would happen on a unprepared surface.
Besides running it on bike trails (which is my plan), the local indoor clay off-road and the factory on-road track at Tamiya's US HQ near Irvine.
This is a project I've wanted to do and it will finally come to pass. Banzai Hobbies has excellent prices given the current exchange rates so I will be taking advantage of this.
03-27-2018, 12:08 AM
Tech Adept
Join Date: Oct 2015
Posts: 130
---
How can I convert a TT-02 like LaFerrari into a rally car?
Especially, how do I increase the ride height?
What are the parts needed?
Do I only need 62mm shocks?

What is the max right height possible?
Thanks
---
Last edited by julieng; 03-28-2018 at

09:22 AM

.
04-03-2018, 05:18 AM
Tech Adept
Join Date: Dec 2008
Location: San Fernando Valley (818)
Posts: 117
---
The answer is in the instructions. You flip the hub mounts and that increases ride height. The instructions are for the kits that come with rally bodies.
As for shocks, standard length shocks should be fine, unless you plan on extreme jumps at high speeds for which you might need more travel but I doubt it.
If you using the stock motor or a similar speed motor just what I mentioned is all you need, HPI rally tires as well.
11-12-2018, 01:52 PM
Tech Fanatic
Join Date: Jan 2010
Location: Adrian, Michigan
Posts: 961
---
reviving old thread with hope of some help. My brother and I built a couple tt02 rallys over the winter last year and first run and we had rocks and crap all inside the car everywhere. toasted gears a drive shaft etc. Is there any lexan undertray for this car to protect that. I know years ago my brother had an hpi rs4 rally and it had a little driver cockpit undertray to keep debris out. I had the thought of just using a tto2b buggy body for this purpose but I can't even seem to find one of those for sale anywhere?
Currently Active Users Viewing This Thread: 1
(0 members and 1 guests)
Posting Rules
You may not post new threads
You may not post replies
You may not post attachments
You may not edit your posts
---
HTML code is Off
---