What is a good 1/8 Truggy to be built for speed only...
07-19-2014, 07:02 AM
Tech Elite
What is a good 1/8 Truggy to be built for speed only...
---
Hello!
I am researching 1/8 Truggy's for a special speed demon... that i will build in the next 3 to 4 years!
I tought TEKNO truggy is very good quality but is very narrow... i will need space for bigger ESC and fat lipos and sapce for a custom motor mount for weird pinions
So that's a no for that one brand.
I will be glad to see somebodys work in that aerea....pics/forums/blogs, whatever!
This is going to be run only on asphalt straight aways, and need only a Truggy, no Onroad's car please!!
For wannabe's opinion i am fed with that...
Anything in this level of the next pics:
Not trying to go "Nick Case" world records but close... might staying just a little below where aerodinamics starts to be more important then electronics or chassis, cause it's a Truggy
And i don't have knowlodge or tools to make a DIY chassis using some proven 1/8 diff's.... so need a RC kit to start with, so my askings....
Help a "brother"? hein...
Any known speed foruns, that can give me a link? I like to learn....
07-19-2014, 08:09 AM
Tech Apprentice
Join Date: Apr 2014
Location: Australia
Posts: 54
---
Not really any advice, I've got no experience with what you're trying to do, but I'm curious if you have a blog/website/forumpost for this little project, I'm kinda curious to see how it goes for you.

At any rate, good luck, it looks like a fun project xD
07-19-2014, 08:54 AM
Tech Regular
Join Date: Sep 2010
Location: Hong Kong
Posts: 287
---
I'd get a truggy with strong diff ring gears such as RC8T, or the Serpent, MBX7TE will probably do also
07-19-2014, 09:14 AM
Tech Master
Join Date: Jul 2012
Posts: 1,917
---
I would say mugen or losi would fit the bill. With efficient drive trains and light weight they would be first choice. I have only seen pics of the losi but looks like the mugen will be a wider in the chassis.
07-19-2014, 09:23 AM
Tech Elite
---
Well i have 2 speed demons in mini scales! Posted on this forum if i remember! One is the pink monster M8 and the other is a mini inferno both 4s.
I made only in my way in the last 4 years searching and learning everyday!
And gathering money, lol!
I still have interest on those blogs/websites if they exists.... but it's just random there and here info!
Thanks!
07-19-2014, 09:29 AM
Tech Elite
---
-I already have a Mugen MBX6T. So maybe will choose another brand! If i remember Serpent are narrow's to... i need space, that Mugen have. Never looket seriously at the RC8T, but going deep now... lol
Thanks!
-Yep, Losi... need to look at photos, see if accepts larger motors and have space for all that crap... i already know the Mugen will do... but since i have one, i prefer other brand!
I don't mind the other good Rc's... like Sworkz,TeamC,JQ (don't know if they have Truggys), Team Durango have but if i remember right is narrow to.... RACERS
lol.
Will a Kyosho Truggy work well? I only know the ST, but don't know if that's VE quality or MP9 quality! If you know aht i mean... need to dig it, to!
I will do one thing... grab photos of each one i can remember and you say and post on this thread.... it will be a reunited info allTogehter....and then ask each other how you guys think of their's diffs
Thanks
---
Last edited by targetingxmod; 07-19-2014 at

10:24 AM

.
07-19-2014, 10:24 AM
Tech Elite
---
A normal D8T :
-Seems to have space for longer motors
But after seeing this i think my quest for months ahead is over... this is percise what i want!
170mm x 53 mm batery tray, and the esc is mounted on top close to the center diff.
Then i can use a "mamal" motor mount on that for mad larger pinions!
Even that idea on any rc truggy is possible!
Thanks internet!
---
Last edited by targetingxmod; 07-19-2014 at

10:56 AM

.
07-20-2014, 02:10 PM
Tech Elite
---
Really never payed attention to Tamyia.
Always think they are for scaler's more a like...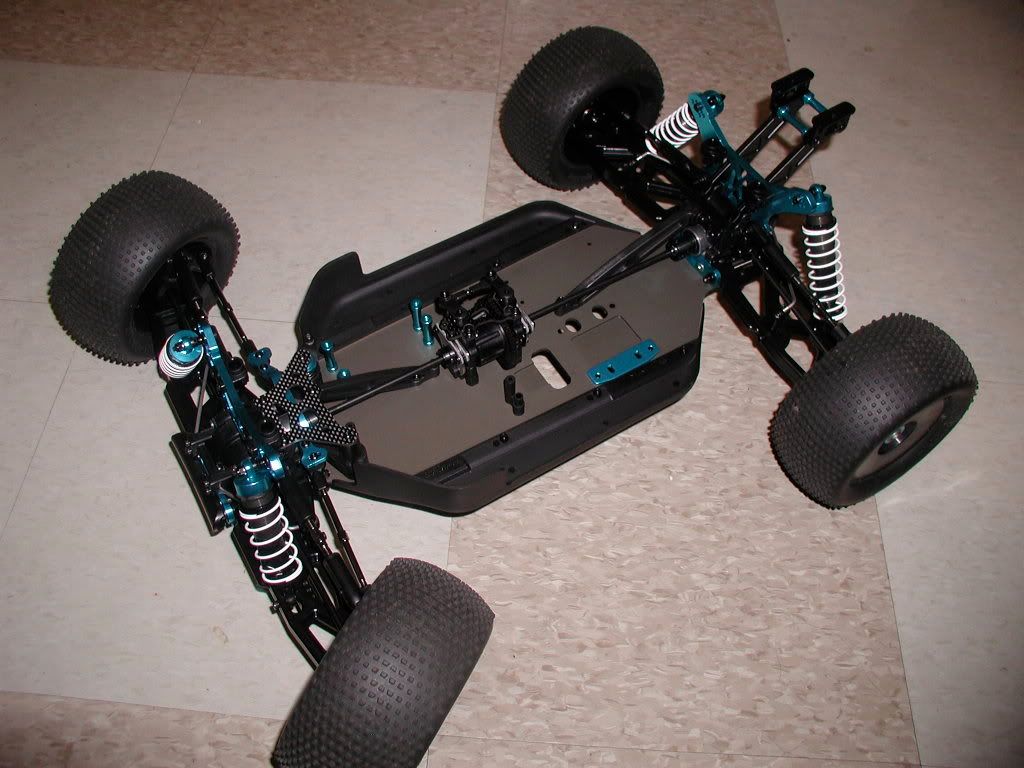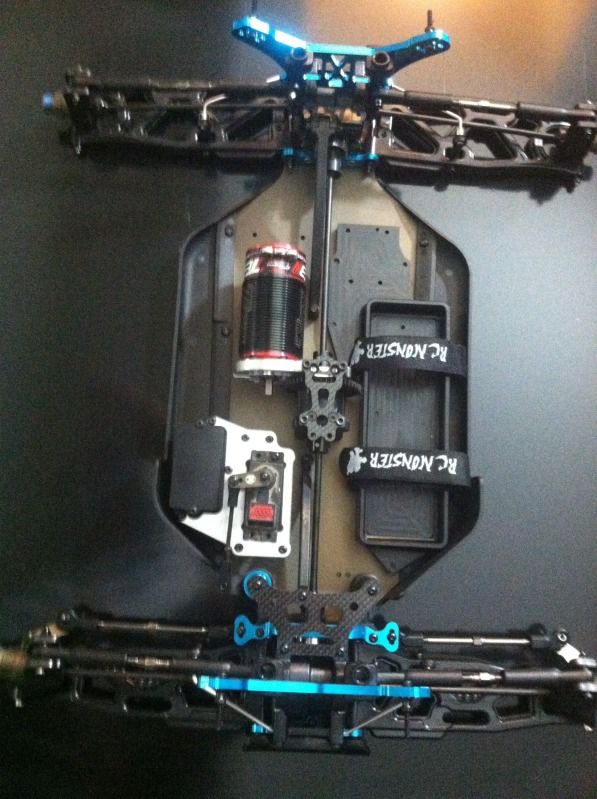 -But this layout is very good. Don't know nothing about their diff's/CVD's or dogones (transmission)... if need assistance like traxxas e-revos both 1/16 or 1/10???
07-20-2014, 03:08 PM
---
Quality of their race kits is on par with kyosho, IMHO. They are an amazing brand. Plus, the trf801xt is like 99$ for a kit on their website. Pick up a few.

Drivetrain durability is top notch. Straight as an arrow. And the plus is that the front and rear gearboxes tilt so there is little wear on the from bone due to the kickup.

The only bad thing is the arms need to be boiled, and the stock bladders don't seal very well.
07-21-2014, 08:30 AM
Tech Master
Join Date: Jul 2012
Posts: 1,357
---
Do the tamiya truggy its only $100 and its quality...
07-21-2014, 09:41 AM
Tech Regular
Join Date: Feb 2010
Location: Morrisville, NC
Posts: 473
---
Unfortunately, Tamiya finally ran out of them last week.
07-21-2014, 03:00 PM
---
Taping and screwing the braces in like that was probably not a very good plan. While it eliminates the need for a nut, the constant stress on the piece and on the screws is likely to strip them out eventually. Part of the reason they use the nut in the first place, more to clamp the brace to the chassis, vs trying to hold it down onto the chassis.

As for targetingxmod, 225 seller pays shipping for the whole lot sounds about fair.
07-21-2014, 03:28 PM
Tech Addict
Join Date: Feb 2007
Location: Calgary Alberta
Posts: 615
---
Tapping shouldn't be a problem. If it is worst case I'll go back to a nut down the road. Really it's a no risk situation.