Looking to get into 1/10 2wd Buggy Racing
12-14-2013, 10:11 AM
Tech Regular
Join Date: Nov 2013
Location: Tucson, AZ
Posts: 425
---
I highly recommend the Airtronics MT4. Been use it for 2 years now and it has been great. I am also using the Airtronics high torque digital metal gear servo in my SC10.2 FT, it is fast and strong.

For electronics, it all depends. There is a lot of good stuff out there. For an ESC I usually go with the thought of only buying it once and usually go with something that will allow me to change motors with the most flexibility. The stock spec ESCs are great and cheap if you only plan to run stock blinky class. But I usually look for something that will allow me to move to mod class later on. I'm currently running a Viper VTX10R and it has been great. Plus it has a 1 year warranty. It is a little on the pricy side, but will still allow you to come in under your 1000 budget.
12-14-2013, 10:14 AM
Tech Champion
Join Date: Aug 2002
Location: Leonardtown Md.
Posts: 6,242
12-15-2013, 10:31 AM
Tech Fanatic
Join Date: Oct 2010
Location: Orlando, Fl
Posts: 925
---
My friend had the Spectrum DX3e and had problems with glitching and cuting out. Ran a glitchbuster which would solve the problem for a time until it broke. It just ended up being a huge hassle for him... I know many people run spektrum and like it though.
12-15-2013, 04:07 PM
Tech Regular
Join Date: Feb 2013
Location: South dakota
Posts: 269
---
The online stuff can be cheaper but keep in mind that if u buy locally not only are u helping out ur local community but also if u have problems they will be much more likely to help u out. Having their guys guide u through the build will help build a relationship. Not trying to knock amain or anything but they are kind of the walmart of rc. As fat as which kit to buy is totally up to u. The durango and tlr are more versatile(mid and rear options)than the associated. The tlr is probably the strongest but heaviest. The associated is prob the lightest but also the easiest to break. Either ways go I think u will be happy all great kits and with the right driver and set up all will win races. Good luck
12-15-2013, 05:02 PM
Tech Initiate
Join Date: Nov 2013
Location: Born in Simi Valley CA ... Raised In Temecula CA ... Live in Louisville KY ... BUT I WILL BE BACK IN CALI SOON (:
Posts: 28
---
Originally Posted by
dan1942
Hey everyone!
I am looking at getting back into RC Cars (it's been about 3yrs). I recently found out that there is a new indoor track a few miles from my house where they are racing 1/10th scale cars. So I am thinking about trying the 2wd buggy racing and as of right now I have nothing and would like to get everything by the end of the year. The hobby shop at the track carries AE, Losi, and durango So I would like to keep with that and I will buy from them as there pricing is the same as online and would like to support them.

What are some suggestions on motors, esc, TX, servos, and which Car? I would like to buy the right stuff from the beginning to eventually be somewhat competitive. Also the track is Dirt.
Thanks in advance!
Durango!!! haha! I race The Durango 1/10th Scale Buggy and the 1/10th Scale Short Course and now I am looking to get the 1/10th scale stadium truck by Durango!
Have never been disappointed.. really check them out the Dex210 (buggy) is great as I just raced it for my first time not to long ago! I race at Indoor Clay Tracks and im assuming your indoor track is clay but they run great!
Like I said I have not been let down with them.. for the price they are unbeatable
as for
ESC TX and Motors and Servos
I would run a Savox 1258tg in the buggy as I am dissapointed with the Savox 0252mg I through in my Durango Buggy
I run the 1258tg by Savox in my Durango Short Course its Great!
and for Esc and motors Im looking at the Novak Pulse/Vulcan Combo 17.5 on Amainhobbies for $230.00 but sadly they are on back order now
and for TX really anything Spektrum or Airtronics would do or Fly Sky makes a pretty nice one for cheap $$$ !
I have a YT channel showing Upgrades I thrown into both my Durangos if you would want to see go check it out it might help !
Youtube.com/XtremeRemoteControl
Just my 2 cents !!
Good luck friend!
12-15-2013, 07:08 PM
Tech Initiate
Join Date: Oct 2013
Posts: 40
---
Durango is saddle pack only?? In the 4 gear MM position maybe but the 3 gear MM you can get a stick in there and most certainly can use stick in the rear motor config.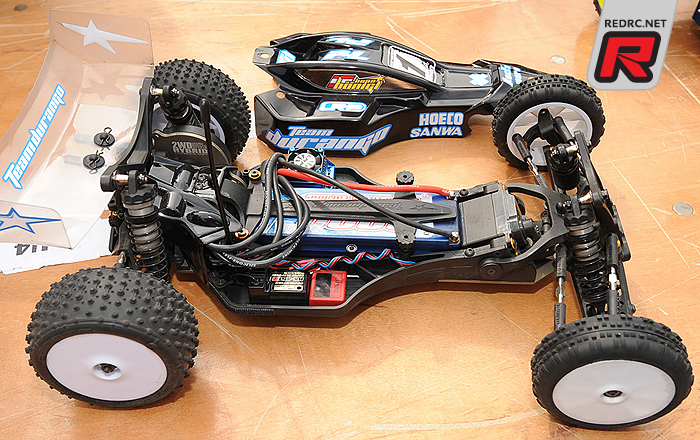 12-15-2013, 07:32 PM
Tech Addict
Join Date: Apr 2012
Location: Punxsutawney, Pa
Posts: 555
---
Full packs fit MM too. I think he meant Dex410 is saddle only
12-15-2013, 07:38 PM
Tech Master
Join Date: Aug 2011
Location: Azusa, Ca
Posts: 1,774
---
Love the Durangos.
Check out this smoking deal at tower. $199.98
http://www3.towerhobbies.com/cgi-bin...=LXCLZD**&P=ML
just add a bottle of shock oil and add this coupon 014BD SAVE $25 on $200.00 ORDER
Not sure on your track rules, but if you're going to start off with novice class, you should be able to run the 13t motor, later you can change it out for a 17.5 for stock racing.
---
Last edited by mattjk; 12-15-2013 at

10:20 PM

.
12-15-2013, 10:16 PM
Tech Adept
Join Date: Jun 2010
Location: Okeechobee Florida
Posts: 182
---
Durango all the way,the dex210 is great.A great feature is the rear and mid motor compatibility out of the box.Also you cant beat the price.I would recommend to stay away form spectrum,i have had problems with glitching in the past.I like radio post gear they have outstanding products.As for a motor and ese hobbywing systems are also great,they can compete with the tekin and viper system all day just at a lower cost.
12-16-2013, 08:23 AM
Tech Adept
Join Date: Nov 2013
Location: virginia
Posts: 117
---
i scored the dex210 rtr
added carbon shock towers, savox servo, spektrum receiver, and speed passion gt pro esc
i have extra A-arms in reserve just in case.
got some lighter wt oil and springs. and i'm gtg.
ran box stock in mod 2wd buggy club race and came out 6th out of 10, not too shabby considering it was my first time out with ANY buggy, and only started driving RCs 2 months ago.
12-16-2013, 04:09 PM
Tech Apprentice
Join Date: Mar 2008
Posts: 80
---
Thanks for the help!
the dex210 looks pretty nice. It seems most of the people are running the B4.2 with a few using the TLR 22. All seemed to have rear mount motors as well. They seem to have all the parts in stock for the B4.2 and the 22 there was a pretty small selection for the durango parts.
12-17-2013, 04:56 PM
Tech Apprentice
Join Date: Mar 2008
Posts: 80
---
Oh and here is video of the track I found on youtube
https://www.youtube.com/watch?v=22O-VYXIJv4
Do you think a C4.2 or any mid motor mount work well it appears everyone there is running rear mount and someone mentioned 10.5 turn motor
Currently Active Users Viewing This Thread: 1
(0 members and 1 guests)
Posting Rules
You may not post new threads
You may not post replies
You may not post attachments
You may not edit your posts
---
HTML code is Off
---