Xray XB4 thread
03-05-2015, 08:04 AM
Tech Apprentice
Join Date: Mar 2013
Location: Grand Rapids, MI
Posts: 87
---
03-05-2015, 08:18 AM
Tech Elite
Join Date: Oct 2003
Location: Canton, MI
Posts: 4,906
---
03-05-2015, 08:23 AM
Tech Master
Join Date: Jan 2014
Location: Wisconsin
Posts: 1,028
---
Originally Posted by
likea45
I've been running these bumpers since my b44.2. Fantastic bumpers and having that small bumper on the xb4 this has saved the front of my car a few times as well. Also lifetime warranty. You break it, no questions asked they send you a new one. They also make a great rear skid pad as well.
Nice, I thought I was the only one running the DMX body.
03-05-2015, 08:30 AM
Tech Apprentice
Join Date: Mar 2013
Location: Grand Rapids, MI
Posts: 87
03-05-2015, 09:43 AM
Tech Elite
Join Date: Apr 2002
Location: Tracy, CA
Posts: 3,081
---
Originally Posted by
Canadianrage
Sorry, meant what holes are missing that doesn't allow the use of the bumper without mods?
03-05-2015, 09:53 AM
Tech Regular
Join Date: Mar 2014
Posts: 254
---
im sure just the front 2 holes would be fine for bumper support,prolly help a good bit with slight nose now landings to keep the car moving forward rather than sticking in,seems like the lowered ground clearance would be negligible though from both those front bumpers,guess it depends on what level you are driving it at?

With exotech rear hubs,what hole are most using? how high can you mount the balls using the outside holes and not effect roll center so the plastic ball links dont touch the tops of hubs and bind suspension on the down travel?
03-05-2015, 10:22 AM
Tech Addict
Join Date: Mar 2014
Location: Maricopa, Az
Posts: 621
---
I am still confused.. ALL of my 14 car bulk heads, bumpers,towers etc is bolted on a 15 chassis instead..No extra or moved holes..
The 15 bumper is the only difference in the front, and it will fit a 14.. You can remove it.
03-05-2015, 10:46 AM
Tech Master
Join Date: Mar 2012
Location: usa
Posts: 1,089
---
Well, it says this on bugle boy's racing website:
Note: This bumper is designed for the pre-2015 model. It will fit the 2015 XB4 if you trim the countersink protrusions from the rearward mounting holes and only mount it using the two front screws. This has been found to be a secure enough mounting.
I'm sure they've tested this hence the reason for the note
03-05-2015, 11:03 AM
Tech Addict
Join Date: Mar 2014
Location: Maricopa, Az
Posts: 621
---
I see where it is...
They are using the 2 middle holes from the bulkhead, which no longer are on the 15. The T bone bumper uses the 4 outer bulkhead bolts, not the center.
03-05-2015, 10:43 PM
Tech Master
Join Date: Jul 2009
Location: Lakewood
Posts: 1,626
stripped pinion gear
---
I need some help with this problem I stripped 2 of the 14t bevel rear gears and I don't know what to do
these are the metal ones part 365134
My xray is the 2015
03-05-2015, 10:56 PM
Tech Regular
Join Date: Apr 2014
Posts: 446
03-06-2015, 04:02 AM
Tech Master
Join Date: Aug 2011
Location: Norway
Posts: 1,380
New 3mm alu. chassis and 2mm front top deck
---
The new 3mm alu. chassis and 2mm top deck that we have been using for some time on medium to high grip surfaces have now been released by Xray:
XRAY Graphite Front Upper Deck 2.0mm #361173
CNC-machined front upper deck shim made from premium 2mm graphite for maximum strength and long life. Recommended especially for use with the 3mm alu chassis when the standard long front top deck is not used.
• Premium graphite material
• 2mm thick
• Adjusts chassis flex
• Maximum strength
• Long life
• Combine with alu chassis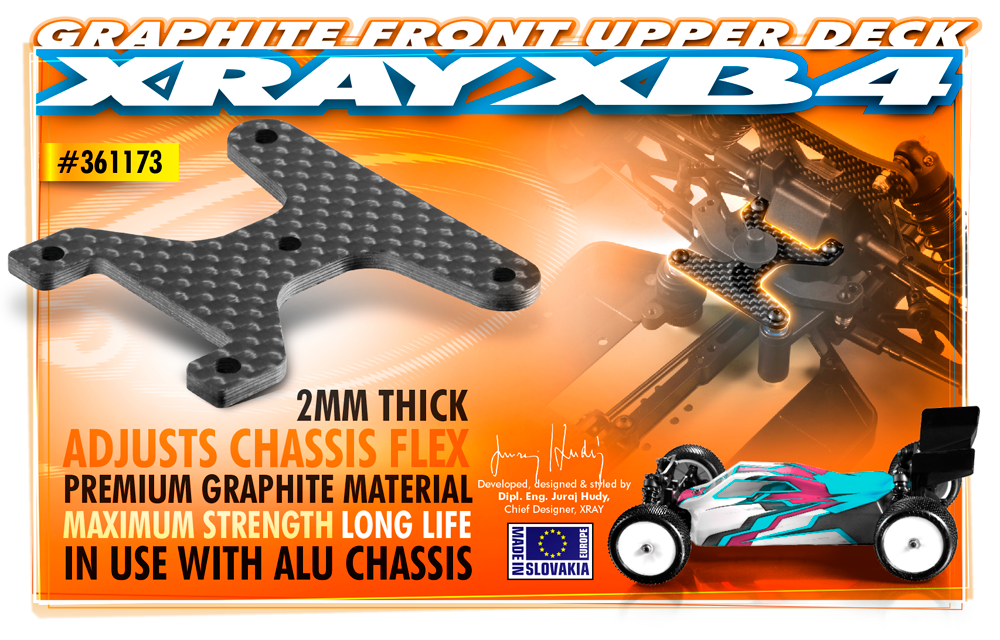 New XB4 Alu Chassis - Swiss 7075 T6 (3mm)
CNC-machined chassis made from high-quality 3mm Swiss 7075 T6 aluminum, strategically machined in low-stress areas to make it as light as possible without affecting strength or rigidity.
Designed and recommended for use at high-traction tracks without graphite front and rear top deck. The 3mm chassis increases corner speed and overall stability - a "must have" option part for serious racers. Optional graphite body mounts are recommended for easy body mounting.
Note:
Swiss 7075 T6 is an extremely rigid aluminum material. In some rare cases some small cracks may occur (for example, around openings or on edges where tension in the material is highest). Those small cracks are a natural effect and have no negative impact on the performance, reliability, or lifespan of the product, and as such are not considered to be a defect.
• Premium Swiss 7075 T6
• 3mm thick
• Super-strong
• Extra-stiff
• Increases cornering speed
• Increases stability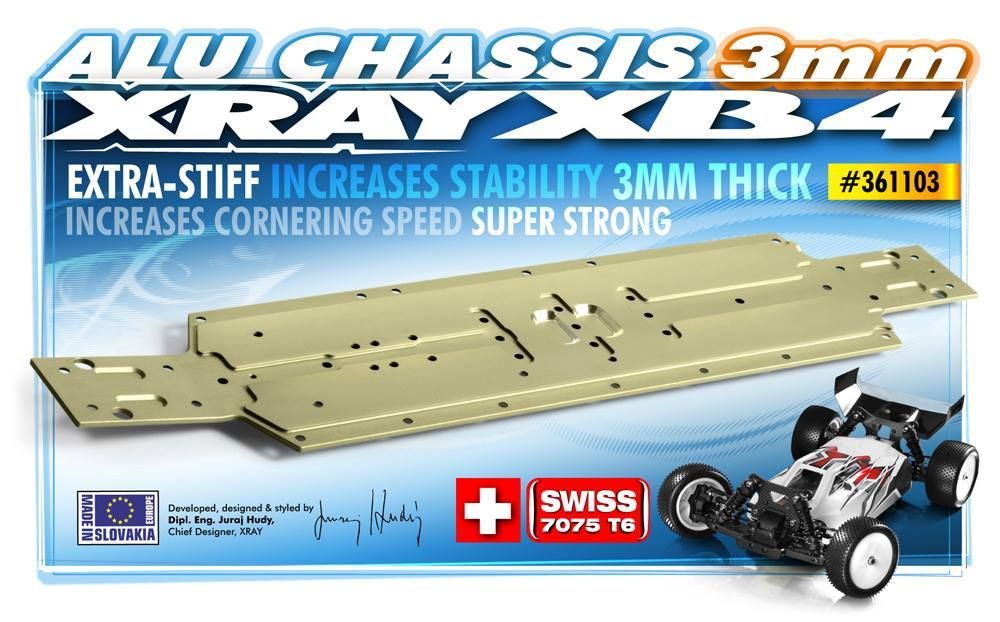 Bent
03-06-2015, 05:47 AM
Tech Addict
Join Date: May 2013
Posts: 673
---
would love to see some new clay setup sheets!
03-06-2015, 08:39 AM
Tech Addict
Join Date: May 2013
Posts: 673
---
Warranty RR hinge pin holders are starting to ship. One of mine is on the way from the Netherlands.
03-06-2015, 09:42 AM
Tech Master
Join Date: Jul 2009
Location: Lakewood
Posts: 1,626