Xray XB4 thread
05-14-2013, 07:58 PM
Suspended
Join Date: Oct 2011
Posts: 308
05-14-2013, 10:15 PM
Tech Elite
05-15-2013, 01:15 AM
---
I made my own, giving 3 weight options
05-15-2013, 06:04 AM
Tech Elite
Join Date: Jan 2011
Location: Meridian Idaho
Posts: 3,408
---
boggles my mind how much weight you guys add on
05-15-2013, 07:33 AM
Tech Elite
Join Date: Apr 2011
Location: Kennewick, Washington
Posts: 3,166
05-15-2013, 11:30 AM
Tech Regular
Join Date: Jan 2010
Location: オランダ
Posts: 326
---
I've been adding zero weight. Also running on Astroturf mainly. My rear end is planted. It's all about the setup.
05-15-2013, 12:08 PM
Tech Elite
---
You guys should have seen my mid motor cougar on dirt
. Its not all about the setup. Try it you won't hate it (on dirt). Takes away none of the TC handling but still can drive it like an ebuggy if you need to (super aggressive on brakes in turns and jumps). Without rear weights thing was nose heavy.
05-15-2013, 11:50 PM
---
It's just another tuneing option and at my local astro track the weights are a god send in the wet and help lock in the rear end
05-16-2013, 12:16 AM
Tech Elite
---
Yeah I just cannot afford super soft holeshots every heat or two at my track. So make do with the soft compounds, grip sauce and weight
at big races I can understand 1 heat tires for max grip but its too much for club race nights.
05-16-2013, 11:01 AM
Tech Addict
---
Originally Posted by
poorboy racing
Where did u get the brass at and how thick it is
05-16-2013, 05:27 PM
Tech Elite
---
I get my brass from the local ace hardware. They sell 0.091 sheets and thinner there around 4 inches accross and 6 to 10 long for about 10 bucks.
05-16-2013, 05:57 PM
Tech Addict
---
I just put about 45 grams under my batteries so we will see what happens. I'm also switching to the avid pistons and 3 2 in the diffs
05-16-2013, 06:00 PM
Tech Elite
05-16-2013, 06:40 PM
Tech Addict
05-18-2013, 10:55 AM
---
I was getting fed up with losing body clips when swapping packs, so I've converted over to thumb nuts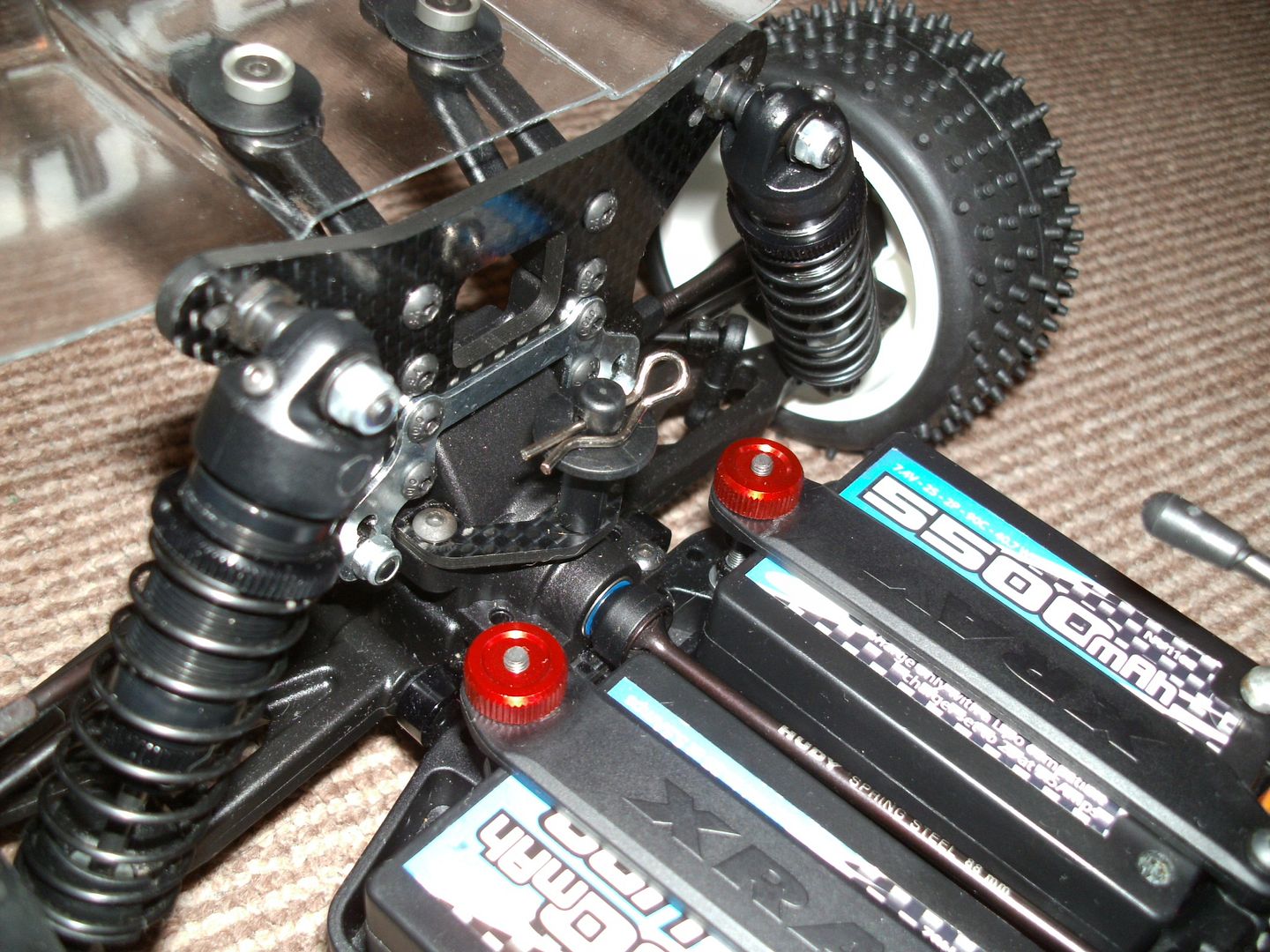 I just used M3 x 33mm button heads locked down with a washer and lock nut, the thumb nuts are from Tresrey and are ment for the DEX210