Team Associated SC10B Race Buggy
12-15-2012, 12:23 AM
Tech Elite
Join Date: Apr 2009
Location: Redlands, California
Posts: 4,507
---
Got mine today! Joining in on the fun! I bet this thing has a ton of steering with the narrow fronts!
12-15-2012, 03:40 AM
Tech Adept
Join Date: Jun 2011
Location: San diego
Posts: 127
---
12-16-2012, 07:24 AM
---
Taking my sc10b to its first track day today. I haven't changed anything but put 60wt in the front shocks. I am running on a dirt trioval with no jumps
12-16-2012, 11:53 AM
Tech Regular
Join Date: Jul 2011
Location: Nor Cal
Posts: 329
---
Hey SC10B owners,
I'm looking to purchase the stock esc and motor etc... for a roller I'm building for my son for Christmas. If anyone is selling them new(takeoffs) I'm very interested. There was a couple in the for sale but I missed them. BTW these buggies look awesome!
Thanks in advance, Joe
Please email me at
[email protected]
12-16-2012, 04:39 PM
---
I had a blast with my scb today. It felt so different than my sct I previously owned. The truck felt much more planted, and just overall better. I love this little thing. Ran the stock system on 2s all day ( I run at a backyard track with a bunch of guys who run brushed set-ups and very mild brushless set-ups)

I did however manage to destroy the front end at the end of the night. I was running my vorza around the track, and it created a very loose top surface. Well here I am running the scb, I came in hot into a turn, the truck didn't stick, and I lost control and slammed in a 4x4 support for his deck. The only damaged part was the front bulkhead. I was very surprised.
12-16-2012, 05:24 PM
Tech Apprentice
Join Date: May 2011
Posts: 97
---
12-16-2012, 07:04 PM
Tech Addict
Join Date: Nov 2008
Location: Virginia
Posts: 558
---
Buggy looks good on the track!....NICE!
12-19-2012, 06:45 PM
Tech Rookie
Join Date: Dec 2012
Posts: 8
---
Everything was going well with mine, Till my friend was driving one of my slash's with rpm parts and metal, And decides he wants too play destruction durby...

Which didn't end well with my sc10b.. Couple rams it took which i told him quit doing it, And when i was coming down the hill i herd scapeing ..

And saw the left wheel tilted and hanging.. So i looked and the bulk head was snapped and the hinge pin support was also broke in half.. And Turn buckle was bent..

But everything is back too normal today, The ST Racing CNC Aluminum Front Bulkhead SC10/T4/B4 came in and with the Team Associated 9665 Hinge Pin Brace with Hinge Pins B4/T4. And i just bent back the turn buckle.


Oh and i think a 3s battery might be a bit too powerful for it lol well for the tires mostly, I had too glue them back too the rim little because they was ballooning like crazy and was making a funny noise. And sometimes it likes too flip on its roof.


Does anyone know when they going too start making rpm parts for it?
12-19-2012, 07:03 PM
Tech Regular
Join Date: Dec 2012
Location: Meridian, Idaho
Posts: 257
---
Guess what rpm stands for....PARTS FOR BASHERS. find a new friend
12-19-2012, 07:11 PM
Tech Elite
Join Date: Mar 2007
Location: Blaine, MN
Posts: 3,587
---


Most if not all the RPM parts for the sc10 will fit. The front arms fit and the shocks will mount up with a slight mod to the arms (drill a hole in the arm to mount the shock).
12-19-2012, 08:16 PM
---
Added lights to mine tonight. Used the axial light buckets, and the axial light controller with 6 LEDs (2 red, 4 white)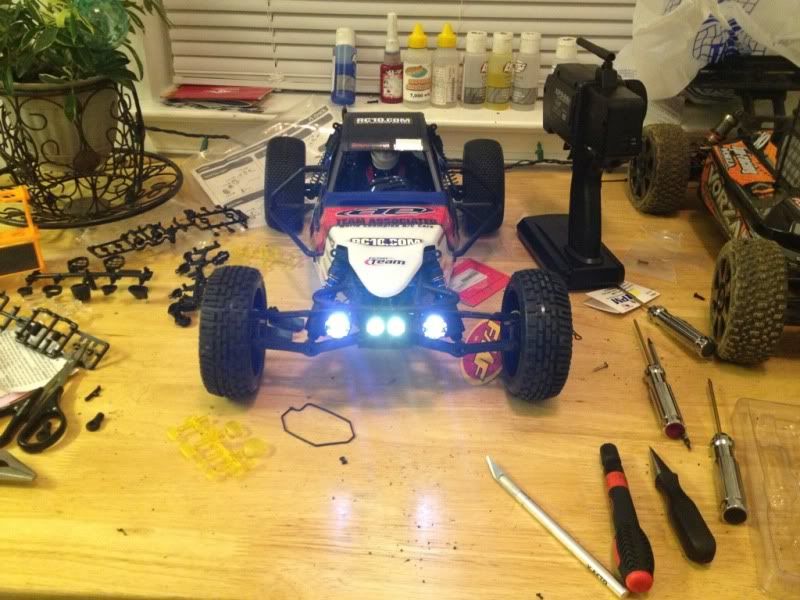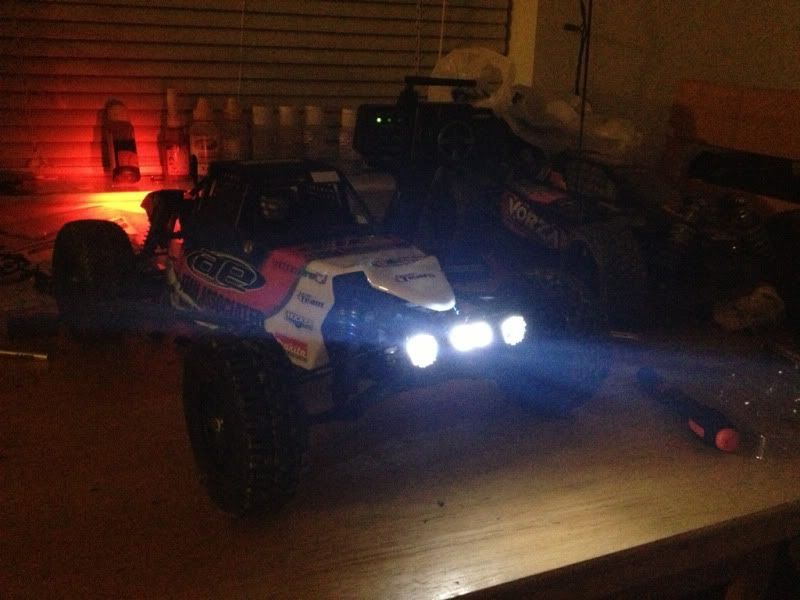 12-20-2012, 08:43 AM
Tech Addict
Join Date: Nov 2008
Location: Virginia
Posts: 558
---
Buggy looks AWESOME Cinnabun!!!!
12-20-2012, 08:31 PM
Tech Adept
Join Date: Dec 2011
Posts: 205
12-20-2012, 08:43 PM
---
Thanks guys. I'm still undecided about the front lights. I think 4 is too much, at least all 4 on the bumper. I may do some moving around or cut off 2 of the LEDs.
12-20-2012, 08:47 PM
Tech Apprentice
Join Date: Jan 2012
Posts: 62