Kyosho Scorpion Ve XXL Thread
04-03-2015, 01:20 PM
---
All you need is any complete front or rear diff from the Cen GST/Colossus/Genesis 1/8 Monster truck. The cemter diff from the brushless models will also work since they are exactly the same besides the spur gear which you wont need anyways.
Building them piece by piece would cost alot more but if that is what you would rather do I can gather the part numbers for you.
Complete diffs can be found on ebay and Dollar Hobbyz for as little as $25 USD shipped
04-10-2015, 08:51 PM
Tech Master
Join Date: Nov 2009
Posts: 1,207
---
im thinking about getting the Scorpion b xxl. looks like they are pretty durable. i see some are doing a dif mod but is that needed for 4s? any other problem areas?

thanks
04-10-2015, 08:58 PM
Tech Regular
Join Date: Nov 2014
Posts: 357
---
04-11-2015, 01:50 AM
---
The car is built on a great platform, a really nice drive. It's the diff that let's it down, I'm in the queue for one of ttypedans modded CEN diffs.
04-12-2015, 01:51 AM
---
Ill be working on it here in the next few days Tug. Had a screw strip out on the diff I had so I ordered up some new diff cases and they just arrived on Friday. Just need to mill one to size and pull my Scorpion apart to make sure it fits the ring gear before sending it off to you. I need to do another for mine also since the original one I did had some flaws which I spoke of a few posts back.
04-13-2015, 04:19 PM
---
Magic! Can't wait to give it the beans!
04-17-2015, 05:31 PM
---
Tug,
I made some progress on the diff today. Milled the cup down to size and I just need to remove mine from my Scorpion so I can check the fitment with the ring gear. Ill get that done this weekend and I should be able to get it together and shipped out on Monday. Just send me a PM with your addy so I can get a proper shipping quote and we can go from there.
Heres a pic of the milled cup next to an un-milled cup for you and the other guys to see exactly what needed to be done in order for them to fit the Scorpion ring gear.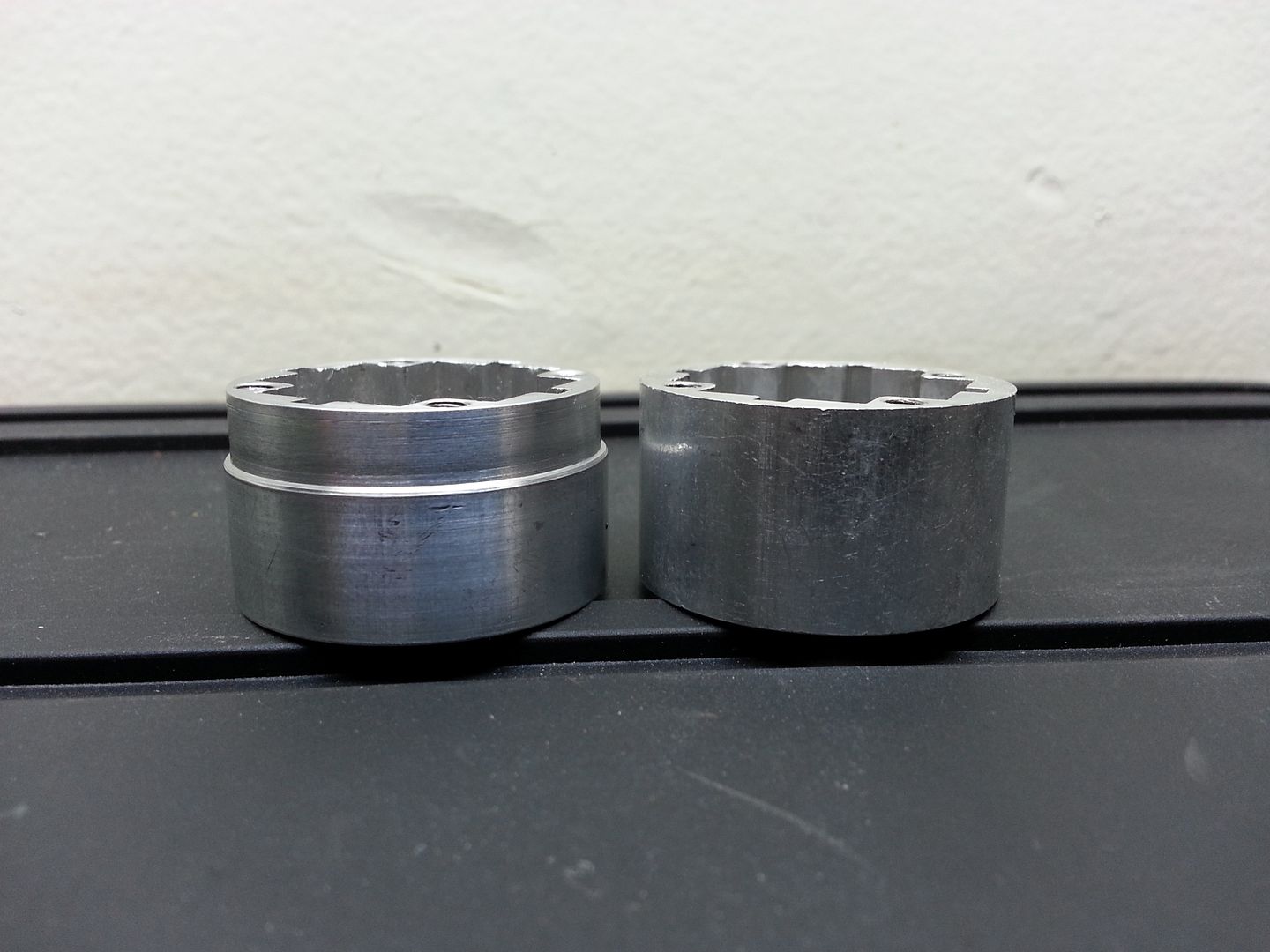 04-18-2015, 02:54 AM
---
Words cannot describe how excited I am!

Kudos on the workmanship!
04-20-2015, 11:23 PM
---
Thanks Tug!
Here are a few pics of your diff as you will receive it.
One of the pics shows a washer on top of the orange seal so you will see how to install it. The washer is one from the stock diff but I included the extra one I had incase you didnt have one. All you will need to complete the diff is your Scorpions ring gear with holes enlarged to 3.5mm and the stock gasket for the Scorpion ring gear. After enlarging the holes just use the screws I included to close it up, and off you go! I would recommend adding some diff fluid of your choice. I used 30,000 weight in mine and it feels like a good starting point.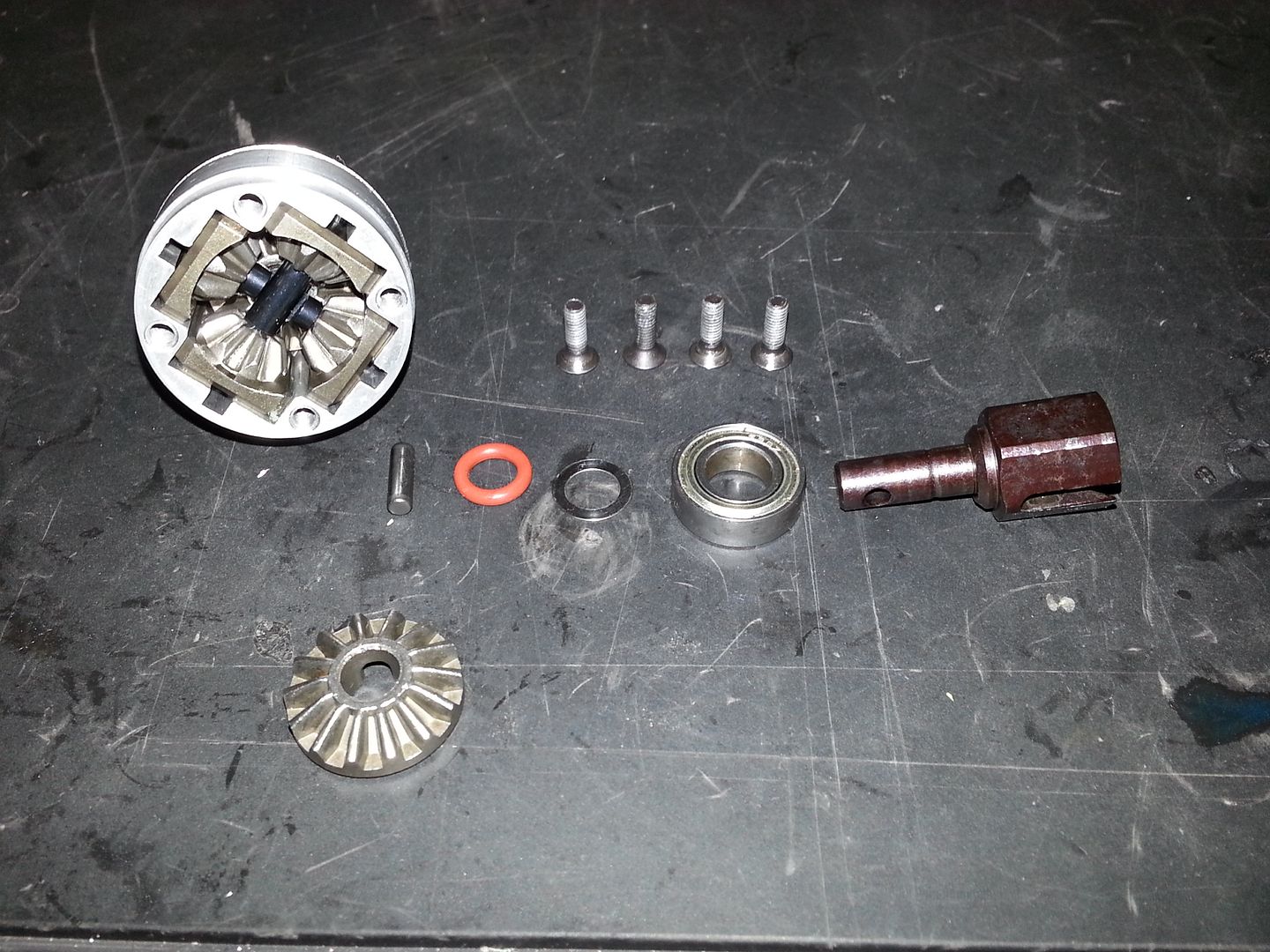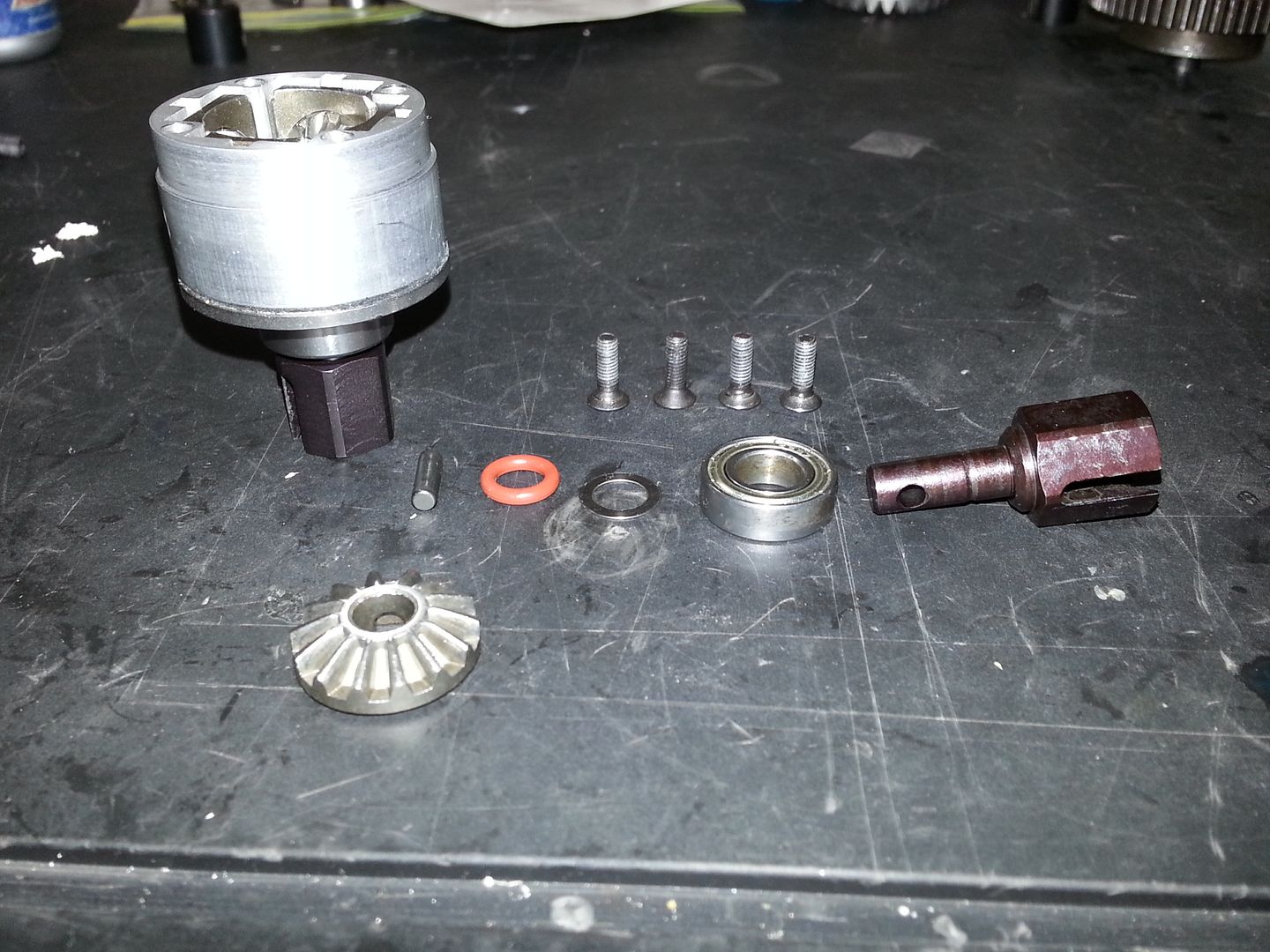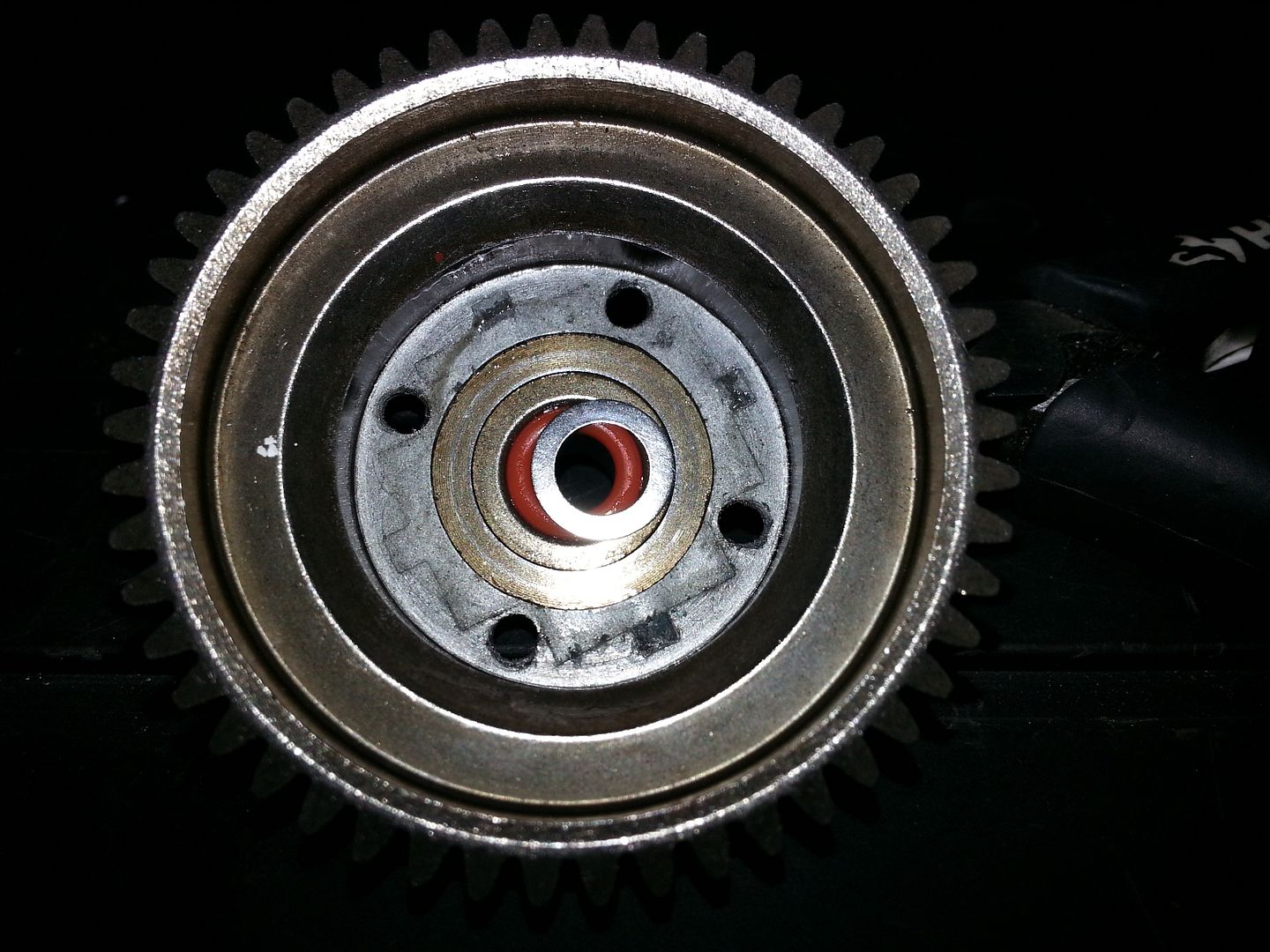 04-20-2015, 11:25 PM
04-20-2015, 11:40 PM
---
Nice job, Dan, nice job! You'll need to start a full production run! Show Kyosho how it should be done!
04-21-2015, 12:09 AM
---
Thanks Clive.
So far you are the only one who has wanted one but once the word gets out and more guys want them ill be glad to make them to order.
Here is the first one I did using a damaged cup. The previous owner of this diff locked it by welding the spider gears together which caused some of the aluminum to melt in the process. It still worked with new spider gears installed but because the aluminum was missing in those areas in the pic it wouldnt properly seal to the ring gear amd cause my diff fluid to leak out past the screws.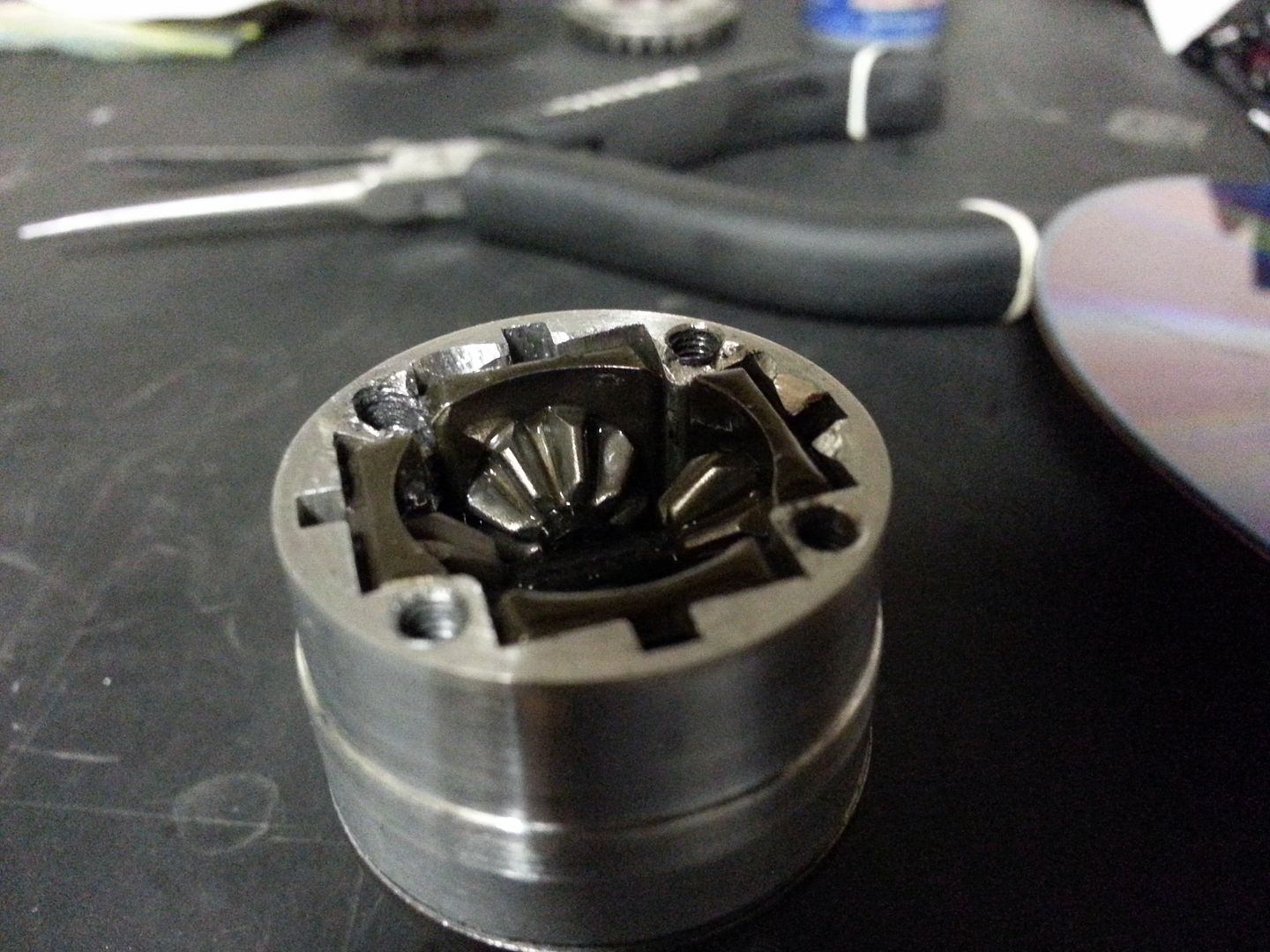 04-21-2015, 12:47 AM
---
You certainly know what you're doing! I'll let the owners I know, know where to find you.

Cheers, Dan.
04-21-2015, 09:02 AM
Tech Regular
Join Date: Nov 2014
Posts: 357
---
Great work ttypedan.
I was able to jump the XXL some, only damage after several spills/cartwheels, was a screw holding the rear body panel pulled through, & the stock servo is acting up.
04-21-2015, 09:06 AM
---
Same here, the car has survived all sorts. Stock servo would only turn fully to one side, so swapped it out for a 1256. All good after that.

Once I get my modified diff, she'll be back on the ramps!