HONG NOR/OFNA X3 SABRE-E 1/8TH ELECTRIC BUGGY
12-19-2012, 05:57 AM
---
Ive just bought one to give Rally X a go next year
Any set up tips please
12-19-2012, 06:36 AM
Tech Elite
12-19-2012, 07:04 AM
---
Its what we call 1/8th off road buggys in the UK lol
12-19-2012, 08:28 AM
Tech Elite
---
it doesnt need much, i would say the new springs sets red and blue,alum servo horn,rear alum hubs .....and pinions for gearing depending on Motor/ESC you run
as for spare's only thing I broke was a rear body mount and im including my whole summer running the Nitro version..I did bend the heck out of a front drive shaft but lets just say totally my fault becase it should of broke my whole front end LOL it was quite basher like
build tips: Locktite the inner link lock nuts that connect to the shock tower, scuff up the motor mount cam and inside the mount with sand paper a little helps hold the motor in place you cant see the inside of it anyhow and a smooth anodized finish is slick (old TC trick)
and i added 2.5 cap head screws to the center diff mount (carbon fiber X) so i could locktite those screws and get them out without stripping them
if you want more front droop i used longer shock ends(only adds 5-7mm) instead of optional shafts that some have mentioned so your not ramming the piston up into the bladder..with still plently of up-travel on front arm/shock
http://www.nitrohouse.com/Plastic-Sh...-4_p_8146.html
but most of European tracks i dont think its a must, but it really helps on U.S. style tracks in my opinion
good part is the rest of the parts tree is the same as the X3
12-19-2012, 09:14 AM
---
Awesome thanks, also what is good start for fluids???
12-19-2012, 10:09 AM
Tech Elite
Join Date: Sep 2006
Location: So Cal.
Posts: 2,268
---
Originally Posted by
rkhess
getting ready for its madien voyage this sat!! ...local rules are any motor on 2s or 1400kv on 4s ...

ran my 4pole 550 tenshock 4000kv 6400mah 70c 2s in practice ...car is dialed ...cant wait to run it this spring on a bigger track(4s 2050kv), more of a shake down running it indoors on a small but fun track

i will need a new body for outdoors LOL but those cut outs dropped temps big time LOL
Oh man that is looking so good, I'm sure you'll be posting some winning set-ups on here.
12-19-2012, 01:22 PM
Tech Elite
12-20-2012, 06:54 AM
---
Has anyone got a good base set up they would like to share with me??
12-20-2012, 08:54 AM
Tech Elite
---


If you want send me a pm with email addy and the following info and ill send what i would start with ....

Type of track (get detailed)
Type of ESC/motor/battery
what type of tires do the fast guys run
12-22-2012, 12:11 AM
---
PM on its way
12-22-2012, 12:46 AM
---
In looking at this car it appears to share alot of parts with the jammin x1 and x2 buggies. is this correct?
12-22-2012, 12:50 AM
---
I think the only common parts are the shock bodies pretty much
12-22-2012, 01:56 AM
01-13-2013, 11:15 AM
---
Here's my Sabre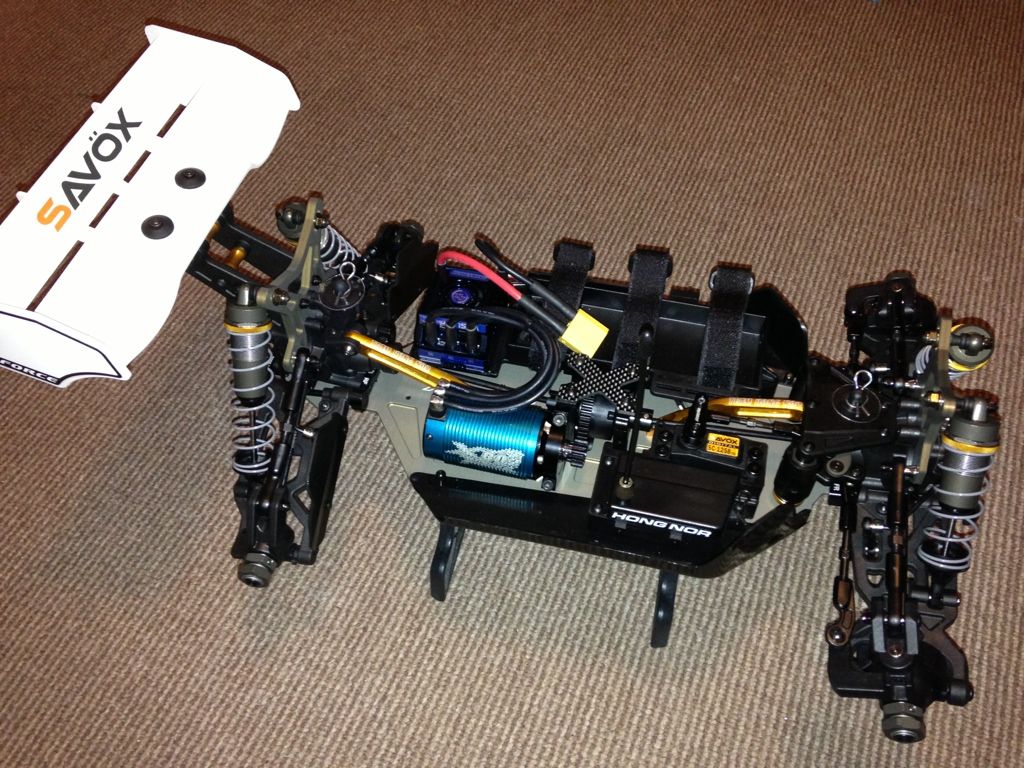 01-16-2013, 09:46 AM