New 1/10 Off-Road Track in Kuwait
01-08-2012, 03:14 AM
Tech Master
New 1/10 Off-Road Track in Kuwait
---
Hey guys,
just wanted to share with you some photos of the new track that i'am building here in Kuwait for 1/10 electric off-road cars.
the track is an outdoor track made of agricultural soil that will be sprayed later with our secret liquid to turn it into a very high bite surface.
its 30 meters long and 12 meters wide, straight line is 3 meters wide, and the rest of the track is between 2.5 to 2.8 meters wide. i think its perfect for 1/10 cars.
so far we have finished the whole sand/dirt work, compacted everything!! and its looking good so far. looking at the Hotrod hobbies track on youtube, i wanted the same outside barrier/fence so thats what we did, wooden fence painted in white and looks amazingly good. still to ley down the 2.5'' pipes and put the grass looking carpet in the dead areas
we also need to build the drivers' stand, any ideas would be great !!!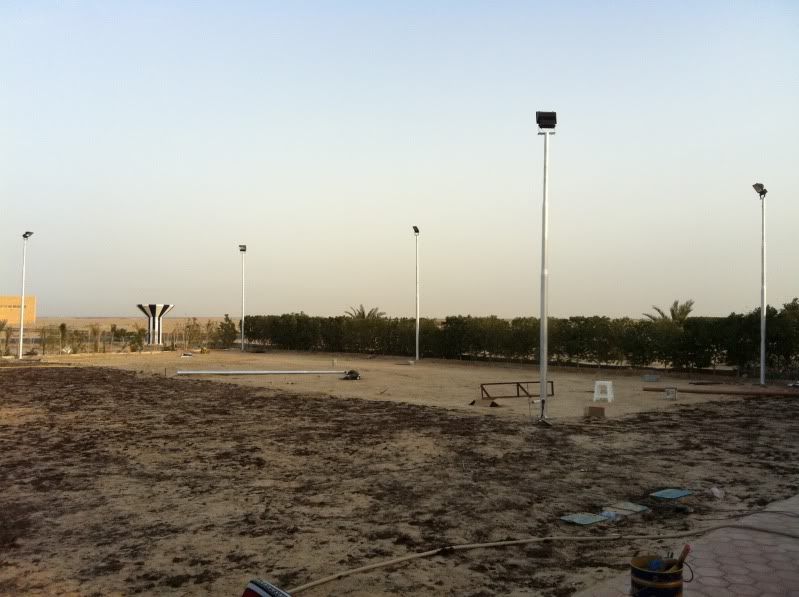 the area we are working with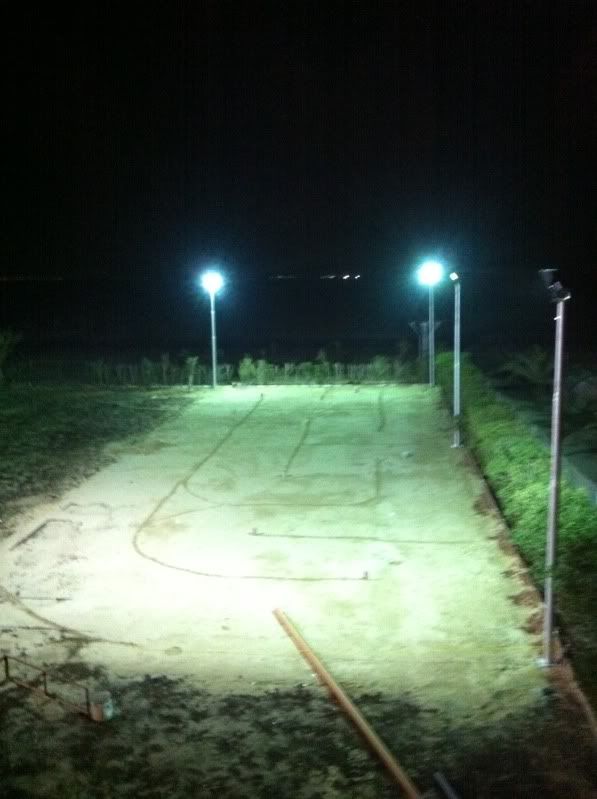 night time view to check how the lights are
base ground is ready for the work
flat, sprayed and compacted....ready for the leyout and jumps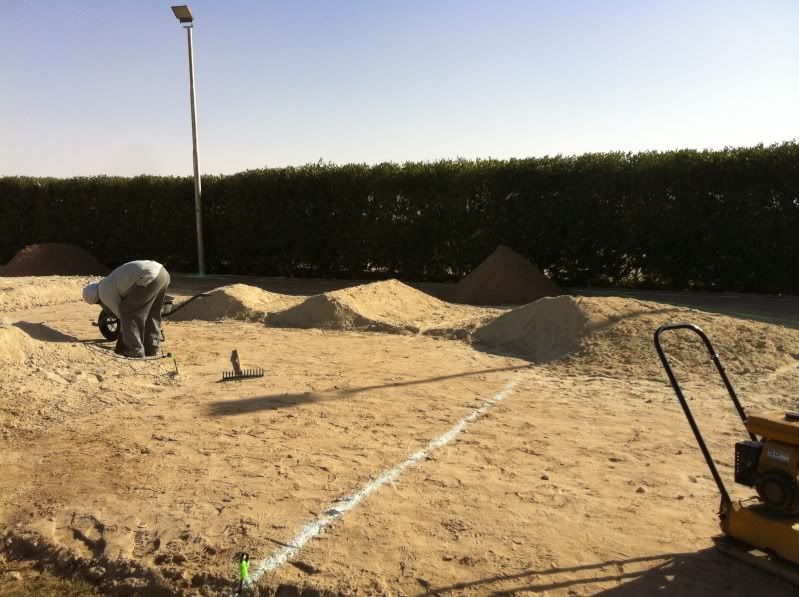 few jumps started to take their shape
more jumps
table top and the big triple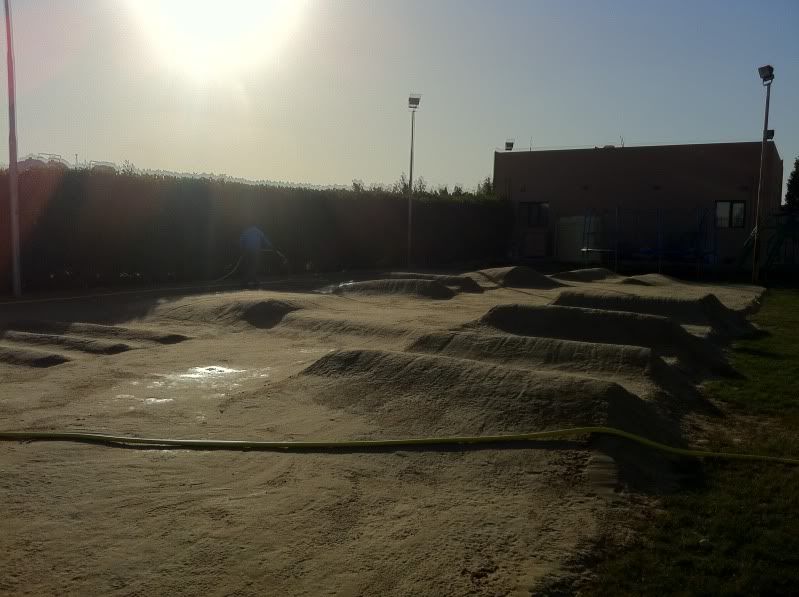 another view where we see the step-on step-off followed by the 5 small jumps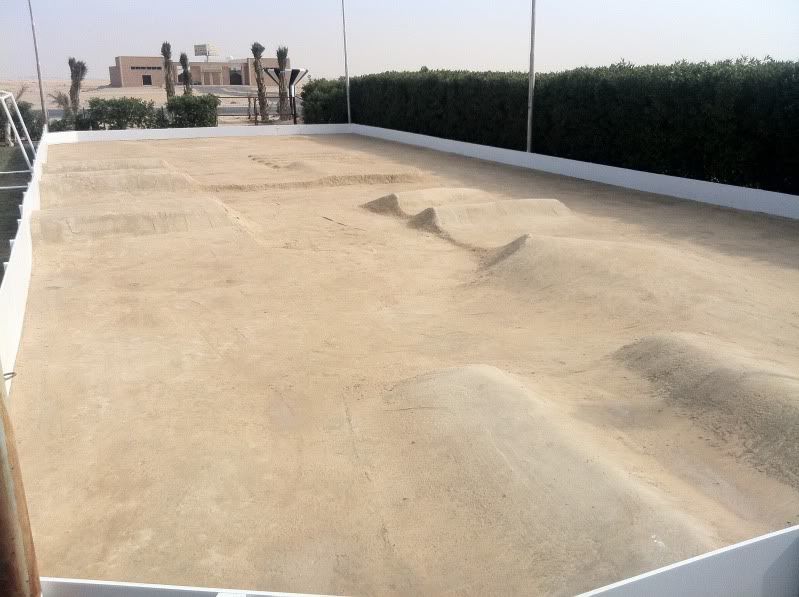 the fence is done
shiny white and looks amazing IMO
hope you like it guys, will post more photos when we ley down the hoses and everything!!
cheers
Ali
01-08-2012, 06:22 AM
Tech Elite
Join Date: Jul 2009
Location: Cadillac, MI
Posts: 3,254
---
Wow very nice track! I wish I could build something like that locally
How much dirt and what mix did you use if you do not mind me asking ?
01-08-2012, 08:40 AM
Tech Fanatic
Join Date: Feb 2011
Location: Williamsburg, Virginia
Posts: 838
---
Nice track you'll have to send more pictures when it's all finished but you guys are definitely doing it up right.
01-08-2012, 10:30 AM
---
Awesome Ali, You guys sure know how to do it on that side of the pond.
What we built last year.
http://s150.photobucket.com/albums/s.../TRACK%20PICS/
01-08-2012, 06:29 PM
Tech Initiate
Join Date: Jan 2012
Location: PNW
Posts: 21
---
looks like a damn fun track!
01-09-2012, 03:24 AM
Tech Master
---
hey guys,
thanks a million for the kind words, Trev ,Chris thanks bros
about the mixture, not really sure whats the name of the soil.....its called ''Gatch'' a soil thats normally used under asphalt roads!!!!
leyed down around 4 40 footer trucks to make the base, after spraying and compacting, the whole area was raised around 20-25CM, we then mixed about 30% of agricultural soil and 70% of this Gatch to form all the jumps, compacted the whole track around 3 times, installed the barriers and recompacted it.
am supposed to ley down the hoses today but its been raining for the last 2 days in Kuwait!!!
waiting for the surface to dry to pin all the hoses and spray our secret liquid
cheers
Ali
01-09-2012, 03:27 AM
Tech Rookie
Join Date: Jan 2012
Posts: 5
---
Is that in kuwait city? Tell you what, could make a wicked sand track there. Dunes for miles. Spent my fair share of time in kuwait.
01-09-2012, 11:08 PM
Tech Adept
Join Date: Jan 2012
Posts: 114
---
That's awesome! Send us some action pics.
01-11-2012, 01:45 AM
Tech Master
---
Sand tracks sucks buddy, no grip and kill bearings super fast, i hate them !!
Jonnie, thanks for the kind words, still waiting for the weather to improve to fix the hoses and start the action
Cheers
Ali
02-07-2012, 11:20 PM
Tech Master
---
hey guys,
few more photos after the work we managed to finish few days ago, leyed down almost all of the hoses. track looks cool, its built for electric but i couldnt resist it, check the video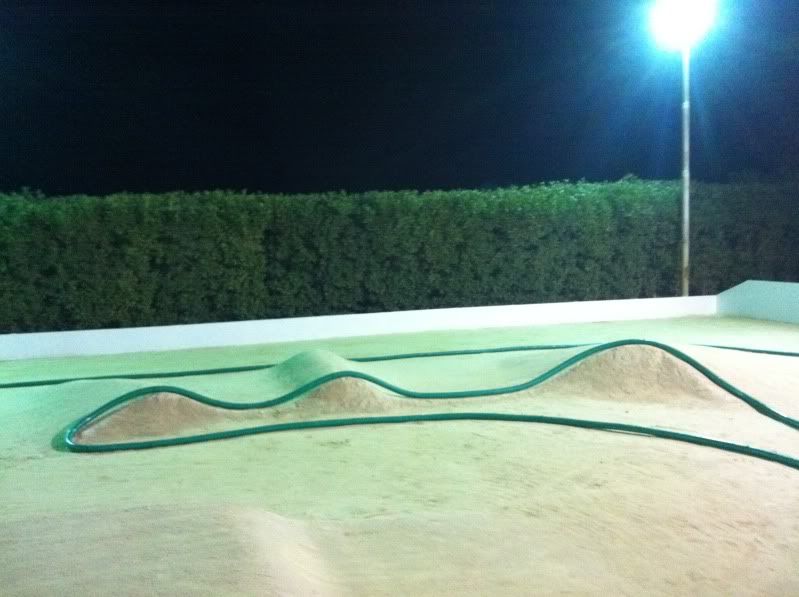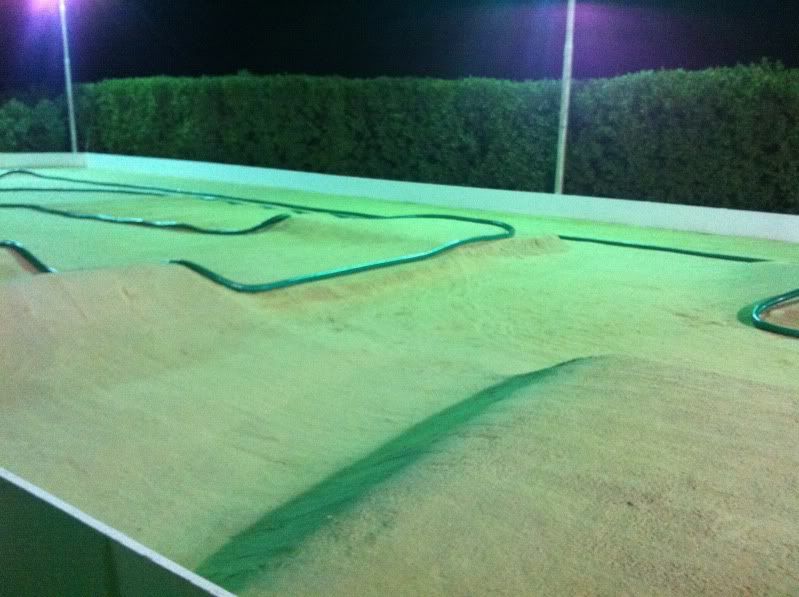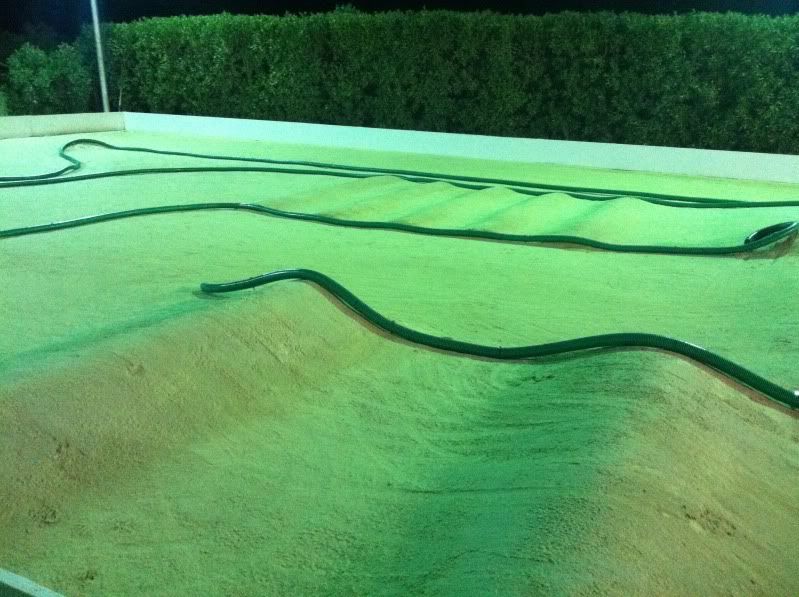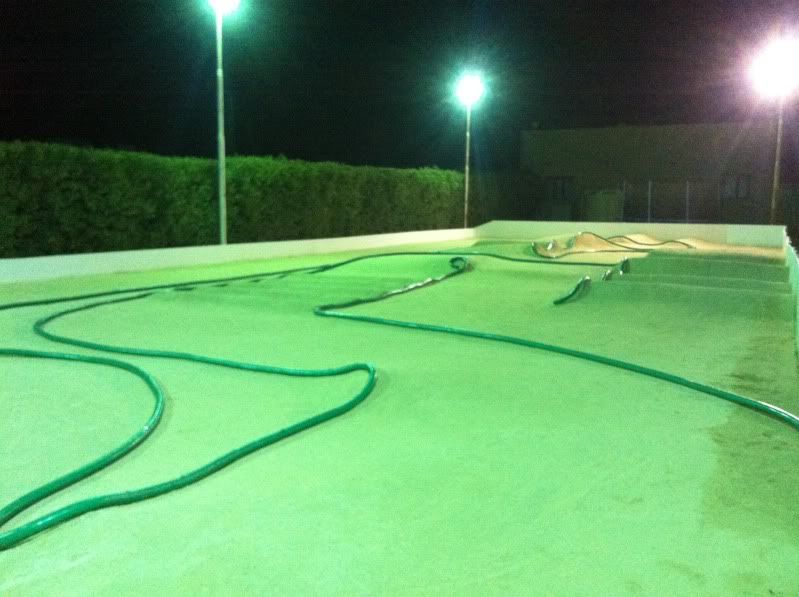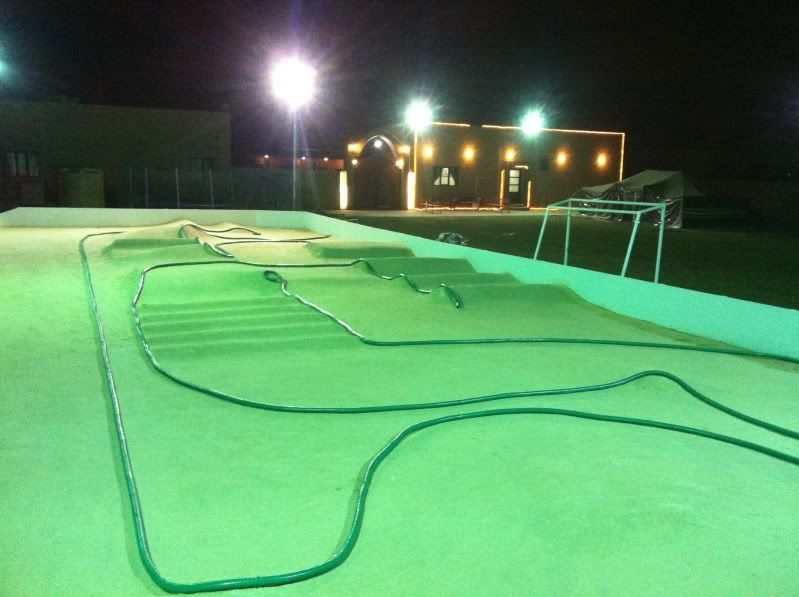 Check out the vid guys
http://s118.photobucket.com/albums/o...t=IMG_1162.mp4
hope you like it guys
cheers
Ali
02-08-2012, 09:33 AM
Tech Addict
Join Date: Nov 2008
Location: Wauconda, Illinois
Posts: 642
---
What is this "Secret Liquid" you were mentioning a few posts back?
Bob