What has been everyones first rc car?
01-16-2013, 03:01 AM
Tech Regular
Join Date: Mar 2012
Location: Cocoa,Fl.
Posts: 286
First rc
---
I think I was 10 or 11 and it was a tamiya super champ!that thing must have weighed 10 lbs.
01-16-2013, 03:24 AM
Tech Adept
Join Date: Sep 2006
Location: Emerald, QLD
Posts: 193
---
My first RC car was a schumacher top cat back in 1994, with the cougar front end, used to race in stock class with good old johnson silver can, and used to run 1800mAh battery packs....
01-16-2013, 03:53 AM
Tech Apprentice
Join Date: Jan 2013
Posts: 91
---
Grasshopper
01-16-2013, 04:35 AM
Tech Regular
Join Date: Aug 2004
Location: NE
Posts: 475
---
First 2wd buggy- 1986 Tamiya Grasshopper
First 4wd buggy- 1989 Hirobo Alien Mid4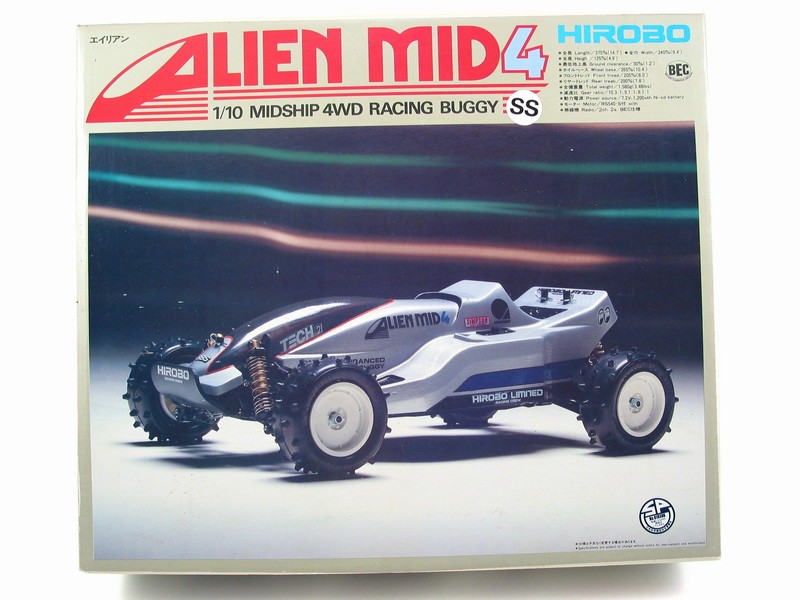 ---
Last edited by golgi; 01-16-2013 at

04:48 AM

.
01-16-2013, 04:54 AM
Tech Addict
Join Date: Jun 2012
Location: New Haven, CT
Posts: 634
---
My first was a traxxas sledgehammer about 15 years ago.
01-16-2013, 01:11 PM
Tech Master
Join Date: May 2008
Posts: 1,442
---
old rustler with the stinger motor! with the mechanical esc!
01-16-2013, 01:31 PM
Tech Adept
Join Date: Dec 2012
Location: MD, DC, VA & Detroit
Posts: 120
---
First RC car had to be a Tyco turbo hopper!
Still on the shelf in my room at my parents house...lol. Then came the BIG WIG!
(not my actual pics, googled both pics)
01-16-2013, 02:44 PM
Suspended
Join Date: Mar 2012
Location: Cali
Posts: 4,003
---
Traxxas slash 2wd
01-16-2013, 02:56 PM
---
Checked out the first and last page of this thread, and these guys had the same cars I did.
Tyco Turbo Hopper is my first rc. Fires "real" rc were Tamiya Monster Beetle and Boomerang shared between my brother and I. Our neighborhood used to hold races in the crappy track we built in my parent's backyard. They had a grasshopper, fox, wild willie, and lunch box
the good ole days.
My first nitro was a Kyosho Rampage.
Got out of the hobby for about 20 years, and now I am back in it, and my wife thinks I'm a little insane
01-16-2013, 03:07 PM
Tech Addict
Join Date: Sep 2008
Location: Tallahassee, FL
Posts: 718
---
first rc was an associated nitro tc3 back in 2003. i had pictures on my myspace but myspace recently turned into a music site so those pics are gone.

edit: i should say, the ntc3 was my first hobby grade rc. i had some radio shack and walmart cars growing up but i usually broke all those then threw them out because you couldnt replace parts.
01-16-2013, 03:11 PM
Tech Adept
Join Date: Oct 2012
Location: Northants, UK
Posts: 139
---
Schumacher Club 10 in touring car spec, still got it although it's in dire need of a rebuild.
01-16-2013, 03:19 PM
---
<---- recognize the avatar?
Originally Posted by
madweazl
Hmm, thought I had posted in this one previously. Took a long time to find one but finally stumbled across a new unit that hadnt been finished. Snatched it up for $35 if I remember correctly and it sits up on a shelf with a myriad of other old resto projects I have.
The Panda for the win.
ditto, my first 'kit' as well... oh the memories.. i think at the time my favoite feature was the pop-on hubcaps..
01-16-2013, 03:21 PM
Tech Master
Join Date: Jan 2009
Location: Sioux city, IA
Posts: 1,838
---
My first one was a Lunch Box. Then sold it and got a gold tub RC10.
01-16-2013, 05:19 PM
Tech Fanatic
Join Date: Apr 2006
Location: Pittsburgh, PA
Posts: 985
---
My first car was an Aristocraft Hitec Kangaroo...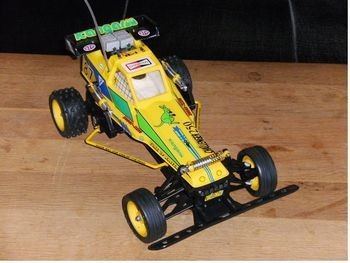 Followed by an Academy Rockbuster, which is essentially a Tamiya Grasshopper. The second pic is the actual car with the lexan Grasshopper body fitted.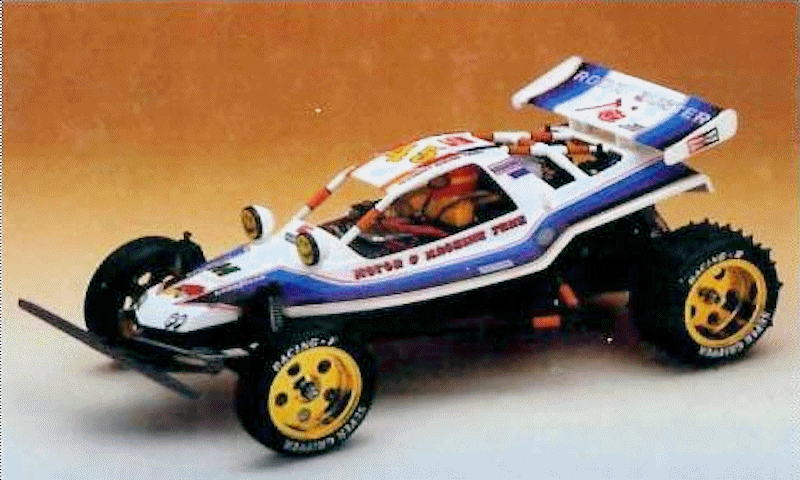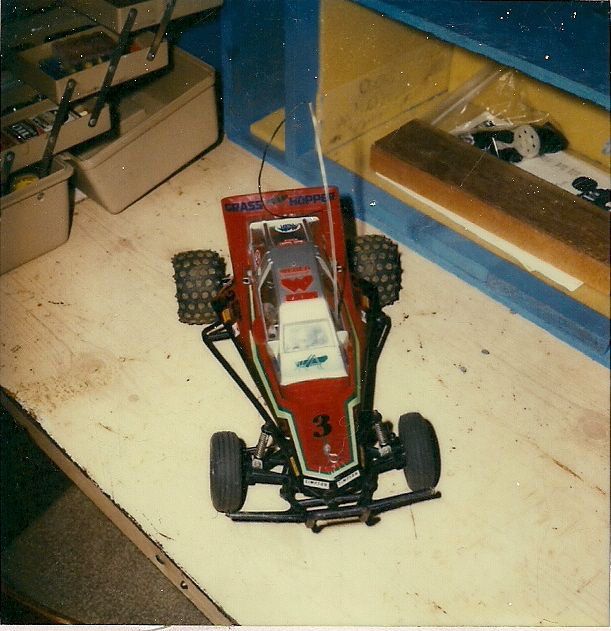 Then we purchased a Tamiya Falcon which was the car we really started racing with. We stole the electronic speed control out of the Kangaroo as you can see...