RC Soup low COG Slash kit shootout results...check it out!
12-30-2011, 07:26 AM
Tech Adept
Join Date: Dec 2010
Location: Upstate NY
Posts: 228
RC Soup low COG Slash kit shootout results...check it out!
---
Anyone that loves short course will want to check out this RC Soup shootout.
This was between 3 very slick Slash low COG (center of gravity) conversion kits.
The STRC Slash conversion kit
The Chuckworks RC Slice A3 kit
The WMD Slash conversion kit
http://www.rcsoup.com/2011/12/traxxa...ssis-shootout/
Please "like" us on Facebook if you enjoyed the shootout. I know we really had a great time at High Octane RC (Thank you for the track time Pete!) doing the shoot out.
http://www.facebook.com/pages/RC-Soup/199152653464045
12-30-2011, 10:12 PM
Tech Addict
Bought the WMD today
---
I placed my order with WMD this afternoon, I can't wait for that box to arrive soon. I think that the funniest thing was that yesterday I recieved the same savox servo that was used in the test, 1 in a million shot doc, one in a million. I really like the looks of that chassis and it's built not far from where we live, I hope this leads to good things for WMD because they have been great to deal with. By the way my invoice number was 0001 so we will be the first on the block more or less
I had been waiting on this review to come out and was happy to read it lastnight, it was fair and helpful. I posted on the RCsoup site I felt one driver (sorry Jarodd) was a little off in judgement compaired to the other judges. Well everyone drives different and this wasn't his choice of chassis for his own reasons and I respect that, we may find out he was the only one that was right who knows.
After we get the chassis Turner will race it and I will post results here and other places I visit, keep in mind I have a rookie driver so I have no idea what to expect but can't wait is all I can say.
Happy New year, toddwfo AKA Turner's dad
12-30-2011, 10:52 PM
Tech Master
Join Date: Aug 2009
Location: Bundaberg, QLD
Posts: 1,443
---
12-30-2011, 11:29 PM
Tech Regular
Join Date: Jul 2011
Posts: 396
---
what did you guys do to the strc? abuse it?

i haven't had a single bellcrank problem with mine.
12-31-2011, 10:07 AM
---
we haven't abused it at all. Its baffling. Either it pops a servo saver, or the bell crank, but only when you catch the front tire just right.

I was thinking of throwing the aluminum version i've seen online on the truck. But the question there is what will break next? Will it start stripping out servos?

the hobby shop where I bought the three bellcranks was amazed as well, they had never sold one before, they had never seen anyone break one.
12-31-2011, 10:56 AM
Tech Regular
Join Date: Jul 2011
Posts: 396
---
did you have the bellcrank coming out the right side? if not make it that way.
01-19-2012, 03:01 AM
Tech Addict
got it, love it
---
got mine and Turner raced the wheels off it last weekend, it picked up his times a couple secs on a 22 second track. I love it because way less car flipping for me.
the turning was a little less tight, as in larger radius but still very good.
It jumped great and would slide smooth in the first turn off the long straight, he used to AWAYS roll the truck in that turn,it was a given. He said it felt heavy but pre race scale said it was just 3.5 oz heavier than before. The kit comes just like it did in the rcsoup shootout and they described it very well.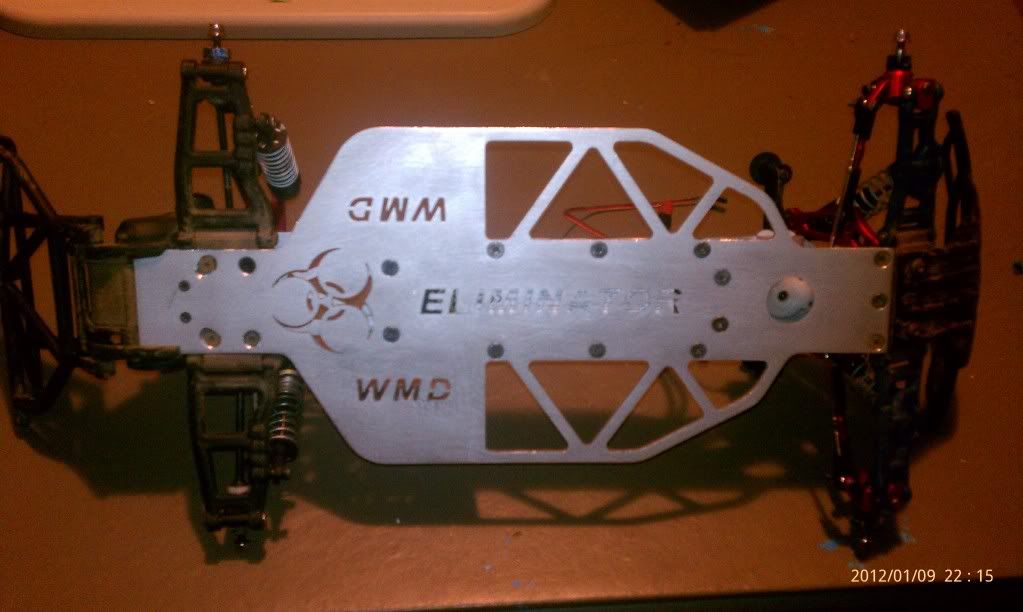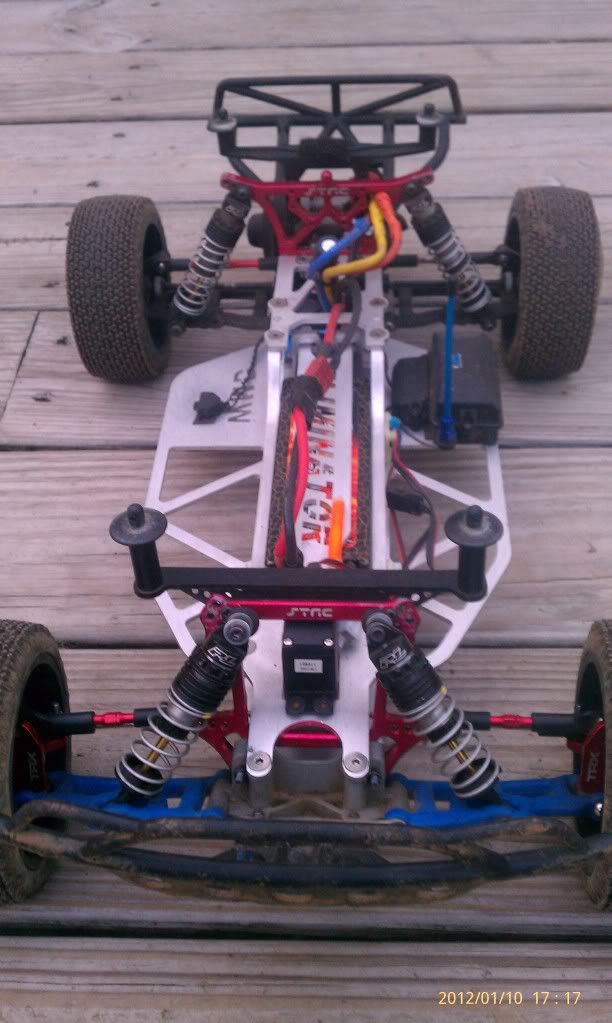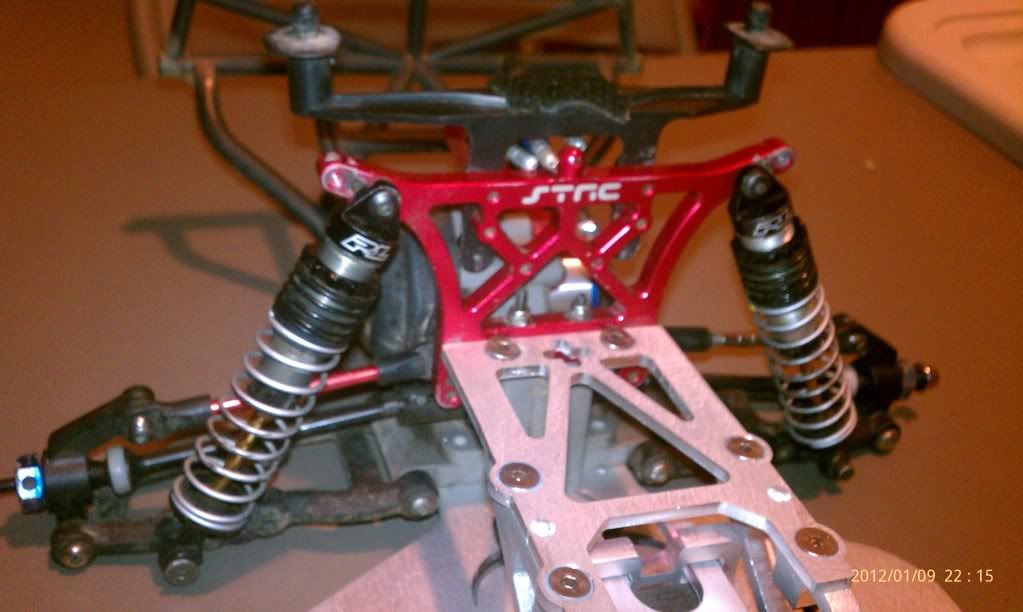 01-19-2012, 08:14 AM
Tech Apprentice
Join Date: Jan 2011
Location: HITSBURGH!
Posts: 79
---
does the wmd chassis use a bell crank, or is it just use pede toe links?
01-22-2012, 10:24 PM
Tech Addict
Toe links
---
Hey, my son (9yo) raced his truck last weekend and the ONLY problem we had in 3 heats and the main was the toe links, the ones that come with the kits are pretty light weight, he smacked the block wall (quite a few times) off of the front stretch and broke the right side link in the first heat. I upgraded to the red traxxas links for $7.00 and they held up very well...so far, I think I will go to titanium if these give out, rookie drivers can be a little hard on equipment. Overall the chassis is great and his times where 2-3 secs less compaired to the same track a week earlier. He was sliding the turns rather than rolling over, probably why he hit the wall with the wheel instead of the lid...haha
Matt at WMD has been great to deal with and each chassis is hand built, it is truely a 'race car' now.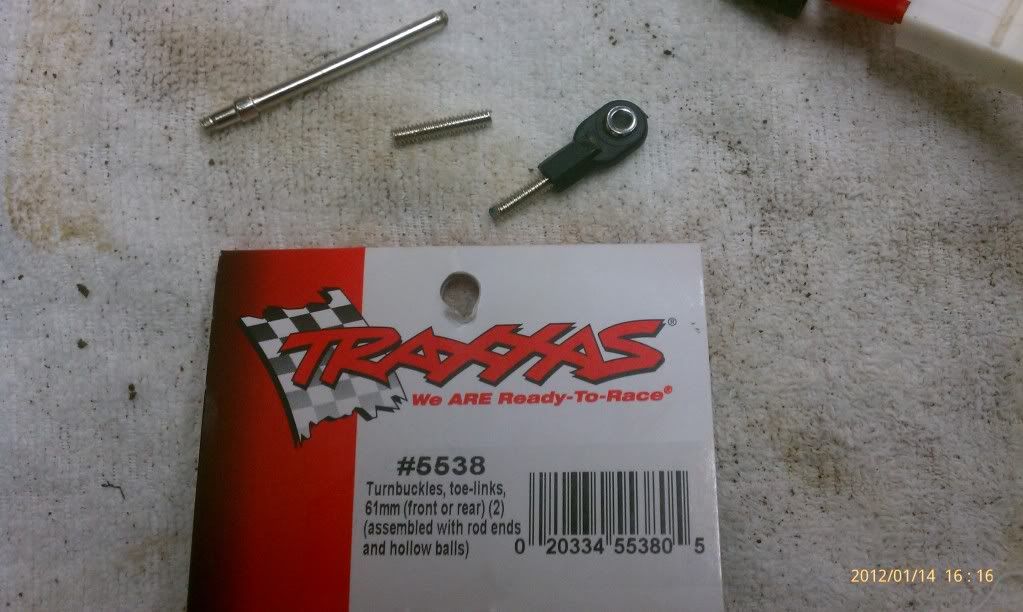 Currently Active Users Viewing This Thread: 1
(0 members and 1 guests)
Posting Rules
You may not post new threads
You may not post replies
You may not post attachments
You may not edit your posts
---
HTML code is Off
---