HVR Lipo Thread
09-14-2011, 11:20 AM
Tech Elite
HVR Lipo Thread
---
As of 9/26 batteries have arrived. They're going fast though so PM or email me if you need a top notch pack! With all HVR lipos I am offering a 10 day trial. if you're not happy with the pack email me and I'll get your money back to you! Truly a no risk purchase here!
SPECS OF THE PACK ARE:
Configuration: 2S2P
Weight: 314g
Length: 138mm
Width: 46.4mm
Height: 25.08mm
I wanted to create a thread for High Velocity Racing for people to post questions, share insight, and help make the hobby better for all...(at least the electric guys
)
Short history on High Velocity. The original owner, Johnny Chase, started HV quite a few years ago as a way to get involved in the local racing community. He did it for the love of the hobby, never as a source of income and it showed in the way he cared for local racers. Donating prizes to series events, helping people at the track with parts and equipment for free, and a great attitude everywhere he went. A couple years ago work and family started taking more of his time and he could not devote the resources to the company any longer. I was in the beginning of my own RC business career when he entrusted me to take over the company and continue the name.
I purchased High Velocity last Spring and have been working on getting things in order to push it to the next level.
I'm pleased to announce that the first order of batteries is due to arrive next week and I believe the steps HV takes to ensure customers are getting exactly what is advertised will be a game-changer for the lipo industry.
High Velocity will not participate in the "C rating wars" that it seems EVERY other company does. Racers do not need 500c lipos to win races. They need to know what they are buying with actual data they can understand, graphs they can see, power that is consistent throughout the discharge cycle, and an accurate ratings of capacity so they can accurately judge runtimes. These are things HV will provide.
For every single battery pack sold the following information will be included on a printed sheet that is unique specifically to the battery you are holding:
- - Charge and discharge curves with voltage readings over time
- - Capacity taken in and put out by the pack. If any pack does not take in the mah within 7% of the claim on the label it is rejected and not sold. This is on the FIRST charge and as most know, lipos "break-in" after a few runs and hold more capacity with greater punch. So for example, our 6000mah pack must take in at least 5600mah worth of charge or it's not sold. Routinely the batteries take in more than their advertised ratings and that's done on purpose to give users pleasant surprises instead of disappointments.
- - Time it takes to complete a cycle. I only discharge the batteries between 10-30amps while on the machine which is obviously less than what many cars will pull when driving but my intention is to provide data, not sell a used battery so this is the reason. With these numbers users can extrapolate actual ratings and performance specific to their application.
- - AND MOST IMPORTANTLY, INTERNAL RESISTANCE OF PACK IS RECORDED AND LABELED. A 200c lipo with 10,000 milliohms of resistance is worthless so this is another step in ensuring people are getting what is advertised.
Every single battery pack spends more than 3 hours on my graphing and charging equipment. Each pack is discharged to 3.95v / cell before storage and shipping.
Before acquiring HV I had been testing my own battery packs to launch a separate company under a different name. I tested cells for over a year before finding the ones I was going to use and then had the opportunity to buy High Velocity. The result of my research and testing is these cells have the following features:
- - No storage fatigue. I store my packs at 4.2v / cell for weeks and have not experienced any increase in internal resistance, no loss in capacity or punch. It is no longer required to keep them at 3.75v / cell for optimum performance.
- - Thinnest and lightest hard cases on the market specifically designed for rigors of offroad racing. I've been guaranteed under the condition of money back by the factory that these packs will exceed requirements for the ROAR "drop test" they conduct when testing for their approval.
- - I routinely charge my packs at 2-3c but have pushed 5c and not had any issues. I'm advertising them as 3C safe (18amp charge rate)
- - Extremely recoverable cells. I dropped 1 pack to 2.5v and brought it back to life with no noticeable effects.
- - Extremely safe cells. I have TRIED to light these on fire. I shorted them between + and - leads and all it did was spark. After 4 minutes of shorting the cell puffed slightly. I punctured a cell with a razor and all it did was smoke. I shot the pack with a .357 magnum revolver and it didn't do anything but blow it apart. No smoke, no flame, etc. (surprised me actually)
I'm so confident in the performance of these packs I'm offering the best guarantee in the industry.
Warranty -
--- 10 days no questions money back guarantee. If you're not happy with the pack within 10 days send me an email, I will send money through paypal to cover return shipping and then refund the rest of your purchase price once I get battery back. That's how sure I am you will love these packs.
---If your pack fails for any reason within 30 days you will get your money back plus shipping.
---If your pack fails within 6 months for reasons other than neglect or abuse you will receive a refund. With my graphing equipment I can determine if you overdischarged or otherwise abused the battery and if that is the case no refund will be offered.
I am positive that the performance of these packs will be superior to any others on the market and if you disagree you will get your money back so there is no reason not to try one! The truth is in the package where you can see all critical data relating to your specific battery.
My research and testing ensures that the end user will get the safest, most reliable, most accurate cells on the market.
I will not participate in flaming, bashing, or insulting competing companies. I highly encourage everyone in the hobby to refrain as well. It doesn't help anyone. What I am encouraging is for other lipo companies to rate their packs with honesty and transparency. Don't sell a fad, sell the truth! If users get a pack they know is rated accurately, everyone wins!
I will be 100% transparent in my company and what I do. I am not a "manufacturer" but am FAR more than a relabeler. I thoroughly test each pack for more than 3 hours for QC and IF I were to find a pack not up to standard it's not sold. I don't simply slap my sticker on a pack and call it the best thing since brushless motors! I'm a one man operation, father of 2, husband, Army Veteran with 2 combat tours in Iraq, and full time student at the University of Washington School of Business where I'll graduate in the spring.
I can be reached at my email
[email protected]
or through PM here. I will try to respond within 12 hours to any inquiries.
I'm also looking for team drivers to become sponsored racers and will be putting out the information for that soon. I assure you it will not be like any sponsorship application you've seen and probably not the same benefits for those lucky enough to be selected.
Thanks for those who have read this and I hope to be of service soon! Let me know what questions you may have.
Regards,
Jon Frank
High Velocity Racing
---
Last edited by Neu_Racer; 10-02-2011 at

05:14 PM

.
09-14-2011, 11:33 AM
---
LETS GET IT ROLLING,IF ANYONE IS IN MY AREA AND WANTS TO TRY A PACK OUT I WILL LET YOU USE IT FOR THE ENTIRE DAY BUT THESE ARE WORTH EVERY PENNY.THIS IS NO BS I HAVE RAN THEM AGAINST 5 TOP PACKS AND HANDED THEM TO 3 DIFFERENT RACERS TO TRY ALL WITH OUT STANDING RESULTS.
(SORRY FOR THE CAPS)
09-14-2011, 12:06 PM
Tech Fanatic
Join Date: May 2006
Location: Pleasantville, OH
Posts: 790
---
Jon is a 100% straight up honest guy, I've been a racer for HV with since about this time last year and up until Jon took over I had just a Shirt and Pit Towel to show (nothing in/on my vehicles other than stickers) and being a collage student and recently losing my job, Jon took a step in helping me out with a nice care package (and a preview of other things that HV has in store):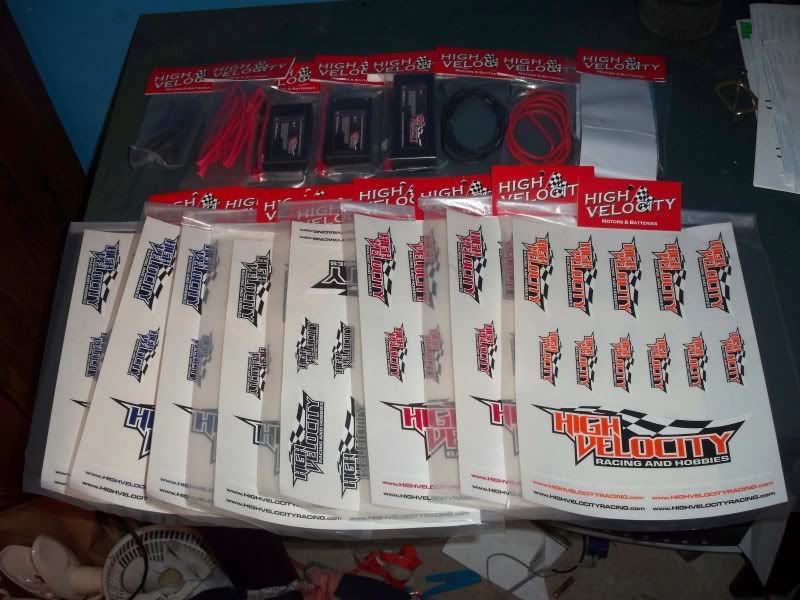 Can't wait for the 6000mAh 60c packs
09-14-2011, 01:36 PM
Tech Elite
---
Thanks Charles and Jamie.

It's been a long time coming but finally arrived. I'm very excited and have been blessed to have the opportunity.
09-14-2011, 01:58 PM
Tech Prophet
Join Date: Oct 2007
Location: levittown pa
Posts: 16,999
---
are you guys getting any 4c lipos soon ?
09-14-2011, 03:31 PM
Tech Elite
---


The plans are to have a 4S hard case pack, a lighter and less powerful 7.4v pack for mod racers who use more motor than battery, and 1S packs for the WGT guys.

Unfortunately the minimum order requirement for each pack is extremely high in order to get the best pricing so it will all be in time. And each ROAR submission with UN certification costs over $1200 to get them approved for sanctioned races. I can cut a price break on 2 7.4v packs if you'd like just send me a pm.

Thanks to Trey and Lowroad for the compliments!

Jon
09-14-2011, 04:10 PM
Tech Regular
Join Date: Mar 2010
Location: Mo City, TX
Posts: 402
---
So all you have now are 60c 6000? I thinking something like 3800 or 5000 for a 22. How about a care package for a Houston racer? LOL
09-14-2011, 04:22 PM
Tech Elite
Join Date: Nov 2003
Location: Covington, La.
Posts: 3,594
---
pm me the pricing on the packs. I am needing some packs for my scte.
09-14-2011, 05:20 PM
Tech Master
Join Date: Apr 2011
Location: Hell
Posts: 1,316
---
PM me with some prices Please Thanks
I tried to message you and I can't
09-14-2011, 05:22 PM
Tech Fanatic
Join Date: Mar 2009
Location: LOS ANGELES. CA
Posts: 902
---
09-14-2011, 07:10 PM
Tech Elite
---
I have 3800 35c hard case packs in the works and when I am able to move some of the 6000s I will be ordering those as well. I am happy to send free stickers to anyone that wants them. I have a lot of shrinkwrap and quite a bit of wire available too but not advertising that at the moment.
Thanks.
09-14-2011, 07:22 PM
Tech Regular
Join Date: Mar 2010
Location: Mo City, TX
Posts: 402
---
Originally Posted by
Neu_Racer
I have 3800 35c hard case packs in the works and when I am able to move some of the 6000s I will be ordering those as well. I am happy to send free stickers to anyone that wants them. I have a lot of shrinkwrap and quite a bit of wire available too but not advertising that at the moment.

Thanks.
Sounds perfect. I'm planning on getting some more race time soon. Get your stickers in the top 5.