TLR 22T Thread
01-23-2012, 03:11 PM
Tech Master
Join Date: Oct 2008
Location: Mars, PA
Posts: 1,056
01-23-2012, 03:24 PM
Tech Master
Join Date: Jun 2004
Location: WI.
Posts: 1,159
01-23-2012, 03:27 PM
Tech Master
Join Date: Jun 2004
Location: WI.
Posts: 1,159
01-23-2012, 03:35 PM
Tech Fanatic
Join Date: Apr 2005
Location: Indianola, IA
Posts: 759
---
Have not noticed the rub or even feel like it is going to rub on the wheel. however i have notice the turnbuckle being very close to the spring, almost rubbing material.

Couple of minor details in my kit.
1 bent front camber link straight out of the box. minor tweak but it is definitely not straight.

short front battery trey holder and velcro straps. (finished the build as i had a plastic holder from my 22 (which has the alumn. trey now) and i can come up with a velcro strap as well..... otherwise great build, fit and finish. nice job TLR!
01-23-2012, 04:11 PM
Tech Elite
Join Date: May 2006
Posts: 3,553
01-23-2012, 05:41 PM
Tech Elite
Join Date: Sep 2001
Location: Some where
Posts: 3,088
---
what would you guys suggest for 7.5T gearing wise?
---
Last edited by NitroLuver; 01-23-2012 at

09:29 PM

.
01-23-2012, 06:05 PM
Tech Regular
Join Date: Nov 2007
Location: Ohio
Posts: 269
---
I finally got the time to finish up my side pods and the rest of the truck. I just need to paint the shell. But for right now I'm using my old XXX-T JConcepts body. It fits, just needed to drill new holes. There are a couple of other things I want to do to clean it up. But I can do those later, I just want to be able to get it on the track Friday night.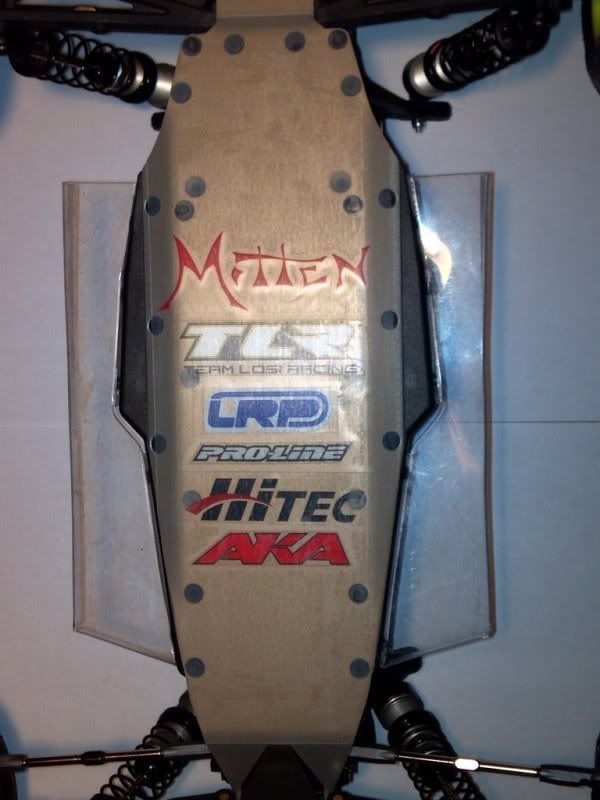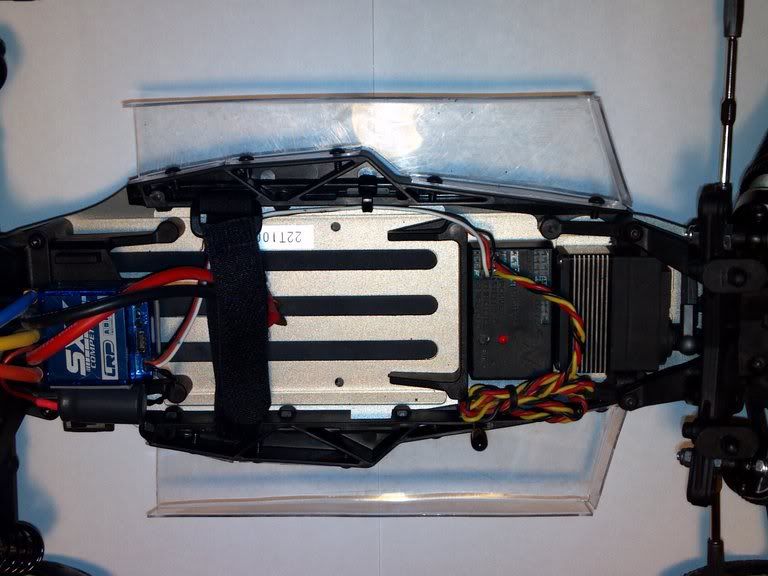 01-23-2012, 06:14 PM
Tech Fanatic
Join Date: Jul 2011
Posts: 756
---
Will the "Team Losi Racing Aluminum Rear Hub Set" for the 22 work on the 22T? Part #TLR2057
01-23-2012, 06:30 PM
---
Originally Posted by
Toiffel
Need some help guys, I finished building my 22T and can't wait to hit the track, but was so excited about the build I forgot to make a template of the chassis, I have some real nice dirt bike grade clear vinyl for protection that I can't use now, I would more than willing to send one to the person that can supply me with the template (not only outline-need holes for the screws too) please pm for info...
Thanks in advance....
I have the template in my computer for my vinyl cutter . I did not make with the holes as I figured if/when I need to get at a screw I can cut the hole with a e-xacto . PM me
01-23-2012, 08:08 PM
Tech Elite
Join Date: May 2006
Posts: 3,553
01-23-2012, 09:38 PM
Tech Fanatic
Join Date: Nov 2009
Posts: 885
---
tufferwilde

I noticed this as well on mine. The ball cup rubs on the outer circumference of the wheel (no on the inside of the hoop) while running. Wheel is straight when spun.

I will take a photo at lunch and post it. I noticed it after the first run. No noise, doesn't seem to adversely impact handling, just a rub mark from the ballcup.

Chris Wilde



I put .06 shim betwwen the the outer bearing and and the pin for the hex in front no more binding when tightened down and also add .01 shim on the rear hub bearing and drive pin for the hex. im using serrated wheel nuts. part # kyo 96643 (5x7mm shim kit)
01-23-2012, 11:03 PM
Tech Fanatic
Join Date: Nov 2009
Posts: 885