dragon red lipo battery
04-20-2011, 01:09 PM
dragon red lipo battery
---
04-20-2011, 02:23 PM
Tech Master
Join Date: Jan 2010
Location: A main
Posts: 1,265
---
04-20-2011, 02:44 PM
Tech Addict
Join Date: Feb 2011
Location: Riverside,CA
Posts: 633
---
Originally Posted by
white boy
20$ shipping ouch
04-20-2011, 06:11 PM
---
Originally Posted by
koopesv
i ordered from there but i got the sky batteries. thanks for the info
04-20-2011, 09:13 PM
Tech Fanatic
Join Date: Apr 2010
Location: Prairieville, LA
Posts: 967
---
Originally Posted by
white boy
I have 2 of them, ordered a few weeks a part from each other.
This was after I ordered some WinForce Akku LiPo's from a similar eBay seller. I ordered 4 of these - keeping 1 for myself.
All 6 of the packs look identical, aside from the labeling.
All 6 packs charged and balanced quickly and easily (even first cycle).
I still have one of the WinForce Akku packs. I sold it to a buddy about 6 months ago, then bought it back from him within the last month.
Both this older pack and the new DragonRed packs perform flawlessly. Plenty of power and run time.
I paid $43.00 shipped for each (yes - $20.00 shipping). Longest shipping time from Hong Kong was 13 days. Shortest was 8 days.
I've raced since the late 80's and gone through the different technologies of batteries available to race with. I was a "fast guy" at one time (1/10th scale 2WD buggy and truck - up until the year 2000). After having gotten back into racing about a year ago, I find myself racing some of my old buddies. One of which is the fast guy to beat in eBuggy and is sponsored by MaxAmps.
At this time, I do not feel at any disadvantage using these batteries when racing against him.
Until I feel like my batteries are keeping me from getting any faster, I'll buy $43.00 DragonRed or WinForce Akku's packs every time vs. the more expensive packs. I run these in my Hot Bodies D8 Tekno V4 electric conversion. All 3 packs are 4S 5000mAh, 30C.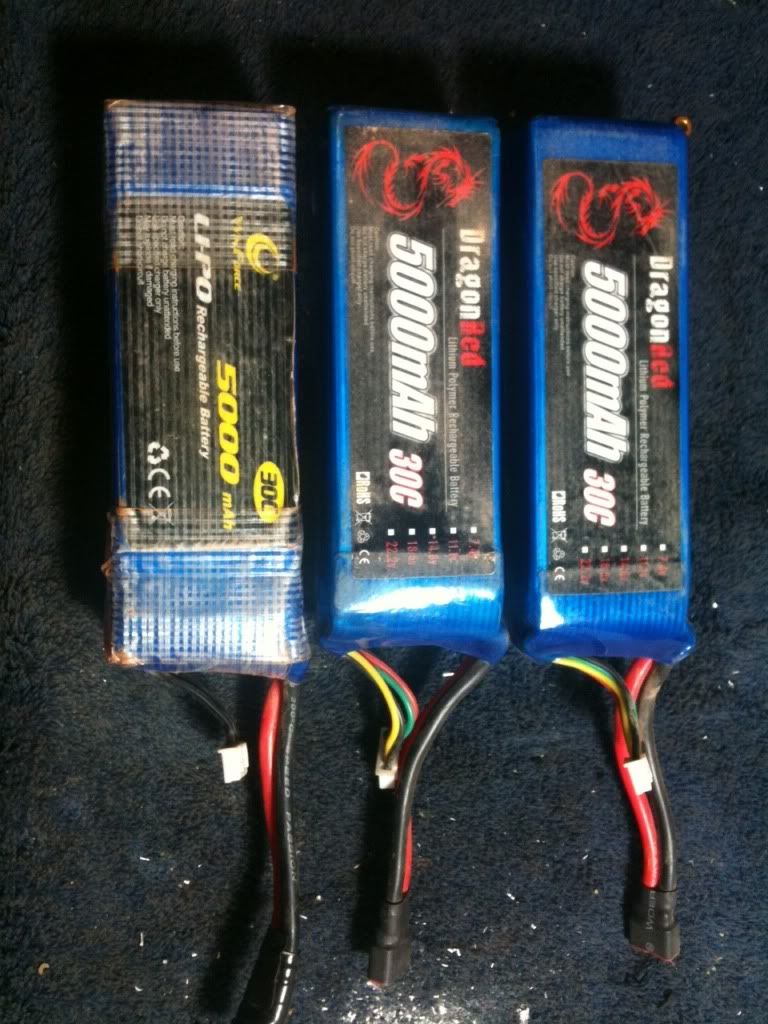 PM if you have any further questions.
Jim
---
Last edited by vwduud; 04-21-2011 at

04:29 AM

.
04-21-2011, 12:12 AM
Tech Elite
Join Date: Oct 2005
Location: Netherlands
Posts: 2,485
---
Originally Posted by
koopesv
I have GE-power, Dragon, turnigyand even Intellect and they perform the same!
04-21-2011, 12:19 AM
Tech Fanatic
Join Date: Jun 2010
Location: Australia
Posts: 859
---
Just make sure you get some with enough punch. My friend decided to go cheapo on the dragon packs over 1yr ago and ended up with a failed esc. He got 2 packs the LCOG ones the ones that are like 4000mah 15c 2s. They didnt last in his boat long :L
04-21-2011, 08:07 PM
---
thanks for the info. i bought the sky lipo 3s 4400 mah 40c rated batteries. i coulndnt wait the 3 weeks for the dragon red batteries. i have a race next weekend. althought the pricing and the shipping changed on the dragon red batteries. there now 43$ and change with free shipping.
Currently Active Users Viewing This Thread: 1
(0 members and 1 guests)
Posting Rules
You may not post new threads
You may not post replies
You may not post attachments
You may not edit your posts
---
HTML code is Off
---