Charging Turnigy Batteries Above 1C
01-28-2011, 01:49 PM
Charging Turnigy Batteries Above 1C
---
Hello,

I was wondering if people can post there opinions or results on charging Turnigy batteries or Hobbyking batteries in general above 1C. Many of there batteries say that can be charge at 2C or in some cases 5C! But I don't know if I should trust those clams. I have always charged them at 1C.

Thanks
01-28-2011, 02:15 PM
Tech Lord
---
The only Turnigy's I have that arerated for more than 1C are some 2C rated lipos. A few 3S 2200s for my helis and a pr of 5000mah 4S. I charge all of them at 2C and haven't seen anything that would lead me to believe there's anything detrimental going on. The lipos never get even warm, my temp probes from either charger I use indicate temps go up less than 2F. I don't feel any increase in temp.
01-28-2011, 02:24 PM
Tech Elite
Join Date: Dec 2007
Location: Chicago, IL
Posts: 2,854
---
I charge all mine at 2c and a few at 3c if it allows it.
01-28-2011, 02:26 PM
Tech Fanatic
Join Date: Oct 2010
Location: Corona, CA
Posts: 789
---
Always charged my 4s 4500mah Turnigy's at 2C. No problems.
01-28-2011, 02:57 PM
---
Here is the 5C pack I was talking about. It's a Zippy 2S 40C 5000mah battery pack.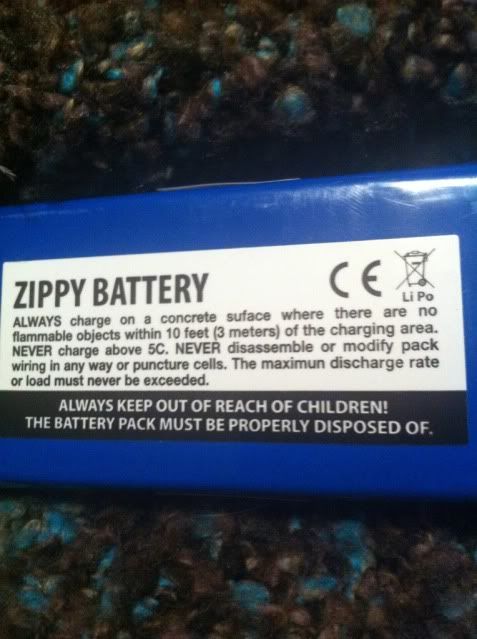 01-28-2011, 04:05 PM
Tech Lord
---
There is nothing that says you have to charge at the allowed C rate, its just a the recommended maximum. You're not hurting the lipos charging them at 1C. You not doing anything for them either like increasing cycle life. The lipo in the pic could be charged at 25amps if your charger is capable. 5C charges take around 12-15min if the charger's balancer can keep up.

I've upgrading lipos this year - mine are 2 and 3yrs old and I will not be buying anything that's not 5C capable. I have a 30amp charger and plan on using it.
01-28-2011, 04:41 PM
---
Oh I know you don't have to charge it at 5C or what ever the max C rating is. I just wanted to make sure that these ratings are not fabricated and that these Hobbyking batteries can actually handle it. Kinda like how a lot of manufactures in Lipo's say a higher C rating then that actually are. For example saying its a 40C pack, but in reality its a 30C. But thanks very much for the help.
01-28-2011, 06:45 PM
Tech Lord
---
Some may tend to 'cook' the C ratings as far as discharge performance is concerned, but I've never read about an instance where the charge C rating has been manipulated that way. To get higher performance C ratings, internal resistance has been pushed lower thru improved materials and construction. This in turn allows higher charging C rates if testing shows no significant loss in cycle life at these higher C rates.
01-28-2011, 07:05 PM
Tech Apprentice
Join Date: Jan 2011
Location: stl mo
Posts: 55
---
i charge my 5000 packs at 5amps. no issues so far. pre the hobyking site they are good to 5c. well the 40-50c ones like i have anyway.
01-28-2011, 07:28 PM
Tech Addict
Join Date: Aug 2009
Posts: 646
---
01-28-2011, 07:33 PM
Tech Apprentice
Join Date: Sep 2010
Posts: 76
---
Originally Posted by
fallguy
Yes, according to the specs you link to...
01-28-2011, 07:45 PM
Tech Addict
Join Date: Aug 2009
Posts: 646
01-28-2011, 11:49 PM
Tech Adept
Join Date: May 2008
Posts: 153
---
I wouldn't charge over 1c unless you have a good balancing charger like the Hyperion Duo or Cellpro10s. If you're still using a charger that uses an external balancer like a Blinky then stick to 1c. I'm using a Cellpro10s and PL8 and I charge my Zippy Flightmax packs at 2c, and my Hyperion packs at 5c...all with no problems. When I'm at home I'll parallel charge them all at once at 1c.