Losi 1/10 TEN-SCTE ARR 4x4 Short Course Truck Thread
08-16-2011, 11:06 PM
Tech Rookie
Join Date: Jun 2011
Posts: 11
tlr kit
---
when will the tlr kit be availible for my scte ten ...thanks
08-16-2011, 11:07 PM
Tech Regular
Join Date: May 2010
Posts: 334
---
Originally Posted by
wheelz
have the truck on my table and thought I would type it all out for anyone having trouble viewing it.

front:
shocks loctaion: outside on tower, outside on arm
pistons/oil: 3's with 30 weight
spring: black
droop: full shock length plus 2 turns out on the eyelet
Caster: stock
ackerman: long
bumpsteer: inside down, outside up
sway bar: largest sway bar
camber link: 2 (bottom)
camber: -1 degree
toe: slight toe out
ride height: 27 mm with body off
can anyone help to explain where is the the eyelet on shocks?
'2 turns out on the eyelet'
08-16-2011, 11:20 PM
Tech Master
Join Date: Dec 2008
Posts: 1,280
---
he's so what of an aggressive driver, but then he has done the opposite of what everyone and the team drivers had suggested. his diff oils are as light as the scte and he has double high torque pads. oh well
ryan got a rough ideal to when will the new batch be out with the revised drivelines you mentioned a couple pages back?
08-16-2011, 11:28 PM
Tech Regular
Join Date: May 2010
Posts: 334
08-16-2011, 11:35 PM
Tech Apprentice
Join Date: Aug 2010
Posts: 85
---
anyone have an idea what hop ups the tlr drivers were running this past weekend at the Nats? I have been looking at the videos and there trucks were dialed! .. especially Dakota's! Any word on his set up sheet?
Enjoy! -
http://www.youtube.com/watch?v=ZkKx-xnzKu4
08-16-2011, 11:54 PM
Tech Master
Join Date: May 2011
Location: Spring Hill Tennessee
Posts: 1,378
---
Originally Posted by
wheelz
have the truck on my table and thought I would type it all out for anyone having trouble viewing it.

front:
shocks loctaion: outside on tower, outside on arm
pistons/oil: 3's with 30 weight
spring: black
droop: full shock length plus 2 turns out on the eyelet
Caster: stock
ackerman: long
bumpsteer: inside down, outside up
sway bar: largest sway bar
camber link: 2 (bottom)
camber: -1 degree
toe: slight toe out
ride height: 27 mm with body off

rear:
shock location: middle on tower, outside on arm
pistons/oil: 4's with 30 weight
spring: orange
droop: full shock length plus 2 turns out on eyelet
anti-squat: 3 degrees
toe: 2.5 degrees
camber link: 2 (bottom), B (outside)
camber: -1 degree
sway bar: smallest sway bar
hub spacing: back
ride height: 27 mm with body off

losi diff oil: 7-5-3

notes:
battery position: usually the battery is forward in the truck but tracks where traction is up i tend to move the battery back.

rear toe: i run 2.5 indoors and on high bite tracks but in loamy situations I will put 3 degrees back on the truck. I know Ryan and Casper prefer 3 degrees over the 2.5 so it's something to try back and forth to see what you like

servo horn: I run the inside hole on losi aluminum servo horn. the outside hole makes the truck steer more agressive.

rear shock location: depending on the track layout and size i tend to run 2 different rear shock locations. tight indoor tracks/ highbite smaller tracks i run the shocks outside on the arm with 2 turns out. big 8th scale tracks or loamy tracks i either go to the middle hole on the arm (still with 2 turns out). or i try outside on the tower and middle on the arm (full shock length/ no turns out on eyelet)

hopefully i got everything and this helps out!!!!
To get 2.5 do I put the .5 inserts facing up? Ive been running the 1 facing up for 3.
08-17-2011, 02:28 AM
Tech Master
Join Date: Jun 2010
Location: Los Angeles
Posts: 1,736
New Mold Gears
---
*I am in NO WAY affiliated with Losi, I am not a team driver, I do not get any discounts or anything from them, this is a totally honest and un-biased opinion and that's exactly what they want. If the product sucked, they want to know it sucks that way they can fix it and not pass on a poorly made part to the consumer
Well, I was very fortunate and asked by Ryan Dunford to beta test the new Diff Gears that will be hopefully hitting the stores shortly. Most of us know that there were some problems and the old mold for our diff gears broke and that Ryan and Losi have been working diligently on getting a new mold for the gears set up. Well, they took this opportunity to improve the new gears while they were at it which is probably why it took slightly longer than we had hoped. First let me say, when I took my rear diff apart on my 3rd shipment release (AA sticker on the diff side of the battery tray) it was obvious that the new hardened diff pins were holding up well and the old gear set had very little wear, much less than I had expected. This has renewed my confidence in the new pins as well as the gears made from the old broken mold. I've been running this truck for about a 1 - 1 1/2 months or so (I have 2 truck but the other one has been shelved since I got this one). I race twice a week and usually put about 10 packs per race day on it. This was the first time I'd torn into the diffs and like I said was quite impressed. That being said, these new gears are quite an improvement in quality and fit from what I can tell in my short time with them.
I want to re-iterate, the problems with the old gears that some of us, myself included, were NOT as a result of bad gears, rather, the result of bad pins. As we know these pins have been fixed as well as many people have switched to the Chrispins and I have heard of zero issues with the original gears when using either the Chrispins or the Hardened Losi Diff Pins. Ok, now that we got that out of the way, let's get to the Good stuff!!!
Spider Gears
Ok, so I was really excited to be beta testing for Ryan and Losi. I opened up the package that Ryan left me containing the new mold diff gears. I immediately noticed that they looked to be made of a higher quality material and the splines on the gears seemed a lot more crisp and defined. I also noticed that the spider gears were wider from top to bottom which would create a greater surface area of contract between them and the sun gears. This provides better mesh and this is my personal opinion, but since those little washers seem to be disintegrating on everybody, I have a feeling that eventually they may not be needed with the longer contact area, but that's a personal opinion and definitely DO NOT suggest anybody omits them when building their diffs at this point.
Sun Gears
On the new Sun gears, the splines no longer end about 1/32" away from the center hole on the gear. Now they go all the way to the center hole where they're joined together. Again, the splines are very well defined and offer more surface area for better gear mesh.
Putting The Diff Gears Together
Even though I have a Chriskit (Pins, washers and shims that replace the square blocks), I decided to rebuild this particular diff set using ONLY stock Losi internal diff parts since this will give a better and more accurate account of what will come directly from Losi. I sanded the new diff cups with 1500 grit sand paper prior to construction. I had a set of Lightened Outdrives brand new and ready for use, so I used them. I CA glued the sleeves into place as it's supposed to help lessen the likely hood of leaking. I then used Green Slime on the clear o-rings, then used the stock shims that go behind the Sun Gears. Next, I took a set of new Losi Hardened Diff Pins, put the Spider gears on, then the tiny shims then put the blocks on. I put them all into the diff cup and spun the gears by hand using the outdrive with the case open. Everything spun freely and the gears fit together perfectly. I was actually very surprised how smoothly they spun without any oil. They were free of notchiness and obviously had no resistance. I now felt confident I'd put them together well and filled it up with 3000 weight diff oil. With the diff cup filled with oil, I spun the gears by hand again to make sure they were free and the oil worked it's way into the entire cup. Now, there was a slight resistance due to the 3000 wt diff oil, but the gears were silky smooth! I put Green Slime on both sides of the blue gasket and buttoned the diff back up. With it completed, I went ahead and spun the diff by hand again and all I can say is, this is by far the smoothest diff I've felt. I have a Losi 8ight-E 2.0 Race Roller and those are renowned for having one of the best Diffs in all of RC and I have to say, this one is every bit as smooth.
Road Test
So now that I put this diff back together, it was time to go give it a test. I unfortunately ran out of time to test it at the track, so I decided to test them in my parking lot at home. I figured, asphalt and the loads created by the level of adhesion, would be tougher on the gears than dirt or even the clay that I normally run on at OCRC. I put some slicks on (worn out Gold Compound Jconcepts Barcodes), washed them so they'd have sick amounts of grip and slapped them on my truck. Before I set the truck on the ground, I gave it a quick blip of the throttle to make sure everything sounded right before putting the diff through the paces. Wheels spun and everything seemed in place without any extra noises or binding. I set the truck on the ground and gave the trigger a good squeeze and the truck jumped forward. It did seem a little quieter, but that may have been because of the new outdrives not having any play since they're new rather than the diff gears. I went through an entire pack doing high speed runs through the parking lot, big long power slides and slamming on the brakes. Everything held up well and the diff didn't give me any problems. It felt super smooth at low speeds and considering I'm running unsensored, that certainly says something!
Final Thoughts
The sharper more crisp splines on both the Spider and Sun gears make for a smoother spinning diff. The attention to detail makes it look as if the gears are machined rather than cast. They're not machined, but the material and process used definitely is an improvement over the old original gears and you don't simply can't tell they're cast like you could the old gears. The greater surface area means there's less of a chance of stripping (even though this has not been a problem even with the originals). Everything went together so smoothly, I was very happy with them. They ran flawlessly under pretty hard conditions since I was not easy on them with hard braking and full throttle take offs. Now, you may ask "Do I need these?" I honestly would say no, you don't need them as long as your original gears are good and you maintained them well. BUT, if you have an early truck that was run with the original diff pins and your gears are showing wear, then I would definitely put them in on your next diff rebuild. If you are anal and one of those people who rebuild diffs every few races, then yes, go for it simply for the peace of mind. I'd definitely recommend picking up a set for each diff as spares, but I really think these will be the last gears we ever need. If you guys remember, I was the one who spearheaded trying to persuade Robinson Racing into producing these. Well, I can honestly say, with these new gears, it's probably good that RR didn't produce them because these are as good as it gets!
New gears on left, old gears right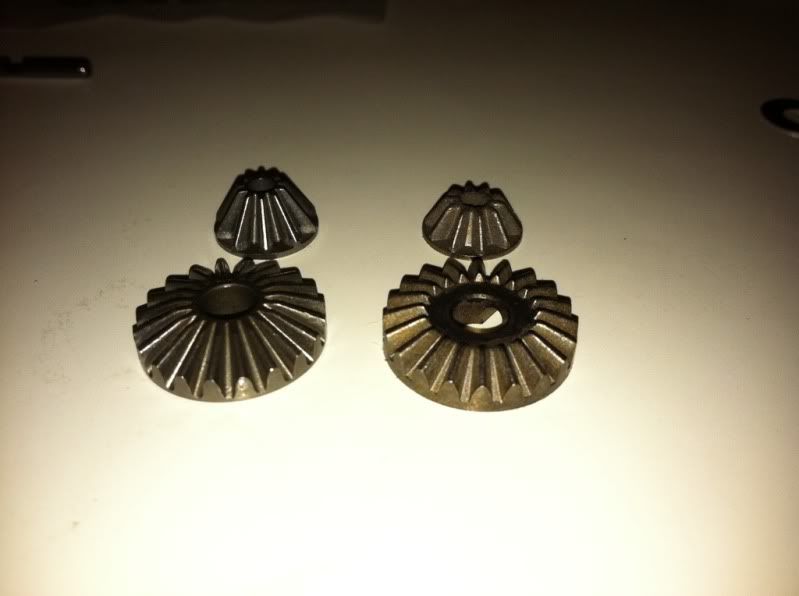 New Spider Gear on left, old Spider Gear on right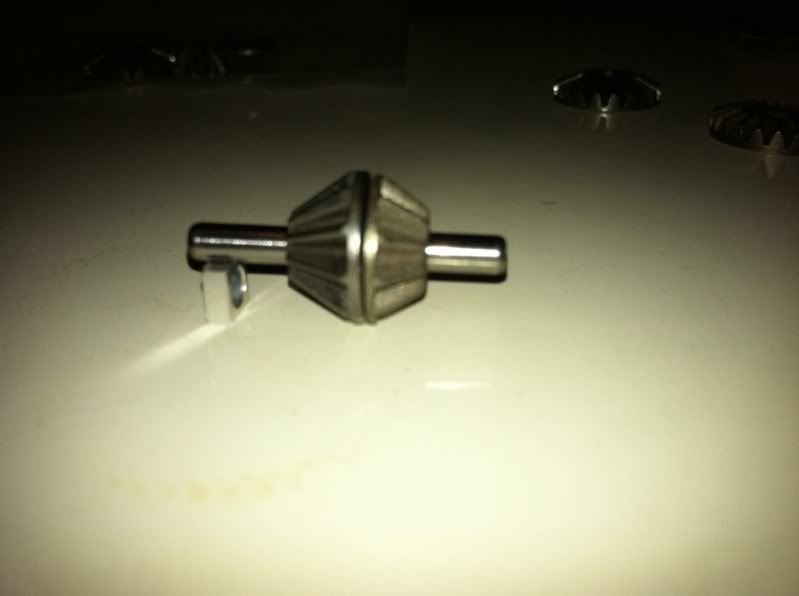 New Spider on Left, old on right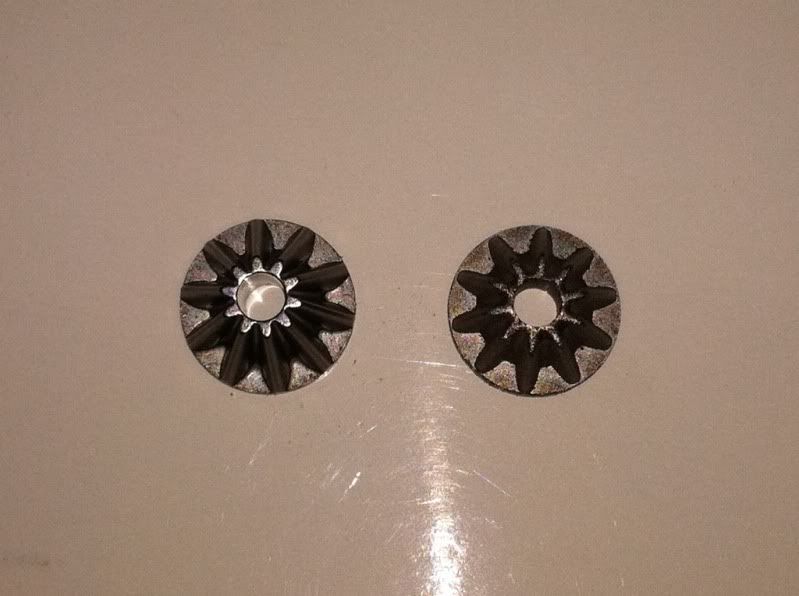 New Sun Gear on Left, old Sun Gear on right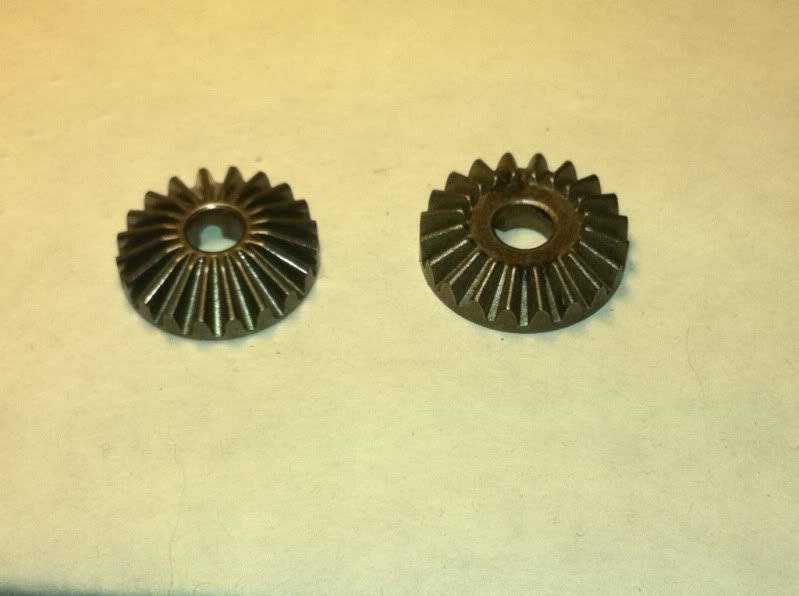 New Spider Gears in place on diff pin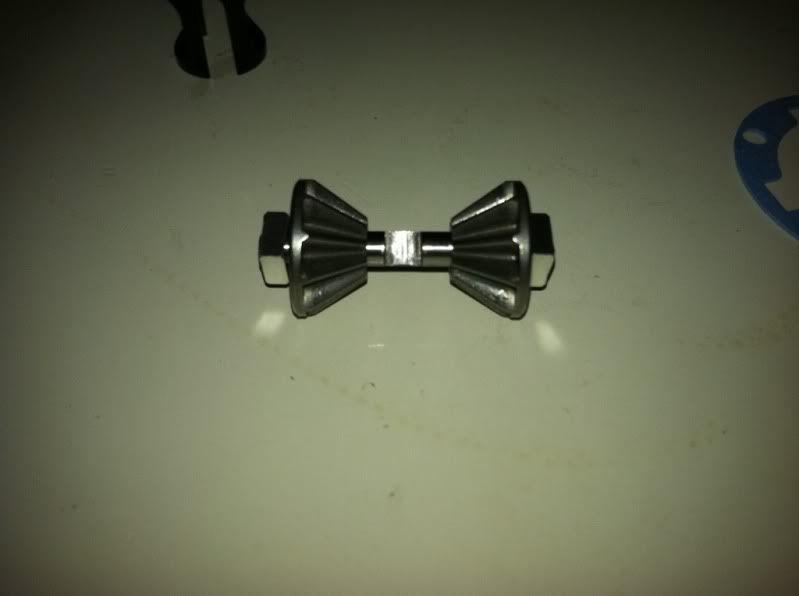 Sun Gears installed into Cup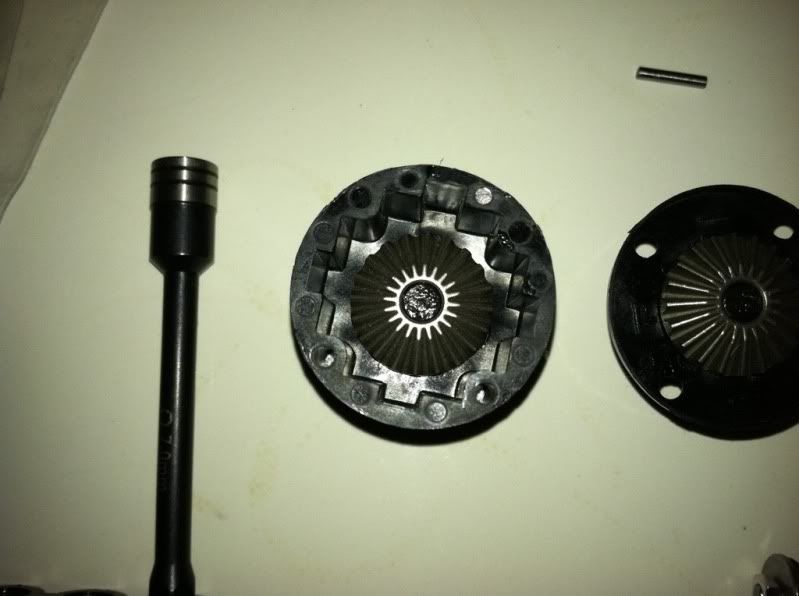 Going together, perfect fit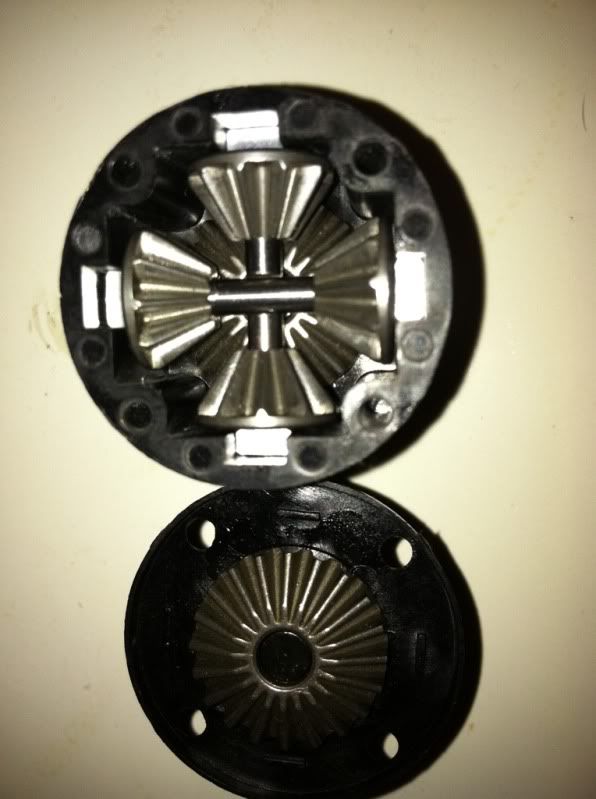 Fill'er up!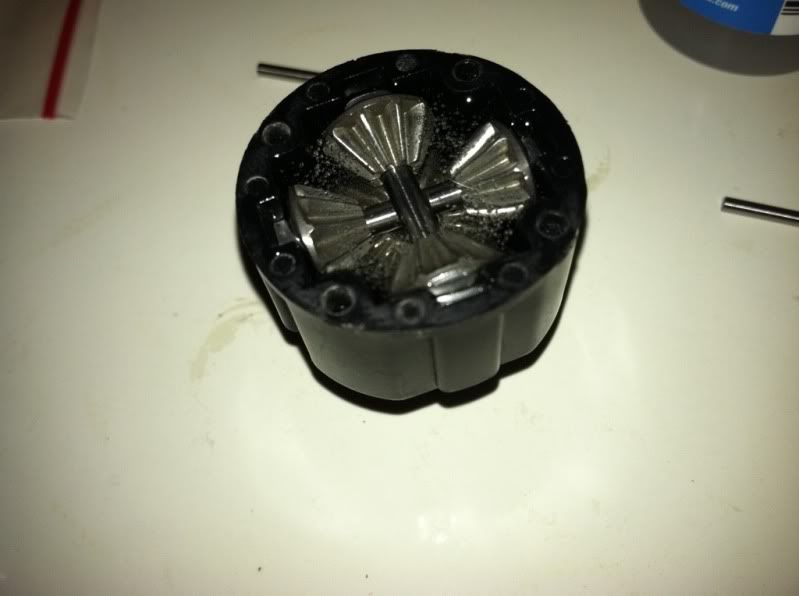 The ole girl and home to the new diff gears...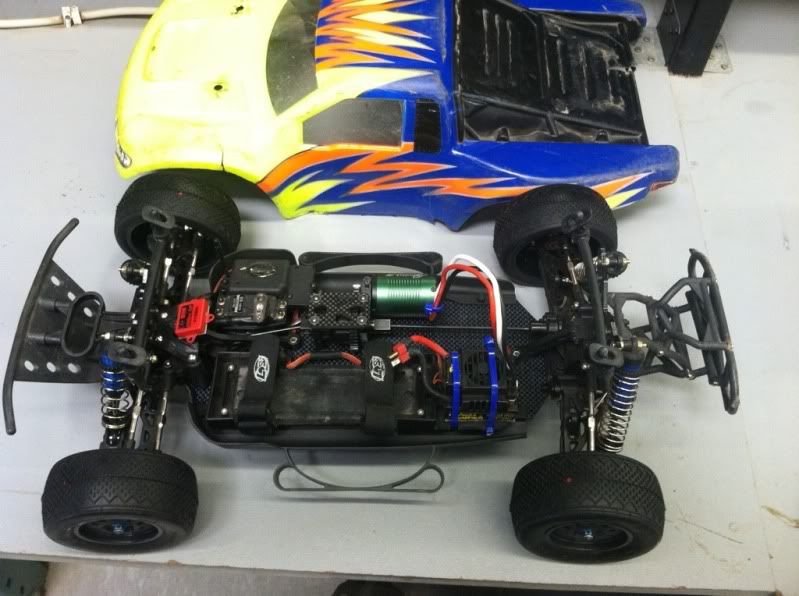 I hope that this was a good write up even though it was long! Thanks again to Ryan Dunford (Hacker07) for letting me test these out! If anyone has any questions, I can answer them if it has to do with the build up of them (no leaks!) but if it's a question having to do with anything else like when they'll be available to the public, those are best aimed toward Ryan. Thanks for reading!
---
Last edited by ScottKelly911; 08-17-2011 at

03:17 AM

.
08-17-2011, 06:53 AM
Tech Master
Join Date: Apr 2006
Location: So Cal IE
Posts: 1,346
---
Nice gear review. I can confirm the new batch has the new mold gears
08-17-2011, 07:14 AM
Tech Adept
Join Date: Jun 2010
Location: orange county
Posts: 231
---
08-17-2011, 07:39 AM
Tech Master
Join Date: Nov 2010
Location: pullin in,ca.
Posts: 1,985
---
Scott-Excellent review,the gears look great!!I have Chris pins in one truck and on my 4th set of HH pins in the other,both trucks have been thru gears!!
This is an great thing and Thanx Ryan for being on top of these things for us!!Any way hope you don't have to work today the surf is up!! Headed to Sanonofre to do some Log-n!!!!
08-17-2011, 08:09 AM
Tech Regular
Join Date: Apr 2007
Location: NorCal
Posts: 330
---
The SCTE
Tuning Kit
,
Flex Tune Chassis
and
Torque Rod Chassis Brace
are available for pre-order @ A Main Hobbies
08-17-2011, 08:22 AM
---
Originally Posted by
khannibal
anyone have an idea what hop ups the tlr drivers were running this past weekend at the Nats? I have been looking at the videos and there trucks were dialed! .. especially Dakota's! Any word on his set up sheet?
Enjoy! -
http://www.youtube.com/watch?v=ZkKx-xnzKu4
Dakotah had probably the most tricked out truck there. Here is what I know was on his truck:
TLR tuned kit:
- Alum shock collars
- Alum shock caps with bleeder holes
- one piece shock mounts
- alum rear hubs
- adjustable hinge pin mounts
- Carbon towers front and rear
TLR tuned flex chassis
Losi torque rod for tuned flex chassis
Clamping wheel hexes
New Ten springs front and rear
Ten shock piston pack for shock tuning.
I think that might cover it. I am not sure there is much else from Losi to put on this thing. Dakotah did a great job wheeling his truck to victory. Awesome job Dakotah!