Hyper TT 4wd 1/10th Truggy Thread
09-23-2010, 10:58 AM
Tech Elite
Join Date: Sep 2006
Location: So Cal.
Posts: 2,268
Hyper TT 4wd 1/10th Truggy Thread
---
Hyper TT the new competition 1/10th racer now as a truggy with 4wd. We have been at West Coast and OCRC racing and it has been fun. My car has the Novak Havoc Pro Sc with a 8.5ss motor and has decent power, but the car wants more so I'll drop a 6.5 in it. This is fun to drive and handles well so far only one change I have done to the car and still using the stock tires but JConcept Bar Codes are ready to go. We've 7 cars go out and run the two races we had and I finished 2nd in the first one and 4th last night so competition is tight. I can say we have really good indoor car to drive so the thread starts today on talk about the truggy.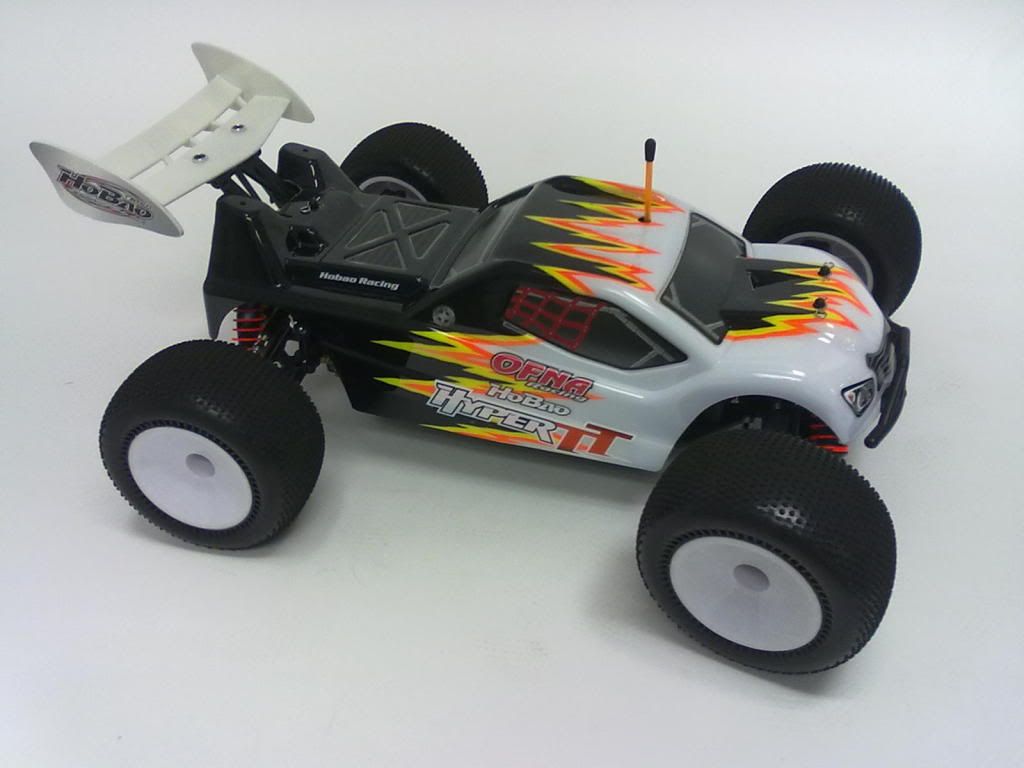 09-23-2010, 11:46 AM
Cool
---
Nice I been waiting to see who would step up and bring a 1/10 trugg out to challenge the Losi TenT now losi just needs to make a E version of the TenT but by far I like the looks of that Hyper I can't wait to get one how much does the kit cost
09-23-2010, 12:16 PM
Tech Master
Join Date: Aug 2008
Location: Portland, OR
Posts: 1,041
---
09-23-2010, 12:43 PM
Tech Adept
Join Date: Jul 2008
Posts: 204
---
The front shock tower is shorter, so are the front shock bodies.
The rear are the same basic shock as the Hyper 10sc
09-23-2010, 02:54 PM
Tech Fanatic
Join Date: Nov 2009
Posts: 971
---
Ok, you got me.

Any vid on this thing ?

Looks very nice
09-23-2010, 07:21 PM
Tech Fanatic
Join Date: Dec 2009
Location: Aliso Viejo, CA
Posts: 902
---
Does it use the same arms, steering and knuckles as the Hyper 10SC? If so...I am concerned about the durability of this truggy.

It's an awesome idea for sure and could be a new class to take off for indoor electric...
09-23-2010, 10:15 PM
Tech Master
Join Date: Dec 2008
Location: OC RC Mecca
Posts: 1,172
---
This truggy is a blast. Last time I had this much fun is when I met my wife.
Yes all the parts are the same although it has the updated arms.
For those who think the Hyper10SC or this HyperTT is not durable I would have to question your driving ability.
09-24-2010, 12:33 AM
Tech Fanatic
Join Date: Nov 2009
Posts: 971
---
Actually there has been one for awhile now. No center diff though.
Here is mine.
I wish/hope this class would take off.
09-24-2010, 05:50 AM
//
---
09-24-2010, 05:17 PM
//
---
You got to lo love all the new stuff coming out it's awesome there's so much more to choose from
09-24-2010, 06:27 PM
Tech Master
Join Date: May 2010
Location: LaVergne, TN
Posts: 1,025